The Truth About Your Teeth, BBC One |

reviews, news & interviews
The Truth About Your Teeth, BBC One
The Truth About Your Teeth, BBC One
Grim tour of the nation's unlovely gnashers
Open wide: Dr Chris Van Tulleken and Jasmine Harman
Teeth. Who'd have them? This documentary about the state of the nation's gnashers came along at a timely moment for your reviewer. Earlier in the week I suffered my first ever extraction. Didn't feel a jot of pain, of course, but by Christ you know all about it when the dentist is fiddling about inside your mouth, attempting with a variety of utensils to pluck out the culprit.
I now see I had it easy. Meet Angela, a dog-walker from Cheshire. Her teeth were in a state of rococo disrepair. The camera went in for a snoop and it was like a cross between a motorway pile-up and a binful of rotting fruit and veg. One tooth kept on coming out and Angela would re-affix it. With superglue. Not, one need hardly over-stress, a recommended dental adhesive. Angela didn't smile a lot, and you could argue that she had nothing much to smile about. The shame embodied by her ghastly gob was all-engulfing. And yet when offered a set of free dentures on the NHS she turned it down. The fear of having removable teeth seemed to her to open up an even greater minefield of embarrassment and self-consciousness.
This was responsible car-crash television
The Truth About Your Teeth was pretty much unwatchable. Boy, could you not broadcast this horror show before the watershed. The idea was that the BBC set up a dental surgery in a south London hospital (a unit which looked very much as if it was there already). They persuaded people with shocking teeth to overcome their fears and nip in for a check-up. Angela had her personal disaster zone inspected by unscary NHS dentist Serpil Djemal (pictured below). But she quickly ran away to the North again, and ended up cashing in her savings to have implants drilled in closer to home. The BBC crew, headed by concerned presenter Jasmine Harman, relentlessly chased her there so as not to miss the money shots.
Meanwhile, along came Richard, a young father from Aylesbury whose mouth was a daily vortex of pain. His teeth looked like the sea-weathered timbers of a forgotten jetty. "It's changed the way I am, who I am," he said mournfully. The culprit was energy drinks, 24 cans of which he'd drink per shifts to keep himself awake at work. The jammy blighter was caught just in time. Serpil drilled away the gunk and his teeth came up quite close to pearly.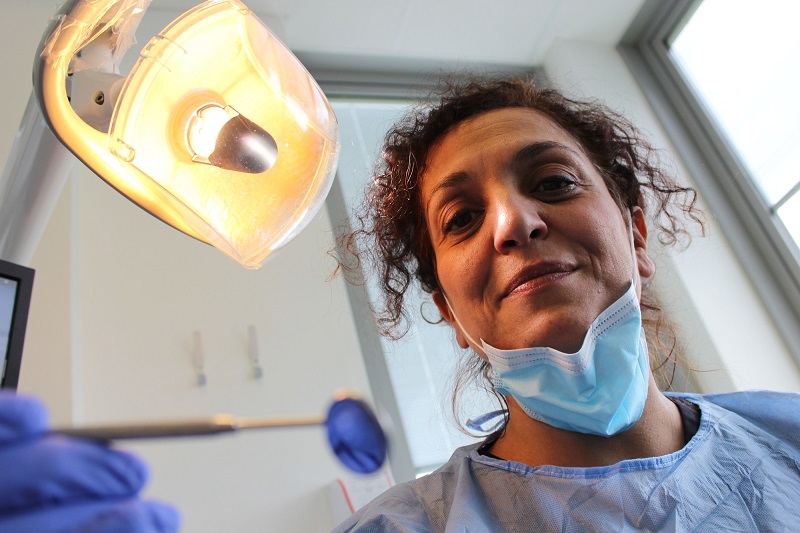 Then there was Deniece. But you don't want to know about Deniece. And what happened whenever she attacked a burger with her incisors.
This could be you, of course. That was the message. Especially if you're one of the five million fools who've not been to the dentist in 10 years. The good news is that looking after your teeth is not rocket science. Between the case histories, personable co-presenter Chris Van Tulleken patrolled the dental hygiene industry, researching and reporting. His proven conclusion: most products are snakeoil, including whitening agents and the 16 indistinguishable varieties of Colgate. Tip: two minutes' brushing, twice a day; and if caught with bog breath, munch on a carrot.
This was responsible car-crash television. There maybe could have been more on the phobias associated with dental health – Martin Amis was by no means the first to align crumbling teeth with fears of impotence. I suppose it's one thing opening up your mouth, another disinterring the buried demons of an entire psyche on national television. Alas, there's more of this next week. Book yourself in for an appointment.