Veep, Series Four, Sky Atlantic |

reviews, news & interviews
Veep, Series Four, Sky Atlantic
Veep, Series Four, Sky Atlantic
Armando Iannucci's sitcom returns and proves that swearing can be very clever indeed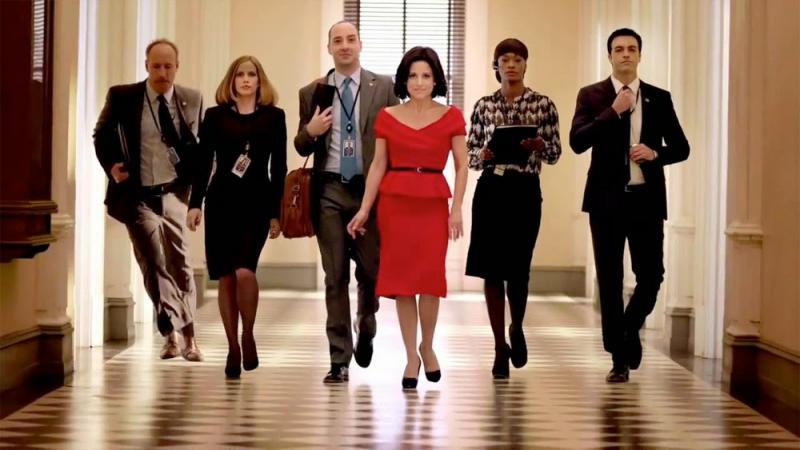 The former Veep and her team trip down the corridors of power
When Jim Hacker MP was unexpectedly promoted to the position of PM, the classic sitcom Yes, Minister required just a small tweak in title and it was pretty much business as usual, albeit with a grander sense of potential impact. When the shit hit the fan, there was alarm, followed by quiet restraint and arched eyebrows before predetermined Machiavellian plans were unveiled and the credits rolled over a comforting closure.
As Selina Meyer prepared to make her first speech as President to the Joint Session in series four of US sitcom Veep, similarly, everything had changed, yet everything remained the same – including the title. When "the 's' hits the 'f'" in this world, it is followed by blind panic, loud voices and swearing – lots of swearing: "The 'f' is for fan, not fuck, why would shit hit fuck? Shit doesn't hit fuck," explained Meyer's personal assistant, Sue, just to avoid any doubt.
As with its British counterpart, The Thick of It, the key to Veep's continued success lies in the combination of razor-sharp writing and superb, natural performances that give the verité landscape movement and colour. In a cute use of reverse chronology, we saw Meyer (Julia Louis-Dreyfus) freeze mid-speech as her autocue went down, before we backtracked 24 hours to the creation of said speech. As well as helping to build tension and raise expectation, it narrowed the dramatic focus to tell a neatly cropped, snapshot story of the beleaguered incumbent and her team.
It's ironic just how much effort it takes to make something look quite this off-the-cuff
The centrepiece was the search for cuts to fund Meyer's "Family First" bill, which led to a showdown with the joint chiefs of staff. Meyer was quick to grab the seemingly easy win that this presented (the abolition of a submarine programme that was as effective as an "anti-unicorn strategy") and to do so with a childlike sense of glee that blinded her to any consequence. It seemed too good to be true and so, of course, it was. Once the raging Congressman Furlong had pointed out the shortcomings of the decision – all too late and almost exclusively with joyous use of expletives – the speech was left in tatters. With the President at the podium, her flying monkeys had to write a new one, without an infinite number of typewriters and with very little time.
The resulting scenes saw President Meyer riffing, scriptless and sounding very much like a Reggie Watts TED talk, meaning stripped out, leaving just "noise-shaped air," as communications deputy Dan (Reid Scott) had earlier put it. The irony, of course, is just how much effort it takes to make something look quite this off-the-cuff. It was a phenomenal performance, not just from Louis-Dreyfus – though one suspects more awards will follow – but from the cast as a whole. That's just as well, as one weak link would shatter the illusion completely.
The potential problem with a show that is so relentlessly punching up (and let's face it, it doesn't get much higher than the US administration) is that the audience will fail to feel any sympathy for the targets. We need to have some sense of peril, some genuine involvement, otherwise it could all become painfully one-note. Thankfully, while the show is populated almost entirely by grotesques, they are drawn (and played) with detail and shade. They're horrible, yes – awful, vain people, but they're also funny and smart. So, when they find themselves in a seemingly impossible position, you still want them to find a way out, to see the hidden door. Even Jonah (Timothy Simons) – in equal parts obsequious doormat and boorish bully – is given a sense of vulnerability when faced with his new, "hands-on" boss, played with understated, blank menace by US stand-up Patton Oswalt.
It is ultimately, however, the superb scripting that makes Veep such a joy to watch. Having three series under their belt, the writers have adapted their ear to the finer points of American vernacular without missing a beat, ensuring that every line seemingly tossed aside is anything but throwaway, and that a comedy concerned with the superficial, narcissistic ramifications of power is rich, textured and funny as "fuck".