All Too Human, Tate Britain review - life in the raw |

reviews, news & interviews
All Too Human, Tate Britain review - life in the raw
All Too Human, Tate Britain review - life in the raw
Bacon and Freud dominate but don't overwhelm in a fleshy century of painting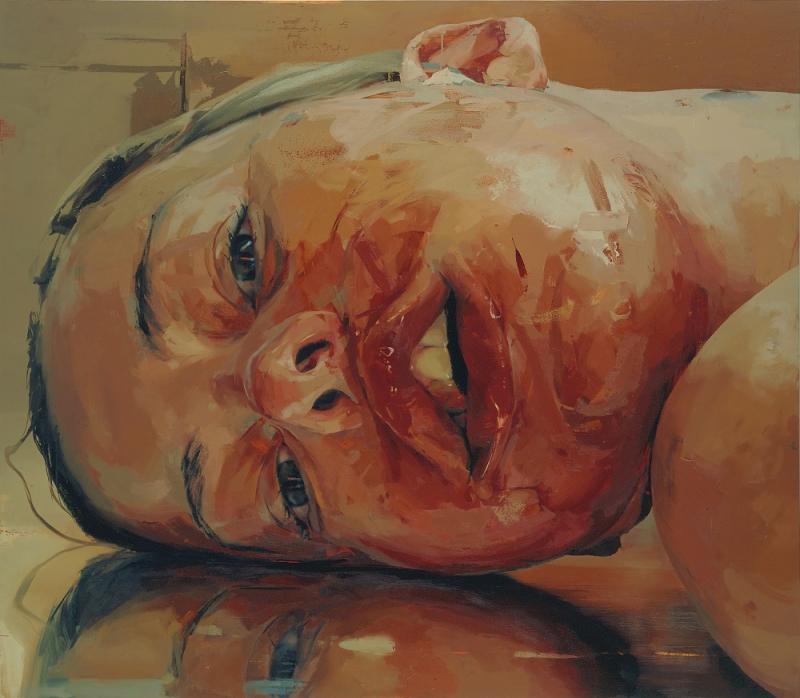 Jenny Saville, 'Reverse', 2002-3
Francis Bacon and Lucian Freud are here to draw in the crowds, but also to set the tone of a Tate Britain exhibition that explores the equivalence of flesh and paint in depictions of the body that even at their most tender and sensual rarely stray far from the brutal and disturbing.
No such survey could be without them, and their echo is heard in almost every room: Jenny Saville mines the possibilities of the body as base flesh from a specifically female viewpoint
(main picture)
; Cecily Brown confronts us with forbidden sexuality. But if the prominence of
Bacon
and
Freud
suggests a predictable line, a surprising roster of artists located within a largely fresh narrative offers a pleasing corrective.
Stanley Spencer is a canonical figure now, but he was a source of embarrassment only a generation or so ago when his paintings, which had to go somewhere, occupied a staircase leading to the Tate Gallery's lavatories. Here he is feted as a seminal figure, alongside Sickert, Soutine, and even David Bomberg, whose reputation has finally been secured this year by a long overdue retrospective. In a chronological arrangement that takes us through artists either working, or simply influential in Britain from the early 20th century to now, these four are presented as pioneers of an art dealing in the physical and psychological sensations of being alive, in all the mundane and glorious complexity that implies.
Spencer's portraits of Patricia Preece present the body, even the adored body of a lover, as a site of mixed responses and impulses. A portrait from 1933 (pictured right) confronts us with a frankly unlovely face, and yet harshly described bulging eyes and a wonky mouth soon meet the pearly skin of neck and shoulders, the dark recess of collarbone as it disappears beneath fabric a place of palpable erotic charge.
Landscapes by David Bomberg and Chaïm Soutine, pulsing with expressive force, introduce influences beyond the purely figurative, and certainly some of the exhibition's most intense evocations of human presence are found in London cityscapes by Leon Kossoff and Frank Auerbach, both of whom were pupils of Bomberg's at Borough Polytechnic. As well as acknowledging the influence of a painter whose work the critic David Sylvester described as "the finest, by a long way the finest, English painting of its time", the inclusion of Bomberg introduces an enriching counter-narrative. William Coldstream was Professor of Fine Art at the Slade in the Fifties, his coolly empirical approach to painting from life discernible in the work of students and associates including Euan Uglow and Lucian Freud. At approximately the same time, Bomberg, a misfit and outsider, who had taken up the only teaching post he could find, was instilling in his devoted band of students an approach quite at odds with that of Coldstream. Dismissive of academic, observational rigour, Bomberg sought, in his own cryptic phrase, "the spirit in the mass", with visual likeness of secondary importance to the intangible essence of an object as it is experienced.
There are neat connections made through the hang, which although often apparently incidental lend a persuasive depth to the show's narrative. Landscapes placed side by side make vividly apparent the reasons why in 1955 a critic wrote that Bomberg "might have been our English Soutine". The very presence of Soutine and Giacometti goes some way to dislodging the isolated status habitually accorded to Freud and Bacon, who tend to be connected more closely with each other, and to historical antecedents than to the contemporary European art scene (pictured left: Francis Bacon, Portrait, 1962). For all the value of considering Bacon alongside Giacometti, their distortions of the human figure presented as evidence of a shared project born out of the anxieties of their age, Giacometti is a conspicuous oddity as the show's lone sculptor.
Michael Andrews, another artist only recently recovered from the sidelines, is represented here through three paintings, including one of The Colony Room, the Soho drinking club favoured, notably, by Bacon, Freud and the photographer John Deakin. The painting serves as a pivot around which to gather a whole cast of disparate characters associated with that place, and in doing so draws together the narrative tendencies of a much wider group of artists including Andrews, RB Kitaj and Paula Rego, for example, with the existential concerns of Bacon and Freud, whose focus on the isolated human figure tends to set them apart. The Colony Room I, 1962, immerses us in the ebb and flow of a crowded room, partially registered faces contorted by the demands of social interaction. It's a painting that immerses us in the intense loneliness of social discourse, just as Freud's single figures impose on us an uncomfortable familiarity, a bond even, with individuals isolated and scrutinised. The many connections brought about through an intelligent hang make this a truly thought-provoking show, but the headline artists are solidly represented too, enough to satisfy visitors keen to simply take their fill of Bacon and Freud.
Some of the most intense evocations of human presence are found in London cityscapes
rating
Share this article