Bridget Riley: From Life, National Portrait Gallery |

reviews, news & interviews
Bridget Riley: From Life, National Portrait Gallery
Bridget Riley: From Life, National Portrait Gallery
But can she draw? Sketches from the artist before she was famous
Forget about art "being about the idea" for a moment. Drawing from life is still considered by many to be the litmus test for proper artistic skill, or at least the foundation from which great art can arise. And so
the enquiry, "But can he really draw?"
is still one contemporary artists are confronted with by those not shy of asking what they consider an obvious question. And it has plagued abstract and modernist artists throughout the 20th century: the ability to draw figuratively as tradition dictates is so often seen as a benchmark from which everything else can be measured.
When Bridget Riley attended
Goldsmiths College
from the late 1940s to the early 1950s, British art schools were yet to experience the revolution in conceptualism and abstraction. They still taught drawing skills, and it is, today, part of a rigorous curriculum that is often most lamented –  though in fact skilled draughtsmanship is probably more fashionable than it has ever been since that time, and many young artists are returning to it.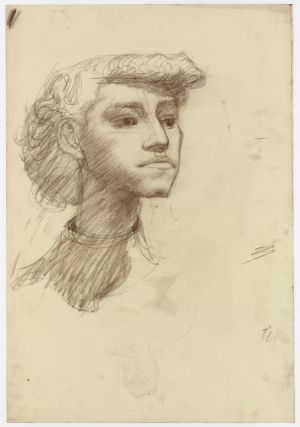 Before finding fame and fortune as an Op artist in the early Sixties – with her landmark geometric shapes, at first in monochrome and then in vibrant colour, that vibrated before the eye and created a dizzying visual experience - Riley assiduously set her pencil to paper and drew from life. She drew members of her family, her friends and art-school models. She was, at that point, as many young artists are, uncertain in which direction her art would take her. But observation from life was, she insists, essential to her development as an artist. And what the National Portrait Gallery presents here are a small selection – only 15 small sheets – of these early, uncertain efforts.
Some are little more than quick, perfunctory sketches, which, at the time, she no doubt thought would forever remain private, and some are a little more polished, such as the contemplative
Woman Looking Ahead
, and the more spirited
Young Girl
(pictured above)
. But even the most polished ones are not what you might call finished drawings, but rather studied observations in which she is clearly still learning the craft of drawing.
So what should we make of those observations? And on the evidence of this small sketchbook selection, would Riley have made a great figurative artist? Taking one of them in isolation,
Older
Woman Looking Down
(pictured below)
we could be reminded of a sketch from a renaissance masterpiece, a mournful Mary Magdalene perhaps, contemplating the crucifixion. (In fact, Riley did many drawings from paintings, and this may be one.) But, on the whole, one isn't so moved by these works. One or two, in fact, seem a little heavy handed, such as
Girl with Long Hair
, executed with much indiscriminate shading.
The last two in this small display is of the artist's aunt:
Tonal Study of Betty Riley
and
Colour Study of Betty Riley
. Depicting her subject in exactly the same half-profile pose, one is a study for the other. Yet while Riley's preparatory sketch seems to depict her aunt as a young girl, on the cusp of womanhood, the painting – though very striking in its flat planes of red and green – makes her subject look positively middle-aged, which is probably what she was at that time. So for all her insistence on observation from life, Riley is already clearly more interested in abstract forms than she is in the real minutiae of seeing and depicting from life.  
It's always fascinating when you discover the work of an artist in a genre they are not known for. Riley knew that she could not take her figurative work much further, and we can see for ourselves that she is no Barbara Hepworth, an artist who is now known almost solely through her abstract sculpture, yet whose life drawings, particularly her self-portraits, have a rawness and febrile delicacy which make them astonishingly powerful. So sure, one can enjoy Riley's early drawings, but perhaps more as the works of an artist in transition – though it was some years before she would embrace abstraction – than as works reaching towards some apogee of figurative perfection.
Share this article