Futureproof: Scottish Photography Graduate Show, Glasgow |

reviews, news & interviews
Futureproof: Scottish Photography Graduate Show, Glasgow
Futureproof: Scottish Photography Graduate Show, Glasgow
The new crop prove they can look to the future and learn from the past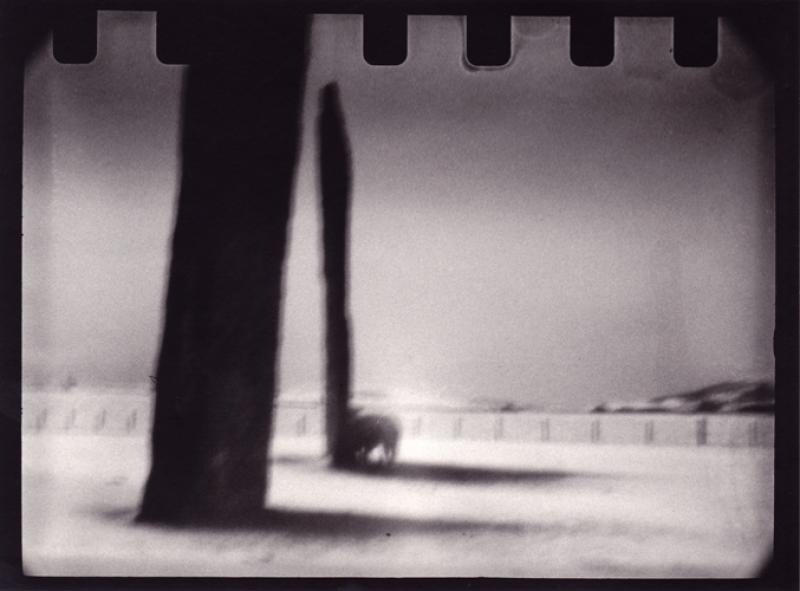 From the 'Monuments' series, a hand-made print from a £12 pin-hole camera
To Futureproof is to ensure that we don't become technologically obsolete, but keep in touch with as yet undeveloped technologies and exploit those already in the ether. It's an apt title for this exhibition of work by 16 graduates from the five Scottish university photography departments. That most are already future-proofing themselves is apparent in their diverse approaches to their work.
But that leaves those who choose to walk backwards in time, away from the digital world and into the dark room, from phones, camera and pens, screens and keyboards to ancient image-recording methods and small laboratories where chemicals are mixed and lighting methods balanced. Theirs are some of the most interesting images in the collection.

Returning to early photographic production methods has been drifting into the zeitgeist of professional and academic circles for a while and students inevitably picked up on it. Tired of sitting statically at a screen, many photographers of all levels want more control over the creation of an image. Philip Reid, whose snap series consists of slick pin-hole camera snapshots, asks: "How much control and curatorship are we willing to hand over to machines?"

The artificial legs he has worn all his life and has collected, are treated in other images, 'fetish objects, things of sculptural beauty', he calls them
The neo-old-timers have returned to a hands-on, craft-like relationship with the finished image, and a direct involvement with science over technology. They grapple with the physics of lighting, concoct recipes for printing, and many are present at that alchemical moment when an image rises magically from a tray of chemicals. Their work is the cheapest. Neil Bacon's mysteriously beautiful series, Monuments, was made with a £12, plastic, 35mm pin-hole camera. He describes the results as "a travel journey through dream space", a familiar, mysterious environment for photographers, though not so many here. His setting is a flat, snow-covered, nocturnal landscape leading the eye past a monumental tree trunk and stick-like tree sheltering a sheep, to white fields on a glowing horizon. The jagged paper at the top of the frame is part of the plan, Bacon explains: "I have left in many of the 'mistakes' inherent in these techniques as evidence of the maker's hand, the tools I used, and the slippery nature of photographic 'reality'."


The £12 camera links Bacon to other experimenters in early photography, and to Catherine Weir who, like many, straddles two worlds: "the intersection between analogue and digital processes", as she puts it. Her eponymous camera obscura is a simple abstract image created with the pre-camera technique she shares with Leonardo Da Vinci who projected an eclipse (a "moon-sickle", he called it) onto a wall. Using a room as the camera, she allows light in through a chink in a curtain and sees it inverted as a foggy cone of light radiating across the room. Nothing remarkable about that, but what sets it off, is the tiny square of in-focus, red curtain pushed to the side. It probably cost pence to create and digital prices to print.

At the other end of the spectrum, Ashleigh Thomson's Ascension is a digitally collaged sighting of a man hovering like a strange angel over a dark, empty, landscape. A surreal scene, playing with our perceptions, it could only be so perfectly finessed through digital methods.

For many here, exploring biography and autobiography, and depicting memories through related or implied objects, links them to an international preoccupation, and holds strong influences from Wolfgang Tillmans' work. Yoshi Kametani's portrays his subjects through both film and photography, reflecting the increasing intimacy of the two media today. Plastic Spoon is a five-year project shot in a deprived council estate in Edinburgh (pictured above right). One man standing against a bare, pale wall with a pigeon on his head, turns slightly bemused, towards the camera, and in accompanying text, explains that keeping the pigeon distracts him from the violent reality outside. Carefully printed with beautifully subtle tones, this is one of the most quietly successful images in the collection.

For Mike Steven, the central character is a 275-year-old house called Mavisbank, once a cultural hub outside Edinburgh and now a vandalised ruin, and a fading collective memory icon for the city.
Outstanding on many levels, Paul McDonald's autobiographical series, Birth Effects, reaches beyond the obvious (pictured left). On the surface, the main photograph seems like a family snap: the father (with head cropped out) holding the hands of his two daughters, wearing school uniforms and facing the camera. Close observation, though, reveals that he has no hands, but it doesn't reveal his prosthetic leg. Both afflictions were there since birth and his title replaces the negative associations of 'defects' with the positive 'effects'. The strength of this exceptional body of work lies not only in the narrative behind the images, but how McDonald represents it. The artificial legs he has worn all his life and kept as a collection are "fetish objects", "things of sculptural beauty", he says, and lines them up in his garden to be photographed. They store memories of the changing phases of his life, and the physical and emotional pain they recall. Adopting autobiographical themes is commonplace in photography today, but McDonald is moving beyond the many clichés now being explored in this genre of photography, and using the images to challenge reactions to such "birth effects".

An overview of this exhibition mirrors the rich possibilities being pursued by these emerging photographers. Malcolm Dickson, the Street Level Gallery's director and curator of this show, observes: "The physical and material properties of photography are played with in various works, as is the formal exploration of the relationship between the analogue and the digital. It's impressive, in these times, how skilled the young artists who leave photography courses are, and how moving between the analogue and the digital with ease, from the workstation to the darkroom, adds to the possibilities of image making."
I have left in many of the "mistakes" inherent in these techniques as evidence of the maker's hand, the tools I used, and the slippery nature of photographic "reality"
Explore topics
Share this article