Gauguin: Maker of Myth, Tate Modern |

reviews, news & interviews
Gauguin: Maker of Myth, Tate Modern
Gauguin: Maker of Myth, Tate Modern
After half a century, Gauguin returns to dazzle Britain
Thursday, 30 September 2010
Gauguin has always been the poor relation in the art-legend sweepstakes. Unlike Van Gogh, there is no heartwarming story of overcoming lack of technical facility; no ghoulishly enjoyable story of genius crushed by madness. Instead, there is a story that veers from irritating to deeply unattractive: a businessman and Sunday painter, Gauguin acquired his technical skills across a range of art forms with almost insolent ease, before abandoning his wife and children in poverty to flee to ever-more exotic locales, where he lived with a succession of (in today's terms) underage girls, some of whom he made pregnant while infected with syphilis, others of whom he rejected for being too "Western".
A self-promoter, a self-mythologiser, he was, he wrote, "a great artist and I know it". That is the "anti" side. On the "pro" side, however, is that Gauguin was one of the greatest colourists the world has ever seen, a master of hot, glowing, burning works that hypnotise and bewitch. He may have been a boastful self-promoter, but my God, he had reason.
The Tate has opened what it is clearly planning as its autumn blockbuster. A huge show, it is arranged once more along the gallery's pet theory of "themes" – among them, "Identity and Self-mythology", "Sacred Themes", "Teller of Tales" – and as always, the titles are almost entirely interchangeable, and thus tell us nothing. The pictures appear mostly to have been arranged merely to look pretty, rather than tell a coherent art-historical story (the show tells the story of Gauguin's life in skimpy outline, but well enough). If you didn't know about Gauguin's development as an artist when you went in, you won't know much more as you leave – although you will have enjoyed some of the greatest paintings of the 19th century. And they are paintings that must be seen. In reproduction, Gauguin's blazing palette turns acid and granular, even muddy; on the wall it is a revelation.

Gauguin's early works are like a speeded-up film of 19th-century art history. His earliest painting here, a dark, lovely little self-portrait from 1876, when he was 28, might be a slight Delacroix, all luxuriant browns and blacks and russets. He moves on to Impressionism and then Post-Impressionism, with a series of interiors, some of which look like Degas (Inside the Painter's House, rue Carcel), others heading towards Cézanne and Van Gogh. All are intriguing, and prefigure the profound radicalism that was to come.

In 1886 Gauguin spent time in Brittany, in Pont-Aven, initially because it was cheap; there he found the folk traditions and dress a revelation. The place was, he wrote, "wild and primitive": "I hear the muffled, powerful thud that I'm looking for." In 1887, searching for ever-more primitive cultures, he visited Martinique, and his colours began to flatten, while traditional European perspective gradually disappeared. Haystacks in Britanny (1890) shows the great leap forward, as cows, a woman and a field are all turned into an entrancing Vollard-like decorative border across the bottom of the canvas. Vision of the Sermon (Jacob Wrestling with the Angel) was a radical shift. Although professing contempt for organised religion, Gauguin in fact used religious imagery as a bedrock of his art, reinterpreted through "primitive" cultures – here, the Breton women, in their white coifs, praying – a grandly simplified, monumental depiction of traditional faith.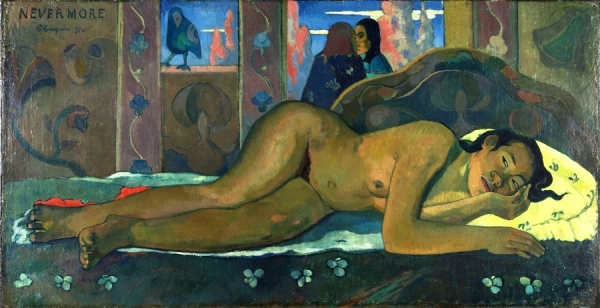 In 1891, Gauguin travelled to Tahiti, quickly moving past his initial European responses in images such as Tahitian Landscape or Black Pigs to a new way of seeing. On arrival, he found that what he had expected – a primitive people unspoiled by Western civilisation – was itself a myth: Tahiti had been Christianised by missionaries over a century before, and the port of Papeete had a well-established expatriate community with its own elaborate social hierarchies.

Instead, Gauguin created a Tahiti of the mind: a world of Polynesian legend mixed with his own version of Christian iconology, a world of women who were timeless abstractions, descendants of the European Romantic tradition crossed with the new Symbolism – Gauguin may have wanted his subjects to be primitive and non-Western, but his own art was grounded in the West, his psychodrama in the same fertile time and place that produced Freud. Nevermore, O Tahiti (pictured above) shows the Tahitian woman, the symbols and decorative motifs, the flat, carved faces of the idols, of this new land; it also has a title derived from Edgar Allan Poe (hugely influential in France at the time), and the sense of Baudelaire's "luxe, calme et volupté".


These, his greatest works, are the perfect synthesis, balancing the tension between the two worlds. Marahi Metua no Tehamana (Tehamana has Many Parents) (pictured left) shows his "vahine" as an expression of this cultural mixture, her "many parents", or conflicting influences, symbolised by her Western dress but also her grand, hieratic pose, and the Tahitian carved gods behind her, together with runes from Easter Island. Similarly, Gauguin's paintings are always a balanced tension between the beauty of the canvas, of the paint, the non-representational function of art, and the story he was telling: the stories, the poems, provide the impetus and guide the aesthetic choices he makes.

Gauguin has been caught up in a vicious circle: a poor relation because he isn't much shown, he isn't much shown because his works don't reproduce well; because they don't reproduce well, there isn't much demand for a show. This, the first exhibition in Britain in half a century, brings back to life the flat dull postcards we have had to live with between trips to countries better provided with Gauguins than we are. Go while you have the chance, and prepare to be converted.