Gustav Metzger: Earth Minus Environment, Kestle Barton review - an illuminating glimpse of a visionary activist-artist |

reviews, news & interviews
Gustav Metzger: Earth Minus Environment, Kestle Barton review - an illuminating glimpse of a visionary activist-artist
Gustav Metzger: Earth Minus Environment, Kestle Barton review - an illuminating glimpse of a visionary activist-artist
Ecological dirty-realism plus mass-media overload in an idyllic Cornish setting
Wednesday, 10 August 2022
'A stark and dead-pan monument to the automobile age' - 'Mobbile' by Gustav Metzger, 1970/2022
In later life Gustav Metzger appeared a marginal, eccentric figure. The diminutive, white-bearded artist, was often to be seen round London's galleries in the early to mid-2010s, dropping off piles of hand-produced fliers urging his fellow artists to "remember nature".
I've got one somewhere, a rudimentary dog-eared photocopy, announcing that "Gustav Metzger is calling on all creative professionals and students to create a worldwide movement across the arts to ward off extinction." Anyone not in on the story of the seminal 1965 Auto-Destructive Art symposium, when Metzger immolated his own paintings with a blow-torch, would have been forgiven for wondering, Who the hell is Gustav Metzger, and isn't "working for the environment" all very worthy, but just a bit dull?
Now, of course, that's precisely what we're all supposed to be doing. Metzger's standing as a visionary activist-artist has risen steadily since his death in 2017. Indeed, he's now arguably the most relevant and on-the-moment artist of our time: a refugee who came to Britain on a Kindertransport in 1939, whose life embodies the great zeitgeist themes of migration and displacement; an anti-capitalist who refused to be represented by a commercial gallery (though his estate is now, ironically, with global big player Hauser & Wirth), and who effectively invented the whole Extinction Rebellion concept decades before the event.
I'm standing now among exquisite gardens in a remote part of West Cornwall, looking at a second-hand estate car with a large Perspex box screwed to the roof, and a brown and patently dead plant inside. A tube looped over the back of the vehicle feeds its exhaust emissions into the box, so it kills its cargo (a griselinia littoralis, I'm told) as it moves. Parked among the billowing, meadow-like flower beds that surround the Kestle Barton gallery, it makes a stark and dead-pan monument to the automobile age and the intrinsic destructive capacities of the horseless carriage.
First created in 1970, Metzger's Mobbile has been incarnated in many forms over the decades, including as part of a gigantic installation at the 2007 Sharjah Biennial (shown on film in the exhibition), in which 100 cars pumped their emissions into a vast cuboid tent. This version, made specially for this exhibition, under the supervision of Metzger's estate, was driven to various prominent points in West Cornwall over the weeks before the show's opening, including St Ives harbour and Penzance's Jubilee pool, getting Metzger's environmental message to the heat-hammered holiday crowds.
"Environment", however, was an ambivalent term for Metzger, a falsified version of his great obsession "nature", that had been hijacked by "the forces that are manipulating the world" – the capitalist West – to help "maintain profits and power"; though he conceded that the communist bloc had got the balance of the "interdependent forces of destruction and creation" even more wrong.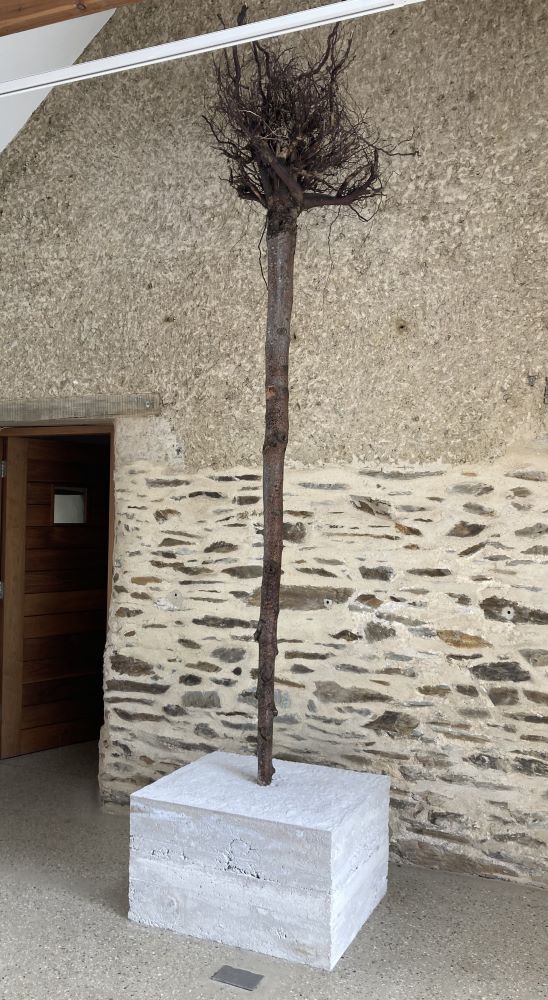 Inside the gallery, a young tree – it looks like a cherry – is upended into a block of concrete, its slender trunk crowned with a mass of cropped roots poking up into the ceiling rafters. Entitled "Strampelnde Baum/Flailing Tree" (pictured right) it alludes simultaneously to the trauma of Metzger's uprooted adolescence and the violence visited on trees by our eco-cidal society. Yet I was struck less by a sense of nature in anguish than the spare and elegant monumentality of the work, and the ecological manner of its realisation. This recreation of an original 2010 work was made on site according to Metzger's instructions. If all exhibitions were constructed in this way it would save galleries endless millions in transport costs and whole forests worth of carbon emissions.
The central work, "Mass Media: Today and Yesterday" (1971/2009) is a near room-filling stack of old newspapers in carrier bags (pictured below), forming a kind of monumental plinth that bears nothing but the weight of history embodied in the torrent of verbiage flooding over its thousands of pages. If it seems an excellent recycling opportunity (though you might struggle to amass this tonnage of material in these post-print times), this is Metzger's own collection of yesterday's papers, carefully arranged by the curators to create a snapshot of a historical moment around the Millennium. It evokes a time when the sleek jowls of David Beckham and Tony Blair appeared interchangeable, and Olafur Eliasson's Weather Project made the sun come out in Tate Modern, just as the Twin Towers were exploding into flames. The fact that three years separated these latter events feels a mere detail in this tactile-cerebral reading of history. In a participatory element specified by Metzger, visitors have collaged new newspapers over the surrounding walls, lampooning current events from the Tory leadership contest to Gary Linneker's "menopausal hot flushes".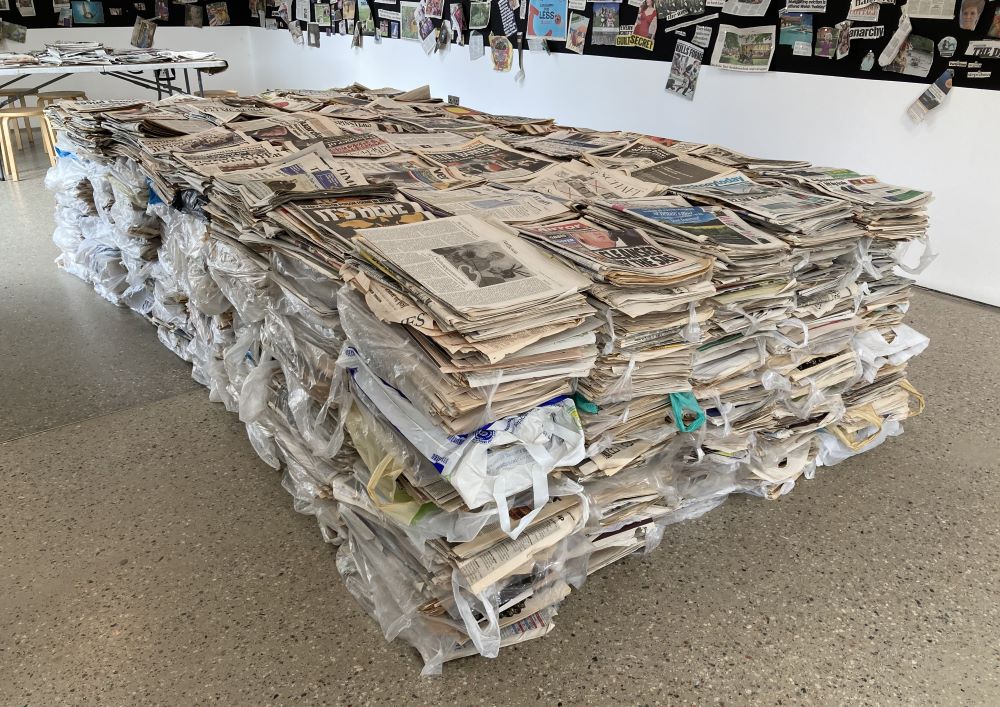 This small, but illuminating exhibition is worth going out of your way to see. It left me hungry for a full survey of this fascinating and supremely idiosyncratic artist: a proper retrospective that will pull together Metzger's many aspects and identities, from the teenage student who fell out spectacularly with David Bomberg, his teacher at Borough Polytechnic in the early Fifties, to Metzger as teacher himself, inspiring Pete Townshend, his student at Ealing School of Art, to smash his guitar on stage with The Who; from the Dadaistic painter and part-time antique dealer living in 1950s Kings Lynn to the psychedelic showman who created pioneering light shows for Cream.
That exhibition is no doubt already in the pipeline. In the meantime, Kestle Barton's immaculately tasteful spaces, hidden away among the creeks and manicured villages of the Lizard peninsular, prove a surprisingly appropriate place to engage with an artist who didn't shrink from probing the darker, dirtier aspects of life. Standing in the gallery with the doors thrown open you can smell the timeless processes of growth and decay emanating from the surrounding hedgerows with their teeming butterflies. This may be pretty nature, rather than raw and brutalised nature, but it's no less valid a setting in which to respond to Metzger's classic injunction to "remember nature".
Five years on from his death, Metzger is arguably the most relevant and on-the-moment artist of our time
rating
Share this article