History is Now: 7 Artists Take On Britain, Hayward Gallery |

reviews, news & interviews
History is Now: 7 Artists Take On Britain, Hayward Gallery
History is Now: 7 Artists Take On Britain, Hayward Gallery
Summing up 70 years of British history in one exhibition would never be an easy task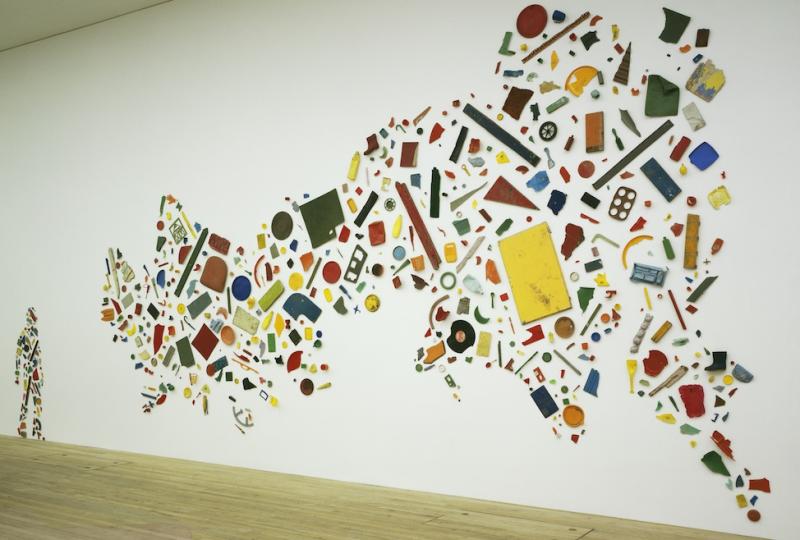 Tony Cragg, Britain Seen from the North, 1981
A Bloodhound Mark 2 surface-to-air missile points to the sky from the terrace outside the Hayward Gallery. From 1963–1990, the missiles were stationed along the east coast, from Humberside to the Thames, to intercept Soviet planes coming to drop atom bombs on Britain.
It's a chilling reminder of the Cold War and the nagging undertow of fear it engendered; it is also a timely reminder that, in recent weeks, Russian fighter jets have been intruding on our air space to give us the jitters and ratchet up tensions.
The title of the exhibition, History is Now could not be brought into sharper focus; but in order to make the past seem relevant, you have to bring it to life. And of the seven artists invited to curate displays looking at different aspects of British history over the last 70 years, only Richard Wentworth succeeds.
The Hayward should have asked Wentworth to curate the whole exhibition
His section covers the period from World War Two to the early 1960s. He starts with the blitz as photographed by Bert Hardy and the D-Day landings recorded by Robert Cappa, followed by the postwar optimism kick-started by exhibitions like Britain Can Make It at the V&A in 1946, which featured British design and manufacturing, and the more far-reaching Festival of Britain that followed in 1951.
His stratagem is to choose a theme – Britain's status as an island and the consequent importance of our beaches to the national psyche – exemplified by Tony Cragg's installation Britain Seen from the North, 1981 (main picture). And to give a rounded picture, he relates achievements in art, design and technology to everyday life. Rather than offering a dry chronology, Wentworth creates a kaleidoscopic impression of the period through the intelligent juxtaposition of cultural and technological artifacts. Paul Nash's painting Totes Meer (Dead Sea), 1941 – a sea of dismembered aircraft – reminds one of the carnage of war, but also the fascination exerted by the surreal beauty of wreckage and ruins.
Barbara Hepworth's drawings of surgeons at work are a celebration of team effort and the establishment of the National Health Service, founded in 1948 to help counter the effects of the terrible poverty photographed by Bert Hardy. The shining dome of Henry Moore's Maquette for Atom Piece, 1964 is reminiscent of a helmet, skull and mushroom cloud. A prototype for Nuclear Energy, a sculpture commissioned by the University of Chicago to commemorate the first controlled nuclear reaction, it encapsulates the destructive horror of the atom bomb as well as the peaceful potential of nuclear fission.
A Crown Merton double saucepan, designed to save on gas, and a Pye V4 television set remind us of continuing austerity, on the one hand, and renewed affluence, on the other. A varied selection of books indicates the wealth of ideas around at the time. Titles range from Hiroshima (John Hersey) and RAF Middle East: the official story of air operations Feb 42, to How to Ice a Cake (Jane Cadman), Room at the Top (John Braine) and Unser Kampf: Our Struggle by Sir Richard Acland who warns that "Europe will not escape utter destruction unless we accept entirely new ideals, and act upon them at once." Its a message Euro-sceptics would do well to heed.
The Hayward should have asked Wentworth to curate the whole exhibition. His combination of a light touch and rigorous editing skills encourages one to explore further. Roger Hiorns' inclusive approach, on the other hand, induces exhaustion and indifference. His topic is "mad cow disease" and its human equivalent, variant CJD (Creutzfeldt-Jakob disease).
Bombarding us with what he describes as "a deluge of raw information", he leaves us the job of extracting something relevant from the morass. It's like wading through treacle and my senses were so blunted by the excess that I couldn't even respond to a mother filmed mourning the death of her 15-year-old daughter from CJD.
Filmmaker John Akomfrah must have spent weeks trawling through the Arts Council archive to pick out 17 films by and about artists. I'm nowhere near dedicated enough to watch things like Malcolm LeGrice's Whitworth Down, 1971; but I was pleased to see a naked Stuart Brisley battling with Ken McMullen to reach the top of a slippery slope, in a live performance at the ICA. And Gilbert & George's The World of Gilbert and George (pictured above right) remains as fresh and willfully odd as when it was released in 1981.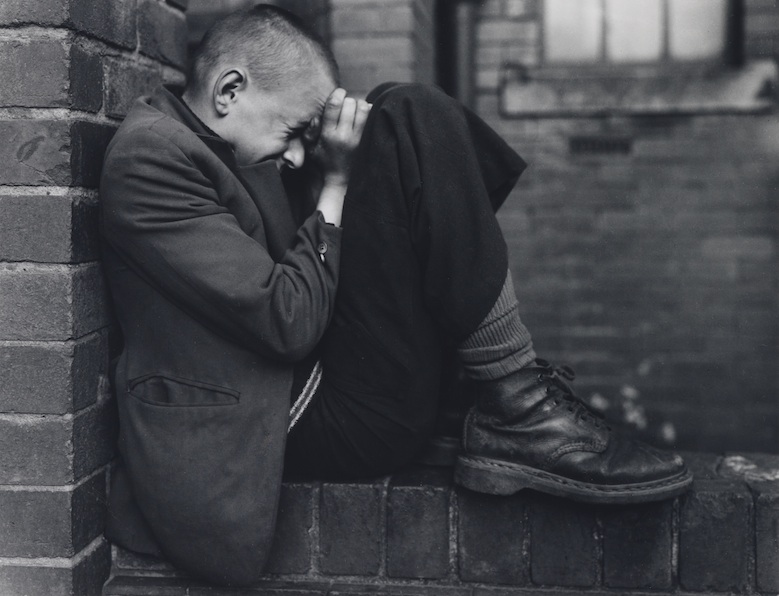 Hannah Starkey juxtaposes lushly coloured 1970s adverts with stark, black and white shots taken at the time by documentary photographers like Chris Killip and Homer Sykes. Killip's famous shot of a frustrated bother boy hunched on a wall in Jarrow (pictured left) is undoubtedly a classic, but the contrast that Starkey sets up between harsh reality and aspirational fantasy creates far too simple a narrative. She might at least have enriched the mix by adding Karen Knorr's portraits of narcissistic punks or the denizens of Gentlemen's clubs.
Jane and Louise Wilson bring together work made in response to political issues such as unemployment and "the troubles" in Northern Ireland. My heart sank when I entered their space, partly because Richard Hamilton's The State, 1993, a painting of a wary soldier patrolling the streets of Northern Ireland, and Stuart Brisley's 1= 66,666, 1983 (pictured below), a cage full of gloves representing 4 million unemployed, are so familiar. Mainly, though, showing work without contextualising it properly just doesn't seem enough. This is especially true of the Apollo Pavilion designed by Victor Pasmore for Peterlee, County Durham in 1967. Loathed by many locals yet granted Grade-II listed status in 2011, the project needs much more explanation.
Beginning with the outfit worn by Meryl Streep as Margaret Thatcher in The Iron Lady, (pictured below left) Simon Fujiwara's display takes a lighthearted look at post-Thatcher Britain and the effects of the "greed is good" ethos that has prevailed so destructively. A half ton lump of coal from Swadlincote, the only colliery still operating in the country, represents the manufacturing base we have lost to the service and entertainment industries.
Fujiwara seems to be under the influence of his brother, Daniel who works in "Happiness Economics", a discipline which attempts to quantify people's wellbeing in monetary terms. His inclusion of Imagineering, 2013, a syrupy-sweet propaganda film made by Ryan Gander for the Department of Business Innovation and Skills encouraging us "to imagine a better future" feels like an attempt to foist Happiness Economics onto us all.
The rest of the display suggests we have become a nation of lifestyle-obsessed airheads interested in celebrity, fine dining and all things ironic. Everything, including the coal, sits on perfect white plinths as if to present a picture as sterile as his brother's "1984" vision of what happiness means. The exception is the giant freezer, which matches the plinths in size. There's room in it for a lake of champagne – enough to fuel the excessive parties held by hedge fund managers as the British boat goes down.
Fujiwara's display suggests we have become a nation of lifestyle-obsessed airheads interested in celebrity, fine dining and all things ironic
Explore topics
Share this article