Jimmie Durham, Serpentine Gallery |

reviews, news & interviews
Jimmie Durham, Serpentine Gallery
Jimmie Durham, Serpentine Gallery
The American artist who casts a quizzical eye over everything we hold dear
A perspective that's challenging, witty and fresh: 'Sweet, Light, Crude', 2008
The first thing you encounter is a ballot box bolted to the lid of a school desk; what or whom you might be voting for – apart from the hope of change – is not specified. In the eyes of Jimmie Durham, change is badly needed; in fact, most of the premises on which western society is built could do with a radical rethink. Judging by the state of the box, though – the lid looks as if it has been prized open and bolted down many times – fair and free elections seem unlikely.
Mostly probably, the outcome would be rigged.
Nearby is a revolving door that returns you (rather like a rigged election) to the place where you started. Entering it is not a pointless exercise, though. "You have another chance" is written beside the door, and while inside – protected from peer pressure and other external influences – you have the opportunity to reconsider the principles on which your life is based. Tilted GO BACK the installation mimics a u-turn and invites a rethink.
There's no polemic, just a humorous nudge towards reconsidering the assumptions we are spoon fed. To help identify some of them, on video Durham sings songs from his childhood that inculcate moral values. Those he cherishes are ballads or love songs like "Goodnight Irene" and Bruce Springsteen's "Lonesome Day". Those he repudiates, such as "Onward Christian Soldiers", "Stand Up for Jesus" and "Praise the Lord and Pass the Ammunition", exploit religious belief to incite hatred and validate aggression.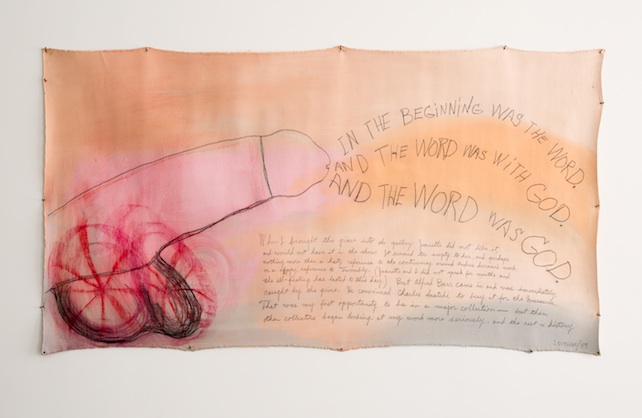 The Judeo-Christian tradition comes in for further ridicule in The Meat of Christ, 2012, a billboard-sized photograph of a young girl kneeling beside a priest who offers her a communion wafer. Her face bathed in beatific light; she seems utterly entranced. Next to the photograph hangs a neon sign which reads, "The Blood of Jesus". The ensemble is as slick and as specious as an advert.
Titled Shrouds and Swaddling Clothes of Decommissioned Saints, 1996, a couple of plastic laundry baskets filled with old shirts and strands of matted hair have been left in a corner. In another room, a collection of steel buckets and a washtub containing rancid collections of clothes, earth and hair – perhaps from a recently exhumed body – mock the preservation and fetishisation of religious relics.
Drawn in a graffiti scrawl across a canvas (pictured above right), the opening words of the Gospel According to St John – "In the beginning was the word and the word was with God and the word was God" – spew out from the tip of a large cock and balls. Beneath the ejaculation, a written commentary explains that the painting was deemed offensive until Charles Saatchi bought it for his collection, so putting Durham on the cultural map.
The dream of instant art world success is gently parodied in The Pursuit of Happiness, 2002, a delightful film made with Anri Sala that, in its simplicity, functions like a parable. A young man scavenges for rubbish, which he takes back to his grotty caravan to make into arty assemblages. Soon they are hanging in a smart gallery. The exhibition is a triumph; a collector hands the artist a wad of cash fat enough to enable him to leave behind his miserable existence. He torches his caravan and takes off for Paris – and café society – in a journey that parallels Durham's own move from Mexico to France in 1994.
Modern art is a favourite target of Durham's wry humour. Absurdist assemblages made from carefully chosen bits and pieces query the value judgements we make about art (pictured above left: The Guardian (Free Tickets), 1992).
Several Brancusi-style plinths – blocks of rough wood balanced elegantly on top of one another – support nothing more than a metal spring or smooth plank. Modern Art with Dead Bird, 1991 is an easel-like structure with the head of a Komodo dragon and a painting of a bird attached. A scarecrow with a blotchy yellow, fibreglass head gazes blankly through blue eyes from atop another wooden support (pictured below: installation shot). Are these weird artefacts worthless agglomerates devoid of meaning, or significant sculptures imbued with weighty content? You decide – along with the likes of Charles Saatchi!
Other targets may be less nebulous, but Durham's approach is similarly oblique. Sweet, Light, Crude, 2008 (main picture) consists of oil barrels painted saccharine colours and stenciled with words such as "Honest", "Brave", "Fine and "True" which encapsulate the virtues that fine upstanding citizens aspire to. The paradox, of course, is that a society dependent on exploiting oil and other natural resources must rely on less desirable qualities, such as cunning, deception and ruthlessness, to flourish by outwitting the competition.
During the 1970s, Jimmie Durham was a member of the American Indian Movement (AIM), lobbying for the rights of indigenous peoples. When he returned to making art in 1980, he used his work to cast a quizzical eye over many of the precepts concerning religion, politics, morality, history, society (and just about everything else) that we in the west take for granted and assume are sacrosanct. Its this critical perspective that makes his work so challenging, witty and fresh.
The songs he repudiates, such as 'Onward Christian Soldiers' and 'Stand Up for Jesus', exploit religious belief to incite hatred and validate aggression
Explore topics
Share this article