Masters of the Everyday: Dutch Artists in the Age of Vermeer, The Queen's Gallery |

reviews, news & interviews
Masters of the Everyday: Dutch Artists in the Age of Vermeer, The Queen's Gallery
Masters of the Everyday: Dutch Artists in the Age of Vermeer, The Queen's Gallery
Works from the Dutch Golden Age reveal genius of the vernacular
Saturday, 14 November 2015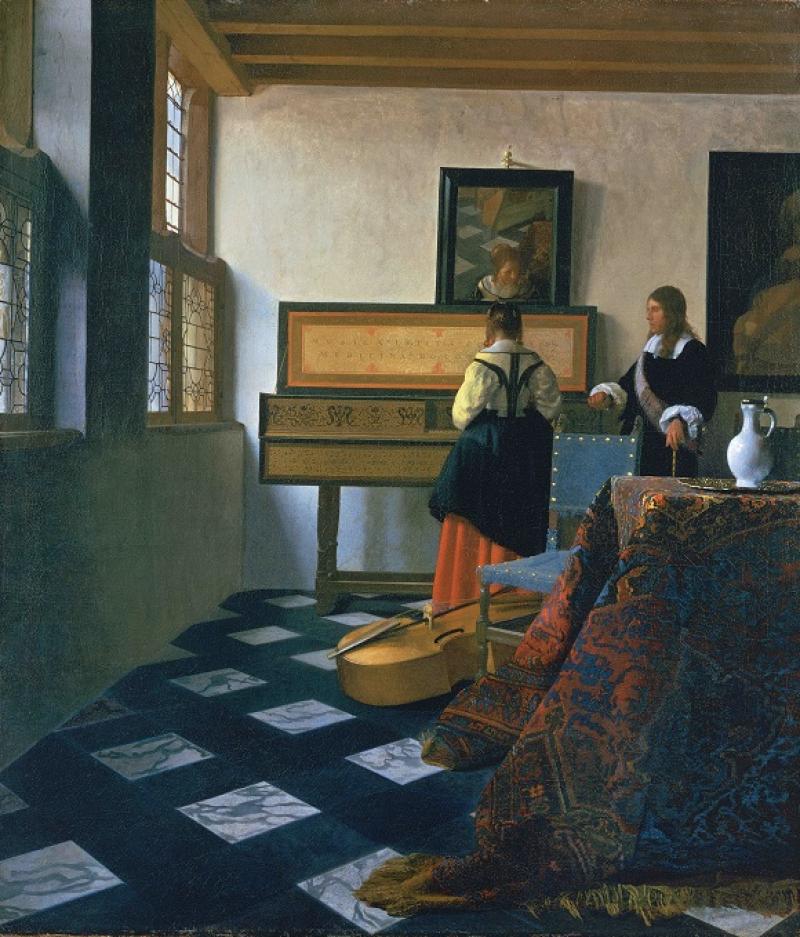 More here than meets the eye: Vermeer's 'Lady at the Virginals with a Gentleman', 1662-5
What is it about Vermeer? Just mention the name and there will be queues around the block. It's true that there are a handful of other artists with that charisma, but none so rare as Vermeer. The Girl with a Pearl Earring is not only the subject of a recent novel and a film, but also a kind of poster for Holland as a whole, and the star of the recently reopened Mauritshaus in the Hague.
At the Rijksmuseum in Amsterdam you can hardly see the handful of Vermeers for the crowds.
Such power to attract is shared by a few others, including several Dutch masters – think Rembrandt and Van Gogh – two Spaniards (Velazquez and Picasso), and then Matisse, all prolific in their way. But Vermeer is sui generis: the surviving paintings that are securely attributed to him number only 34.
Every picture here tells a story, but what exactly that story is remains open to interpretation
At The Queen's Gallery his name is used to draw us into examining that minor miracle of Western art, the Dutch Golden Age. London has four Vermeers: two in the National Gallery, one at Kenwood, and one in the Royal Collection. (Edinburgh has one Vermeer, Dublin one, and East Coast America 13 – art neatly reflecting historic redistributions of wealth). The royal Vermeer is one of his most enigmatic (and enigma was his middle name): Lady at the Virginals with a Gentleman, or "The Music Lesson", 1662-1665 (main picture: the National Gallery dating is 1662-1663).
This mesmerising painting shows us a lady standing at the instrument, her back toward us; a gentleman is at her right side, his mouth slightly open – is he singing? The open lid of the virginal bears a Latin motto, "music is a companion in pleasure, a remedy in sorrow" – suggesting, as we observe the reflection of the lady in the mirror tilting her head towards her male companion, that there is more here than meets the eye. This work alone is more than worth the visit, but the context is enlivening.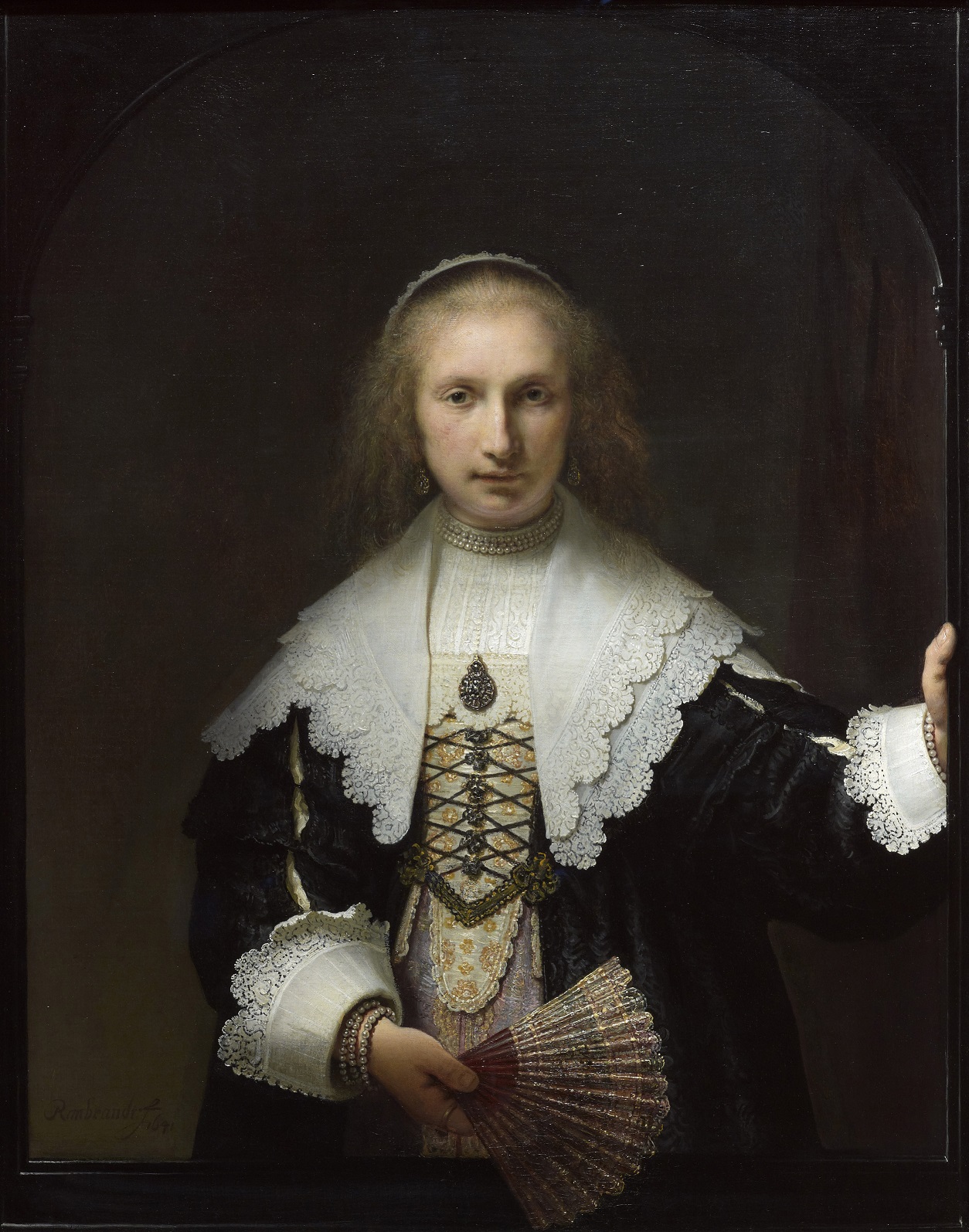 For while the Vermeer may have pride of place the thrust of this sumptuous exhibition, a cornucopia of riches, is general hubbub – lots of drinking, carry-on, titillation, and over-the-top, lovingly detailed domestic and exotic goods: decorated cakes, hanging game birds, exotic fruits, strings of onions, the commonplace and the luxurious together.
Every picture here tells a story, but what exactly that story is – allegorical, metaphorical, literal – remains open to interpretation. Nothing really convinces as a snapshot of true daily life: everything stands for something else, for erotic relationships, mercantile consumption, the sheer wealth of the Low Countries. There are scenes of music-making, an extremely important activity across the classes, genre scenes of taverns and peasant life, and scenes set in shops and kitchens. Consumption is all, with ne'er a cool Dutch landscape in sight. So many of the subjects are coarse, crude, bawdy carry-ons, yet the painting itself is not only adept at exceptional detail, but meticulous and exceptionally fine.
The artist far more famous in his day than Rembrandt – not to mention Vermeer – was Gerritt Dou (1612-1675), Rembrandt's pupil. He is represented here by a marvellous trio, a tour-de-force of meticulous realism and illusionistic fantasy brought together. George IV's Dou, The Grocer's Shop, shows us several deliciously homely ladies carefully weighing and measuring out various foodstuffs, a fancy architectural framework, and everyone seemingly full of wellbeing. Any foodie would salivate. George IV also purchased A Girl Chopping Onions, and she is charmingly doing just that, in a scene in which, art historians tell us, various utensils and foodstuffs symbolise – well, what else? – sex. The Young Mother was once in the collection of Charles II, a gift from Holland, but it is now in the Mauritshaus, and visiting only temporarily.
Rembrandt's profoundly affecting portrait of An Old Woman, sometimes thought to be of the artist's mother, was given to Charles I by the diplomat Sir Robert Kerr. It was the first painting by Rembrandt to come to England, almost fresh off the easel. He was naturally not yet an Old Master, but a very Young Master; painted when Rembrandt was only in his early twenties, and about to leave Leiden for Amsterdam, its subject remains mysterious, but its mediation on old age resonates still.
The fleshy, avaricious, greedy Prince Regent was an almost insatiable collector, who acquired the extraordinarily sensitive Rembrandt, the restrained yet emotional portrait of Agatha Bas, The Lady with a Fan, 1641 (pictured above right), her hand curled at the edge of the painting as though she is about to step out into reality. A gift to George IV is an over-the-top scene by Hieronymus Janssens of Charles II Dancing at a Ball at Court, c. 1660, the king seemingly on his toes, surrounded by a crowd of courtiers, the whole awkwardly teetering into the absurd.
The brilliantly painted A Woman at Her Toilet, 1663, by Jan Steen (pictured above) naturally appealed to the lascivious king. She is sitting on her bed, accompanied by a tiny sleeping dog, and peeling off a stocking; she is framed by an elaborate pastiche of classical columns, arches, and decoration, her slippers on the ground, her jewel-box open on a table nearby, a lute on the threshold. It is a painting of seductive enticement, open we presume to the male gaze.
Gallery: click on first image to begin
The thrust of this sumptuous exhibition is general hubbub - lots of drinking, carry-on, titillation, and over-the-top, lovingly detailed domestic and exotic goods
rating
Share this article