Modigliani, Estorick Collection |

reviews, news & interviews
Modigliani, Estorick Collection
Modigliani, Estorick Collection
A trailblazer of the avant-garde captivated by the art of the past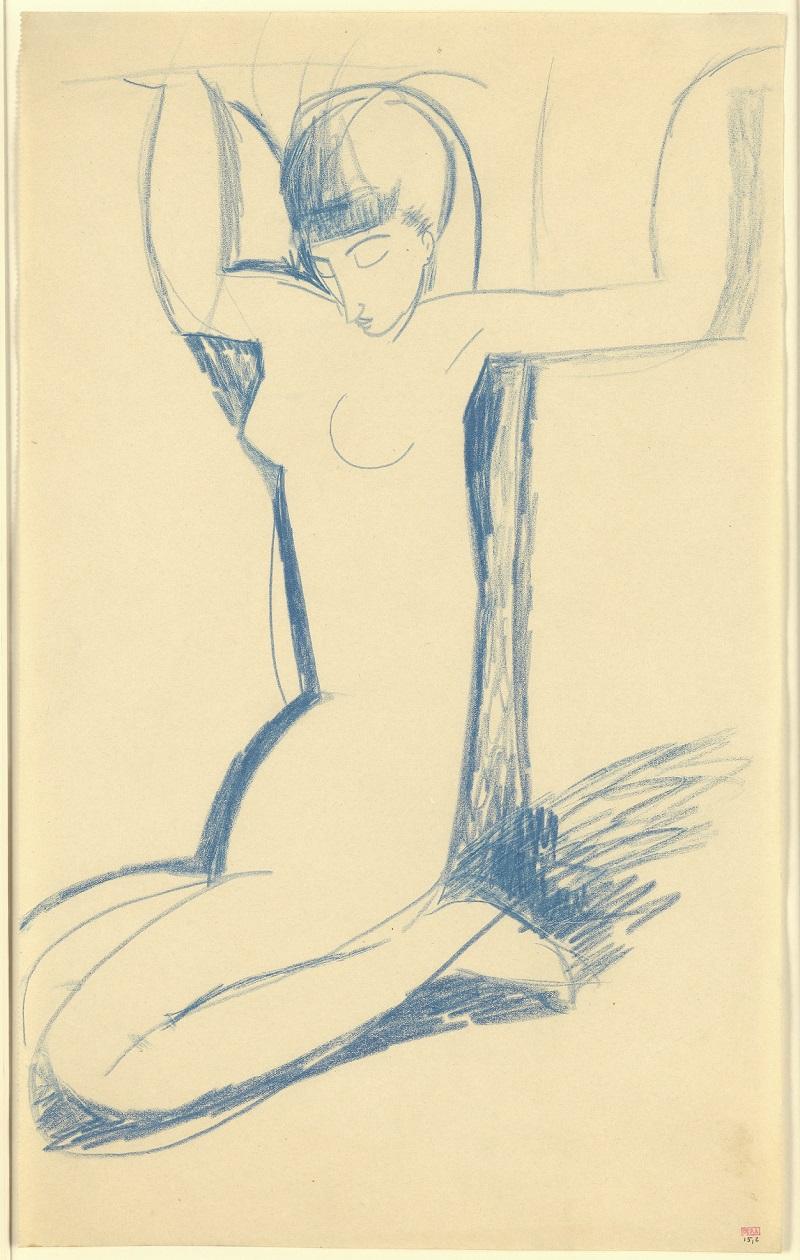 Kneeling Blue Caryatid, c.1911
Modigliani's short life was a template for countless aspiring artists who, in the period after his death in 1920, were only too willing to believe that a garret in Montmartre and a liking for absinthe held the secret to creative brilliance. While Modigliani certainly compounded poor health with a ruinous drink and drug addiction, this exhibition plays down his reputation as a hellraiser, suggesting instead an altogether quieter, although no less romantic character.
Even relatively unembellished, the artist's life has been so comprehensively mythologised that it feels as contrived as a film script, narrated in the most poetic terms through his letters and diaries, and those of his friends and family.
The work, too, follows a startlingly linear trajectory, suggesting a man with a rare sense of purpose that, one supposes, would have dwindled had the fug of intoxication been anything like permanent. Spanning the period from 1906 when he arrived in Paris from Italy, to 1919, the year before his premature death, the early drawings here come from the collection of his friend and patron Paul Alexandre and, with some later pieces from the Estorick Collection, provide an overview of the artist's development. We see how Modigliani found his own idiom, and the sudden, almost magical blossoming that coincided with his relationship with the Russian poet Anna Akhmatova, undoubtedly his greatest muse.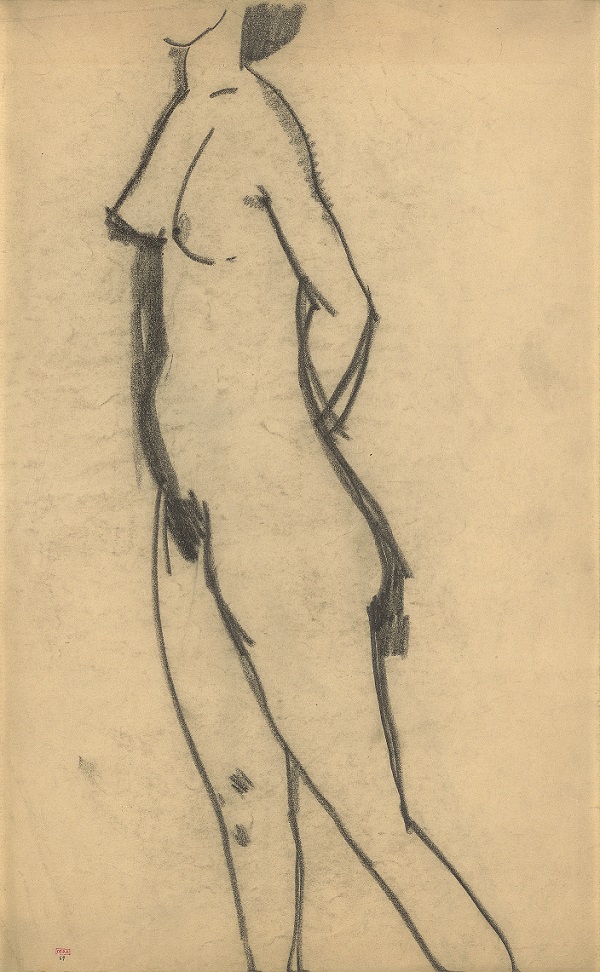 The earliest drawings are self-evidently so, the short, hesitant lines apparently bearing little relation to his more mature and better-known work in which elongated forms are described in exquisitely controlled, sweeping arcs. And yet in the considered, somewhat tentative execution of his Standing Female Nude of 1908 (Pictured right), we can surely see Modigliani testing the expressive possibilities of the human form, anticipating the grace and economy of line that began to emerge over the next couple of years.
While these early nudes are ostensibly preoccupied with form, they are very often portraits at heart, each one conveying a powerful sense of the individual. In his eagerness to get to the essence of each subject's character, Modigliani experimented with a battery of different media, the faintest pencil line striking a very different emotional pitch to the painterly applications of ink used in his sketch of Adrienne, c1909, in which bold, graphic strokes seem to be threatened with obliteration by heavily diluted washes.
In contrast to these vigorous early portraits, his studies of ancient Greek and Roman sculpture, African, and ancient Egyptian art, reveal an interest in conventions of representation that seemed to Modigliani to offer universal truths about the nature and expression of beauty.
A drawing like Female Nude with Wing-like Arms (recto), c1910, anticipates his characteristically elongated style, the monolithic figure constructed from a series of arcs. There are no superfluous marks here, and the blank, mask-like face has taken its cue from the simplified representations typical of Egyptian and African art.
Somehow, in the Kneeling Blue Caryatid, c1911 (main picture), Modigliani has combined this sort of schematic treatment of the female figure with the piercing characterisation of his portraits. The result is a strange, bewitching creature, somewhere between a woman and an imagined, magical being, made of flesh, perhaps, but as a caryatid is by definition an architectural form there is a nagging suspicion that we are being seduced by a persuasive piece of sculpture.
While Modigliani's semi-fantastical creatures took shape in his imagination, inspired by the collections of various Paris museums, it was the ethereal, but undoubtedly flesh-and-blood Anna Akhmatova who provided the bridge between real and imagined. For Modigliani she seems to have been the living embodiment of some ancient goddess, giving her face to his sphinx-like Woman Reclining on a Bed, c.1911.
She appears again in Standing Female Nude in Profile with Lighted Candle, c1911 (Pictured left), simultaneously naturalistic and schematic, ambiguously located in space so that she appears to be at once a real woman and a painted figure, flattened to two dimensions, her posture recalling so many ancient Egyptian wall paintings. The candle seems at first incidental, or, at most, calculated to lend an atmosphere of magic and mystery, but it is essential to the uncertain nature of the image, the absence of shading heightening the sense of a two-dimensional, unreal form, while the most cursory lines beneath her elbow are enough to imply slight movement and the flickering of the candle. Even the deep shadow she casts on the wall is equivocal, and surrounding her like an aura, it begins to envelop her lower legs to become highly stylised, a graphic device more than an evocation of the effects of light.
Anna Akhmatova is reputed to have had such a profound effect on Modigliani's work that the ovoid faces and long, slender bodies for which he is best known came to the fore after they first met in 1910. But while his paintings, and especially his sculptures, see Modigliani's characteristic visual language crystallised in sometimes androgynous and often impersonal renderings of the body, these drawings serve not only to elucidate Modigliani's developing understanding of idealised beauty, but as fond, and very personal portraits.
It was the ethereal, but undoubtedly flesh-and-blood Anna Akhmatova who provided the bridge between real and imagined
Explore topics
Share this article