Modigliani, Tate Modern review - the pitfalls of excess |

reviews, news & interviews
Modigliani, Tate Modern review - the pitfalls of excess
Modigliani, Tate Modern review - the pitfalls of excess
Blockbuster show of the bad boy of the Paris scene succumbs to surface
Nude, 1917
Modigliani was an addict. Booze, fags, absinthe, hash, cocaine, women. He lived fast, died young, cherished an idea of what an artist should be and pursued it to his death. His nickname, Modi, played on the idea of the artiste maudit – the figure of the artist as wretched, damned.
His funeral was an artistic Who's Who in
Paris
in 1920 but the disease that killed him – tubercular meningitis – is a disease of poverty, and his penniless death has been matched exactly a century since his nudes were exhibited in a Parisian gallery (and immediately censored) with a vast exhibition at
Tate Modern
.
Over a hundred paintings from over 70 lenders – public and private – are arranged by theme and rough chronology. His sculptures have a room of their own, a cinema screen plays archive footage of contemporary Paris, and a VR room recreates his last studio (a queasy novelty). It's big, impressive and bombastic. It's a blockbuster.
London seems recently to have fallen for a French age of artists and lovers, workers, émigrés, writers, poets and agitants. The portraits of Soutine, one of Modigliani's great friends, are on display at the Coutauld, and a collection of Cézanne's portraits – a pivotal inspiration – are just down the road at the National Portrait Gallery. But while these exhibitions are tightly focused, contextual brilliances, this overwhelming show seems more like a mawkish reaction to London's own lost bohemians and hunger for cash and crowds than exposition of what makes this mercurial sybarite's occasional successes truly disturbing. There are some engrossing aspects to the exhibition, but its excess breeds insecurity.
It's a charge Modigliani himself falls prey to. The frenetic pace at which he produced and gave away work and indulged in pleasures and poisons strongly suggests he was acting out his idea of an artist, trying to convince himself. L'Algérienne, 1916, and Nude on a Divan (Almaisa), 1916, are adjacently hung portrait and nude of the same woman – dark skinned, haughty, humorous and fashionably coiffed. When dressed, her fang-like earrings, bob and décolletage are statements, the silky sailors' collar a nod to high fashion and workers' dress. She turns humorously towards us, asymmetric hair rakishly swept, tart riposte at the ready. In the nude, her jewellery's retained and she strikes a bold pose: conspicuously sexual, overtly seductive, sinuous – but compromised. There's fronting here: her up-tilted chin burlesques defiance, and Modigliani blanches her skin. Under scrutiny, her posture defers seduction. Her feet are chopped off and a single finger reassures her nervous cheek. A fold of skin runs like sadness from belly to pubis, and a patch of dark squats beneath her elbow, colonising an entire corner of the composition. Her situation is precarious; so is his. You can almost smell the sofa dust and doubt.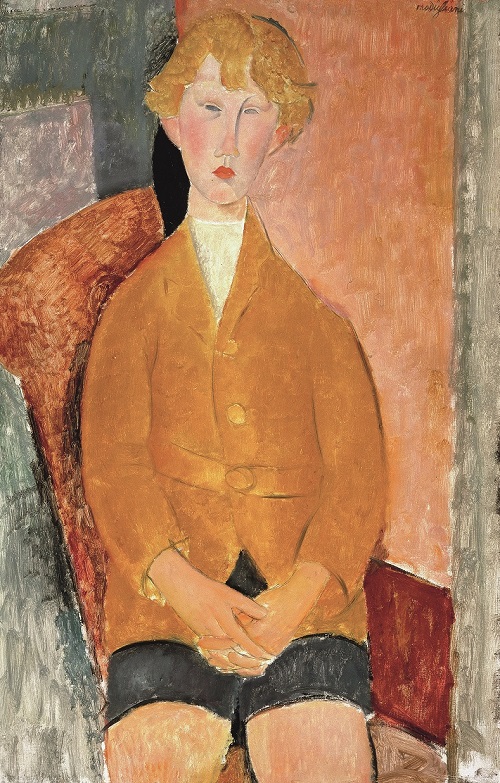 Where the exhibition appeals is not the plasticky flesh (main picture: Nude, 1917), nor the countless portraits of patrons, prôches and pastiched peers – one corridor is devoted entirely to portraits of friends painted in their own approximated styles, though a portrait of the rubicund poet Diego Riviera is a joyous, saturnine delight. It's in the intensity of works where it's apparent Modigliani is truly absorbed, freed of the sense of who he should be that the mask drops and we see him seeing his subjects clearly. There's the lone Cagnes Landscape, 1919 – "I am trying to do some landscapes. The first might possibly look like a beginners. Otherwise they are alright" – and the sculpture room which resonates with his obsessive devotion to art from Egypt, Gabon, Benin, Cambodia. Rough-hewn occiputs express grandeur; almond eyes, elongated lobes and beatific smiles, mystic dignity (Pictured above right: Woman's Head (With Chignon), 1911-12). Later, three portraits of young boys painted in southern France and glowing with the colours Cézanne also borrowed from the landscape deserve attention. Boy in Short Pants, c.1918 (pictured above left), is tender: the flush-bitten ear and dutifully laced hands speak of coltish youth, the sloping thighs imply a too tall stool, the shadow of tedium crossing his face is unselfconsciously relayed along with incidental locks of unruly hair.
Picasso claimed that Modigliani was the "one man in Paris who knows how to dress", yet it's only when he passes appearance to reach the psyche that he supersedes the glitzy and trite.
The frenetic pace at which he indulged in pleasures and poisons strongly suggests he was acting out his idea of an artist
rating
Explore topics
Share this article