Picasso 1932: Love Fame Tragedy, Tate Modern review - a diary in paint? |

reviews, news & interviews
Picasso 1932: Love Fame Tragedy, Tate Modern review - a diary in paint?
Picasso 1932: Love Fame Tragedy, Tate Modern review - a diary in paint?
Biography prevails in a compelling account of the artist's year of wonders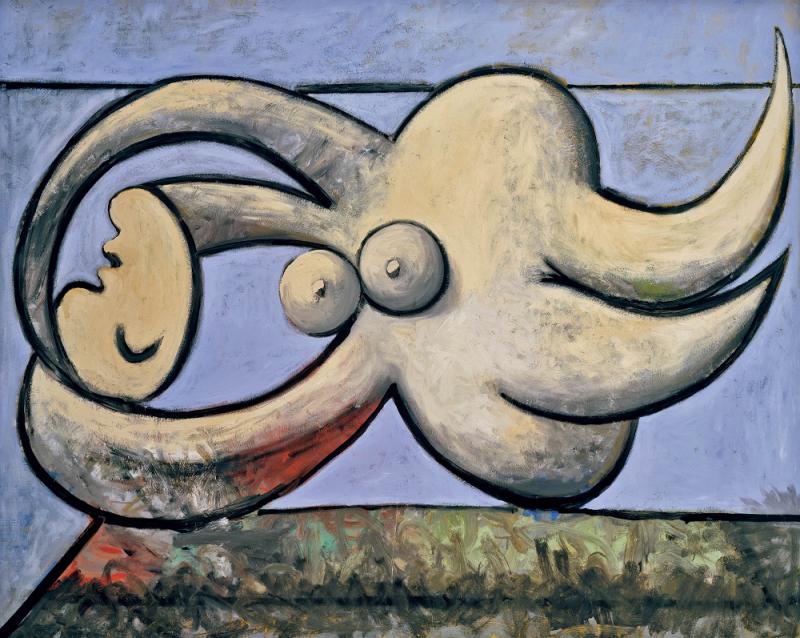 Pablo Picasso, Reclining Nude, 1932
Painted in ice-cream shades punctuated with vivid red, the series of portraits made by Picasso in the early weeks of 1932 are as dreamy as love letters. His mistress Marie-Thérèse Walther – we assume it is she – lies adrift in post-coital languor, her body spread before us as a delicious and endlessly fascinating confection.
But the mood shifts from picture to picture, and she appears by turns as a wisp-like erotic reverie, an imposing, moon-faced goddess, and, in a flash of humour that teeters on the edge of cruelty, a cartoonish blob of a creature with a long, upturned snout (
Pictured below right:
Young Woman with Mandolin
)
In Sleeping Woman by a Mirror, Marie-Thérèse's bright yellow hair is now an ashen grey, her face cracked open like an egg, her arm lying limp across a construction that is at once her lap, and her breast, and a monstrous phallus. Love seems so easily to have fallen into decay and violence. We are drawn into a hopelessly literal way of looking at these pictures, encouraged both by Picasso's handy comment that "the work that one does is a way of keeping a diary" and the curators' decision to present these paintings as if they are pages in a journal. Dated by day, they suggest a ferocious work rate fuelled by his intense affair with Marie-Thérèse. Picasso's system for dating works is unknown: that he probably dated them when finished, thus giving no indication of a start date, is mentioned but not allowed to spoil a good story.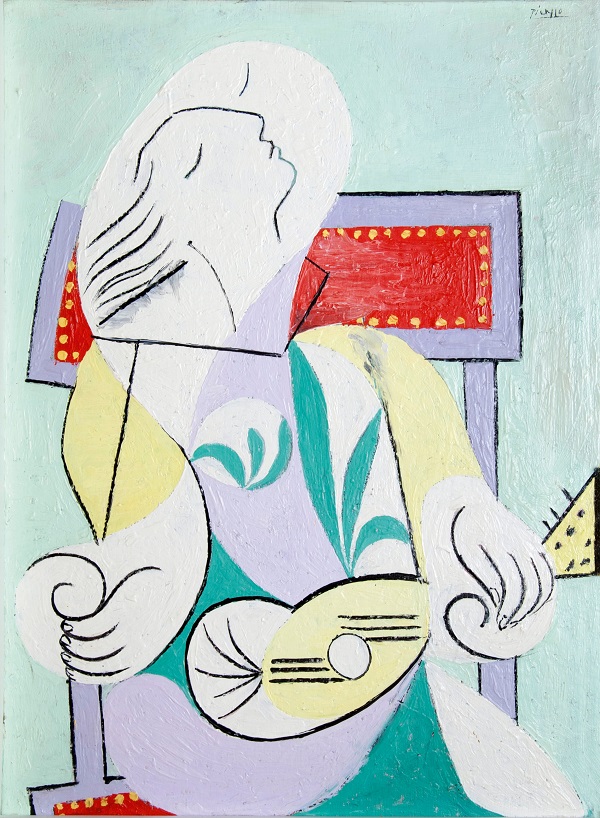 Cultivating tabloid appeal – Love, Fame, Tragedy – while aiming to satisfy standards of academic probity, the curators at Tate Modern are pulled hard in two directions, evident in lukewarm warnings against overly biographical interpretations. Woman with Dagger, painted over Christmas 1931, is often treated as an expression of his strained relationship with his wife, Olga. Here though, we are advised to see it less as a therapeutic release, and more as an indication of Picasso's interest in surrealist preoccupations, which emerges in his work from this time as a distinct and opposing tendency to his interest in colour and form.
Such tensions culminated in 1932: an annus mirabilis for Picasso according to his biographer John Richardson, during which he produced some of the most significant work of his career. The need to reconcile his by now stellar reputation with his place at the cutting edge, his dual interests in surrealism and coloration, sculpture and painting, all form counterpoints in a period of astonishing creativity galvanised by the energising effects of an affair that itself stood in marked contrast to his 13-year-long marriage.
If Marie-Thérèse, so readily identifiable by her blonde hair and prominent Roman nose, is everywhere here, the much-maligned Olga is consigned to the shadows, emerging halfway through in a partial reconstruction of the Picasso retrospective held in Paris in June 1932. Here Picasso's most famous – though certainly nothis most vicious – portrait of his wife, painted in the classicising style typical of his work in the years after the First World War, is surrounded by portraits of their children, notably Paulo as a Harlequin, 1924. Cast as a matriarch, Olga's restrained elegance contrasts uncomfortably with the luscious extravagance of Marie-Thérèse.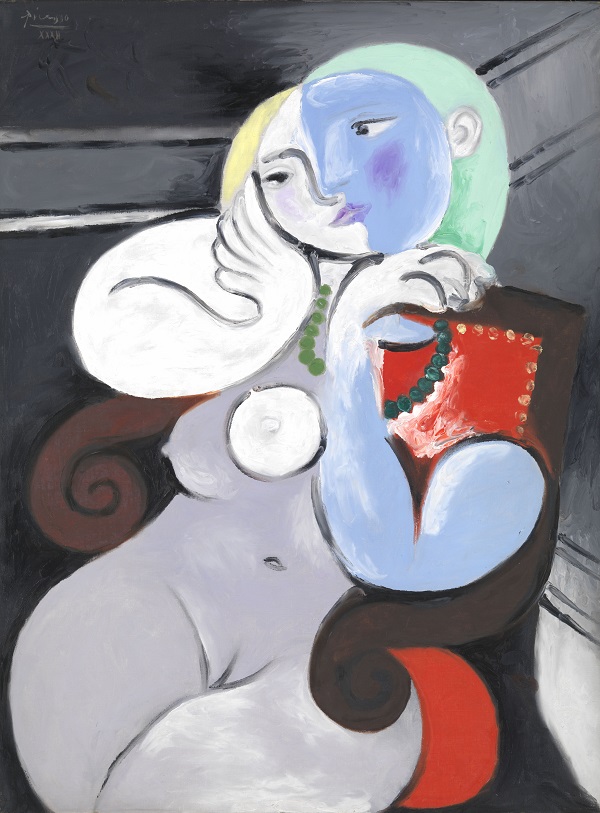 The retrospective marks a highpoint in Picasso's year, after which the playfulness and joy of the early months seems gradually to dissipate. Brightness and light give way to monochrome in studies of the crucifixion after Matthias Grünewald's Isenheim Altarpiece, 1512-16, and a preoccupation with death by water. Sheer erotic force is replaced by something moreambiguous as the female figure transmutes into the watery shape of an octopus. It's a fairly subtle shift, and not always a repulsive one, the flipper-like hands sometimes only intensifying the sense of Marie-Thérèse as an otherworldly creature, capable of metamorphosis. Bathed in cool blue light, she becomes a moon-goddess once more in Nude Woman in a Red Armchair (pictured left) from the summer; elsewhere a creature more like a mermaid is invoked.
The trouble is that the biographical narrative of the hang overpowers any efforts to remind us that Picasso was responding to an artistic imperative, for all his talk of paintings as pages from a diary. We may be reminded to look with eyes informed by his interest in Japanese erotica, and the dark urges of the subconscious so fascinating to surrealist artists, but such attempts fall flat. Heightened by the show's storytelling power, the temptation becomes overwhelming to see his reclining nudes from the summer of 1932, in which limbs curl and twist like the tentacles of an octopus, as symptomatic of his state of mind, and by extension the state of his domestic arrangements.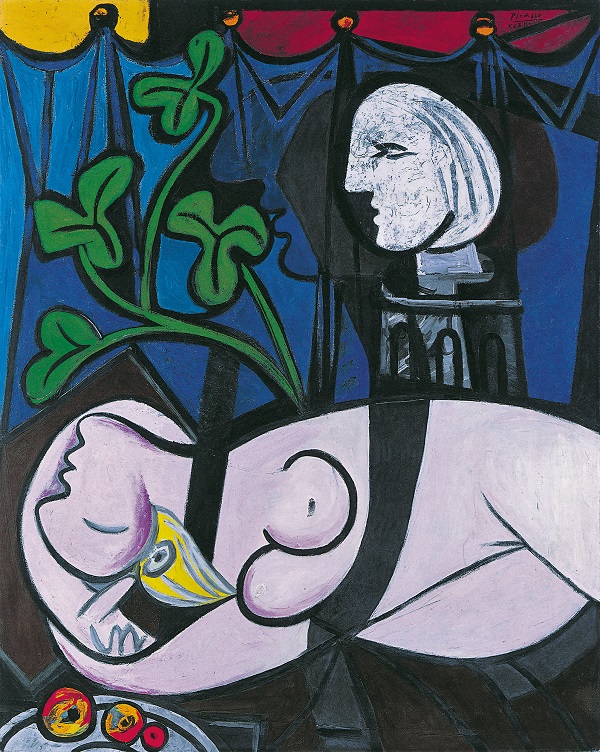 Lost in the seductive thrill of biography is the question of artistic identity, as it applies both to Picasso, and his muse. Because while it is deeply misleading to consider these paintings to be about – and only about – Marie-Thérèse, it is equally clear that without her, this work could not have been made. The exhibition's great centrepiece is a room dedicated to the series of monumental nudes painted in March of 1932: proof, according to Picasso's awestruck dealer, that painting was not dead. Ostensibly, they are paintings of Marie-Thérèse, yet in depicting both her, and the series of large-scale sculptures of previous months in which her features swell into generous, curving forms, they point to the fugitive nature of identity in the hands of an artist (Pictured right: Nude, Green Leaves and Bust). Ultimately Picasso's words count for less than his work, but in navigating this exhibition with a sense of the complex transformations of identity that occur despite an apparently overwhelming biographical narrative, we would do well to remember his own comment: "I would love to paint like a blind man who pictures an arse by the way it feels."
Lost in the seductive thrill of biography is the question of artistic identity
rating
Share this article