Olga Chernysheva, Pace Gallery |

reviews, news & interviews
Olga Chernysheva, Pace Gallery
Olga Chernysheva, Pace Gallery
A Russian artist who casts an affectionate eye over people going about their business
Thursday, 27 November 2014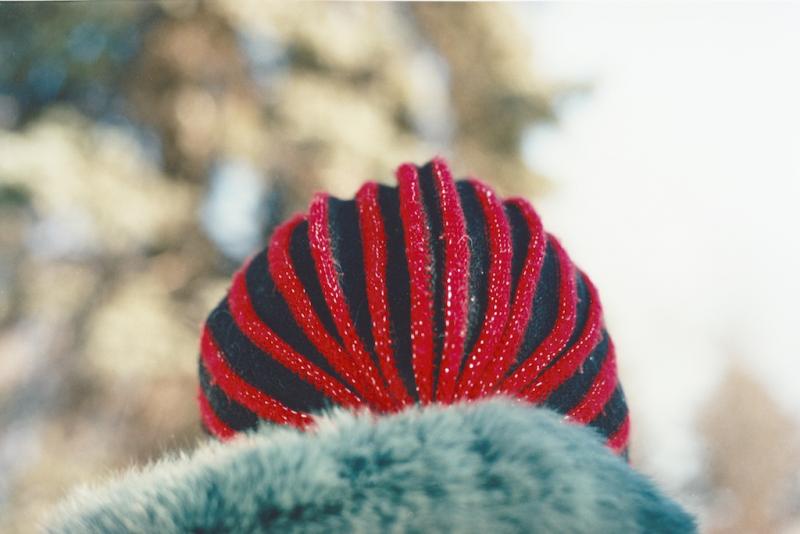 'Waiting for the Miracle' by Olga Chernysheva
Printed large in glorious colour is a row of photographs of Russian women wearing bobble hats (main picture and pictured below). There's a fuzzy red one, a woolly brown one, one with red stripes against black and another with raised white stripes. Seen from behind, these hand-knitted globes look like a newly discovered breed of sea anemone or a display of exotic cacti.
An accompanying drawing shows a woman in a bobble hat standing in front of a church whose onion domes are the same shape as her headgear. The drawing is black and white, but the domes of many Russian churches, including Saint Basil's Cathedral in Moscow where Olga Chernysheva lives, are patterned with stripes which are just as bright as the knitted hats. Colourful globes, it seems, are embedded in the Russian psyche.
The gaiety of the architecture and the hats is so emphatic that it feels like a courageous act of defiance – perhaps against the cold, perhaps against some other, equally pervasive chill. When I ask Chernysheva about the juxtaposition, she describes the pleasure of finding associations between apparently disparate things; it reflects her belief that things resonate with each other to produce some kind of wholeness or global unity.
A photograph from 1997 shows onions growing in a row of bottles on a Moscow window sill (pictured right); growing your own is the only way, she explains, to have fresh vegetable and herbs out of season. Silhouetted against the sky beside a church spire, the vegetables resemble onion domes and appear to be colonising the city with gay abandon.
For Chernysheva the hats also look organic – as if they've grown rather than been constructed. They have the same simplicity as birds' nests, she says, and are made with a similar degree of optimism. The images work metaphorically; the hats represent promise since they seem to be awaiting a rare opportunity to bloom, like cacti. Perhaps this is the miracle referred to in their collective title Waiting for the Miracle.
Chernysheva continues to cast a quizzical eye over her fellow Russians and people further afield in a series of short videos accompanied by wry commentaries, which she describes as simple diaries. Seen from a train travelling through a snowy landscape, two women eat ice cream, despite the freezing temperature. A team of workers calmly assembles a fleet of white vans on a production line which the text describes as "the perfect anti-assembly line... where everything is dictated by people rather than machines". Taped to a pillar is a list of "the reason why something or other had not worked".
Beside the Great Pyramid in Giza, the air is filled with plastic bags blowing about in the wind. The place looks more like a landfill site than one of the seven wonders of the world, but far from being an indictment of neglect, Chernysheva's video adopts a more philosophical stance. "When modern life emerged it seemed that humanity had produced tons of masterpieces," reads the text. Rather than identifying with or struggling to compete with these achievements, she anticipates walking on by and disappearing over the horizon. "It looks," she writes, "like we'll just skim past, lightly pressing against this mass of creations, and vanish. And in this sense, the mass of plastic bags nuzzling up against the pyramids in Giza seemed to me like kindred spirits."
Her final video takes us back to Moscow; various hands caress what looks like a gloomy fish head. In fact, it's the muzzle of a bronze dog installed in the metro station at Revolution Square and polished until it gleams by the eager fingers of passengers hoping it will bring them luck. Her close-up reveals how one nostril is being slowly worn away by the constant touching. "I liked the idea of this sad creature giving hope to people," explains Chernysheva. It's a remark which sums up the wry but affectionate humour with which she records people, in videos, photographs and drawings making do and getting by, often in adverse circumstances, while hoping for a better future.
The gaiety of the architecture and the hats is so emphatic that it feels like a courageous act of defiance
Explore topics
Share this article