Opinion: Frieze Art Fair spells bad news for art |

reviews, news & interviews
Opinion: Frieze Art Fair spells bad news for art
Opinion: Frieze Art Fair spells bad news for art
Sarah Kent argues that the success of Frieze now means commerce not creativity rules
Thursday, 14 October 2010
With the Frieze Art Fair now upon us, the only sane response for anyone interested in art is to leave London until the wretched event is over. Art fairs are for art what pimps are for virgins, to misquote Barnett Newman. The work, in other words, doesn't stand a chance. And just as supermarkets don't give shelf space to products for you to admire the packaging, art fairs don't display work for you to look at and enjoy. In each case, the point is to purchase.
So why should this matter when commercial galleries do it all the time? It's a question of degree. In galleries, an artist's work is given enough space and respect for it to be properly seen and understood; in art fairs artworks by different artists are hung cheek-by-jowl, often without any labels let alone proper explanation. And treating art as merchandise denies the viewer the chance to engage with it in a meaningful, more interesting way. Ultimately, this robs the work of its raison d'être.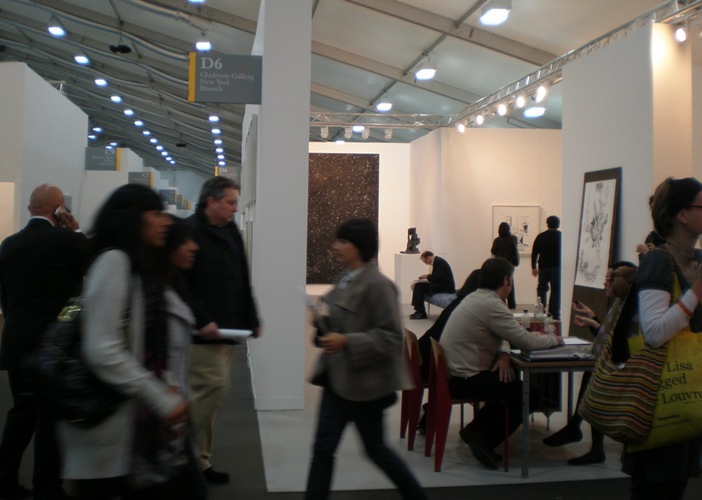 Some dealers try to introduce a degree of dignity to Frieze by furnishing their booths in style, but it doesn't change the fact that they are housed in a tent (pictured right) resembling a cattle market and are competing for attention with hordes of others. Art should induce thought and quiet contemplation; in this environment, it has to scream to be noticed.
Gradually, this has brought about a profound shift in our perceptions. Take, for example, the term "art appreciation". When I taught the subject it was about understanding and valuing art for its own sake regardless of who owned it; now art appreciation means understanding the market, assessing how much a work will accrue in value and watching as prices soar. It's about making money rather than engaging with ideas.
Amanda Sharp, co-founder of Frieze, argues that contemporary art is for everyone. She may believe this, but it doesn't stop the fair being aimed primarily at the stinking rich. Flown in from all over the world, wealthy collectors will gain access before everyone else and won't even pay for the privilege, in the assumption that they'll fork out large sums for expensive items.
While you trudge home on the tube, they will be wafted in VIP limos to champagne receptions, dinners and parties where they will be flattered and fawned on because they wield the power in the art world - despite the fact that many rely on consultants to advise them because they are pig-ignorant about art. They merely collect it as a safer investment than the volatile stock market.
Does any of this matter? At a time when public funding for the arts is under threat, surely we should be glad the art market is booming and that private patronage keeps the merry-go-round spinning. But the influx of cash has done more than enliven the market; it has fundamentally changed the atmosphere and the ethos.
The cash may be flowing, but the cost is too high. Creativity is the first casualty
When Tate Modern opened in April 2000 it put London on the map as an international centre for contemporary art. When Frieze first pitched its tent in Regent's Park three years later, it provided confirmation that London had also become a commercial hub, a worthwhile venue for international dealers such as Gagosian, Spovieri and Hauser & Wirth to set up shop.
And this shift from cultural to commercial centre has caused an inexorable slippage of power from museums, public galleries, curators and critics towards dealers, collectors and patrons – from making and exhibiting art towards promoting and selling it, and from people with intelligent thoughts to those with deep pockets. Published in 1994, my book about young British artists was titled Shark Infested Waters in acknowledgement of the role played by Damien Hirst in promoting his generation. A book about the London art scene written 10 years later might well be called Money Muddies the Waters.
The cash may be flowing, but the cost is too high. Creativity is the first casualty. Take fringe galleries, for instance. Run by artists, they were far more than spaces in which to exhibit; they were catalysts, places where enthusiasms could be shared and ideas discussed. Now most so-called fringe galleries are run by wannabe entrepreneurs keen to get rich and become the next Jay Jopling, director of White Cube.
Fed up with having no time to think because of the pressure to perform for collectors and the media alike, two of our most interesting and successful artists, Tacita Dean and Mona Hatoum, have upped sticks and moved to Berlin which, by comparison, is a safe haven, a place that allows them to think creatively and stay in touch with the reason they make art in the first place.
Meanwhile, London has become like New York, full of smart galleries catering for rich collectors while the grass roots are dying. It's mainly a question of emphasis and motivation. Hunger for money rarely makes for good art; hunger for experience and ideas, on the other hand, is likely to foster the worthwhile and the genuinely innovative rather than the merely eye-catching and the eager to please.
Explore topics
Share this article