Portrait of the Artist, The Queen's Gallery |

reviews, news & interviews
Portrait of the Artist, The Queen's Gallery
Portrait of the Artist, The Queen's Gallery
A rich history of art through painters' eyes
Saturday, 26 November 2016
HRH The Duke of Edinburgh, 'Seago Painting', 1956-7
Born in Rome and taught by her artist father, Artemisia Gentileschi (1593-1652) led a colourfully energetic life. As an adolescent she was raped by her father's assistant – an episode which unusually, then as now, actually came to public trial – but she nevertheless became a confident, resolute woman, and a successful artist.
She was vitally ambitious, portraying herself as La Pittura in her
Self-Portrait as the Allegory of Painting
, c.1638-9, an image at the heart of this exhibition.
Here Artemisia is almost hurling herself at her canvas, brush in one hand, palette in the other. Wearing an irridescent green silk dress, her black hair charmingly dishevelled, she is caught up in the intensity of her concentration (pictured below: Self-Portrait as the Allegory of Painting, c.1638-9). No wonder she appears on the cover of the catalogue, setting the tone for one of the most absorbing exhibitions of the year.
In several hundred paintings, drawings, miniatures, prints and photographs is a beautiful, magnificent and occasionally hilarious selection of artists depicting other artists, and also turning their gaze on themselves. It is a fascinating compilation, and nothing less than a history of western art seen through the eyes of those that made and collected it. The changing role and status of the artist, not to mention art, are explored across a wide spectrum, as we move from Rembrandt's terrifyingly acute self-portrait to – say – Prince Philip painting his teacher, the skilled but anodyne Edward Seago (main picture). All levels are represented, from the sublime to agreeably attractive banality. The anthology makes us question not only a procession of styles and techniques, but what makes for quality, and the varying purposes of depiction.
There are mighty studies of artists by themselves, self-portraits in the studio, searching analyses, and pieces of self promotion, flattering or searingly realistic. There are portraits by artists of other artists, and the anthology is neatly divided by theme rather than chronology: artists at work, artists playing a role, artists as objects of admiration, even as heroes.
Rubens (1577-1640) sketches himself in a moment in pen and chalk on rough paper – a 50something success subjecting himself to dispassionate scrutiny. It is an informal and seemingly spontaneous rendering, done just because he could. At the other end of the scale are two outstanding paintings, one an intelligently elegant self-portrait in a very dashing hat, given to Charles I in lieu of another painting the royal desired; also on view is Rubens' portrait of his pupil, Sir Anthony Van Dyck, then only in his mid-20s. Both Flemish painters sport curled moustaches, flowing curly hair and carefully groomed beards; hippies can but envy such insouciant style.
From the same period are examples of the quintessentially English art of the miniature: a tiny self-portrait, in watercolour on vellum, of Isaac Oliver (1590?), in satin doublet, linen ruff and debonair high-crowned hat, and a far less formal one 30 years later by his eldest son Peter, an artist in Charles I's household, charged with creating miniature copies of Old Master paintings for the king.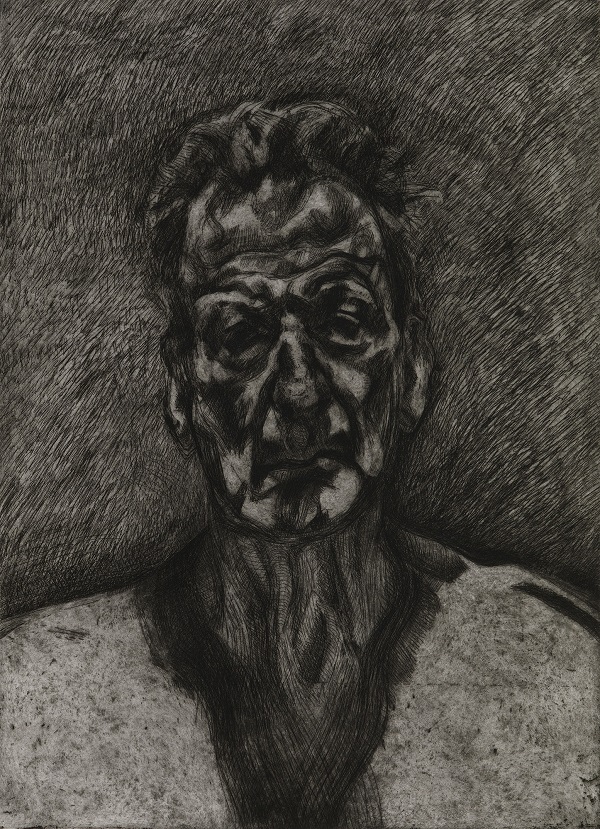 Two centuries and more on we have half-a-dozen renderings of Sir Joshua Reynolds, a master manipulator of his image, who painted 27 self-portraits often showing him modestly garbed. In a miniature copy of a painting gifted to the Royal Academy, his costume is more flamboyant, deliberately linking him to Rembrandt.
An enormous self-portrait (1996), dense and black, by Lucian Freud (pictured left) paradoxically the painter of a diabolically inept and ugly portrait of the Queen, was given to Her Majesty when Freud was made an OM; nearby hangs an enormous self-portrait (2012) by David Hockney, deadpan and peculiarly lifeless, also a presented to HRH when the artist was made an OM. There is little contemporary material on view and it is a pity that these are sub-par examples from outstanding artists.
A section called Artists at Work includes Zoffany's dazzlingly virtuoso crowd scene from the 1770s, The Academicans of the Royal Academy shown perusing a pair of nude male models in the life drawing room. Zoffany's other celebrated group portrait from the world of art is The Tribuna of the Uffizi, 1772, showing an informally choreographed group of male Grand Tourists – connoisseurs, collectors, and also artists – admiring the jam-packed hang of art treasures from the Medici collection originally in Florence. Commissioned by Queen Charlotte, herself of course German and Queen for more than fifty years, one aspect of this exhibition is to remind us of early internationalism in the arts.
Catering to passionate Victorian taste we have Sir Edwin Landseer's The Connoisseurs: Portrait of the Artist with Two Dogs, 1860s, the dogs (a retriever and a collie) looking with admiring concentration over their master's shoulder as he draws on a tablet held on his knee. Even more unexpected than Landseer's faith in the wisdom of dogs is a 1870s photograph by Achille Melandri of the French actress Sarah Bernhardt, nattily attired in a white suit, her hair in an elaborate coiffeur, painting in her studio. Also on display is a Bernhardt self-portrait as a chimera, decorating a bronze inkwell: you couldn't make it up.
Go and be intrigued: this is just a tiny sample of the variety on view, the myriad viewpoints into centuries of art. It is also perhaps a glimpse at how royal patronage of the arts, once so crucial, has shrunk as the art world has exponentially expanded. But we do owe the delights of the Queen's Gallery to a new ordering of royal relationships to the public at large.