Quilts 1700-2010, Victoria & Albert Museum |

reviews, news & interviews
Quilts 1700-2010, Victoria & Albert Museum
Quilts 1700-2010, Victoria & Albert Museum
Private lives and hidden histories revealed in stunning exhibition exploring British quilt-making
The notion of women's work has undergone a revolution, and yet that revolution has, in many ways, come comfortably full circle. We may now celebrate the work of generations of women who, limited to the domestic realm, were perhaps also liberated by the creative potential of the domestic crafts, and specifically, needlecraft. Which is a fairly radical notion in itself.

When you encounter the many examples of exquisite craftsmanship (the interpretation of gender bias within that term is duly noted) on display in
Quilts
, an exhibition exploring the social history of quilt-making in Britain, you cannot help but imagine that this was a form of expression that, for many women, must have given deep satisfaction. And since quilts were often passed from mother to daughter, this personalised bit of family history could live on for future generations, especially so at a time when exotic prints were becoming more widely available. At least for the better off.
The exhibition begins rather grandly, with a sumptuous display of patchwork four-poster bed hangings. Made using Indian chintz - there was a craze for it among wealthy British consumers in the 17th century, though a law was later passed to forbid its import and to protect British manufacturing - and created for a "fashionable middling or aristocratic family", it is a stunning example of a professionally crafted design.
But there are plenty of examples of amateur quilting, and even ones in which the maker has stitched herself into a notable bit of history. The only traces that remain of one anonymous young woman, for example, are the miniature self-portraits she has worked into the military scenes of a coverlet featuring George III reviewing his troops
(pictured above right)
. It was made in 1803-5, during a period of intense naval euphoria, at the height of the Napoleonic Wars.
Bedcovers that declare political and royal allegiances were fairly common. Another example, made in about 1820, shows, in its central panel, an image of Caroline of Brunswick, spurned consort of the Prince Regent. Beneath it are the words "Her Most Gracious Majesty Caroline Queen of England". But Caroline was never actually crowned, since she was famously refused entry to Westminster Abbey for the coronation. Much like Princess Diana, she gained a great deal of public support, especially among women, during her ill-fated marriage. She really was "the Queen of Hearts." "Poor woman, I shall support her as long as I can, because she is a Woman, and because I hate her Husband," was how Jane Austen summed up her own feelings, as well as that of the wider public's, as early as 1813.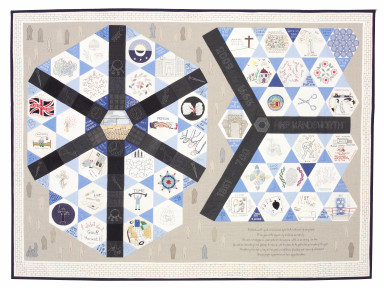 Quilts were produced by women both during their periods of "confinement" preceding and following birth, and by women literally imprisoned. The
Rajah Quilt
of 1841, so called because it was made aboard the convict ship Rajah, was stitched by women as they were transported from Woolwich to Van Dieman's land. The British Ladies Society for the Reformation of Female Prisoners, founded in 1816 by Elizabeth Fry, had donated the supplies, which were carried on board by 180 female convicts.
And now male prisoners are encouraged to do the same as part of their own rehabiliatation. Specially commissioned for this exhibition is a quilt made by inmates of HMP Wandsworth
(pictured above left)
. Each segment, made by a different inmate, is embroidered with messages both deeply poignant and irreverently funny.
By the time we get to the 20th century, especially during times of personal privation and difficulty, we find some incredibly moving pieces. One of the most memorable is a simple coverlet stitched by young girl guides in a Japanese internment camp in 1942. Made in secret and with scraps of available fabric, it has the names of its 20 makers embroidered into each of its rosettes.
This is an exhibition that engages on so many levels. Though there are contributions by a few contemporary artists, including Tracey Emin - she presents another bed, this time relating the chaos of her life with neatly stitched bedcovers instead of used condoms and dirty underwear - it's those dedicated unsung amateurs who impress the most.
Explore topics
Share this article