Rachel Whiteread, Tate Britain review – exceptional beauty |

reviews, news & interviews
Rachel Whiteread, Tate Britain review – exceptional beauty
Rachel Whiteread, Tate Britain review – exceptional beauty
A singular vision that transforms everyday objects into extraordinary sculptures
Wednesday, 13 September 2017
Look, no walls: installation shot of Rachel Whiteread's exhibition
The gallery walls of Tate Britain have been taken down so turning a warren of interlinking rooms into a large, uncluttered space in which Rachel Whiteread's sculptures are arranged as a single installation. What a challenge! And curators Ann Gallagher and Linsey Young are to be congratulated for pulling off this difficult feat so seamlessly.
Seeing the work altogether has a profound effect, though. It reveals the exceptional beauty of everything Whiteread has produced and emphasises the uniformity of her vision. After all, she has spent the last three decades making casts in plaster, rubber or resin of the commonplace furniture of our lives – sinks, baths, beds, chairs, doors, windows, staircases, rooms and even a whole house. Her cast of a Victorian terraced house in Mile End, earmarked for demolition, became a cause célèbre when, in 1993, the council carried out their plan to demolish the sculpture just three months after its completion.You could say that Whiteread has only had one idea which she has pursued relentlessly. Such single-mindedness is no bad thing, of course. "If you scratch away at the same thing," she once told me, "you refine your visual sensibility and something else appears. I can't articulate it, though; that's why I keep doing it."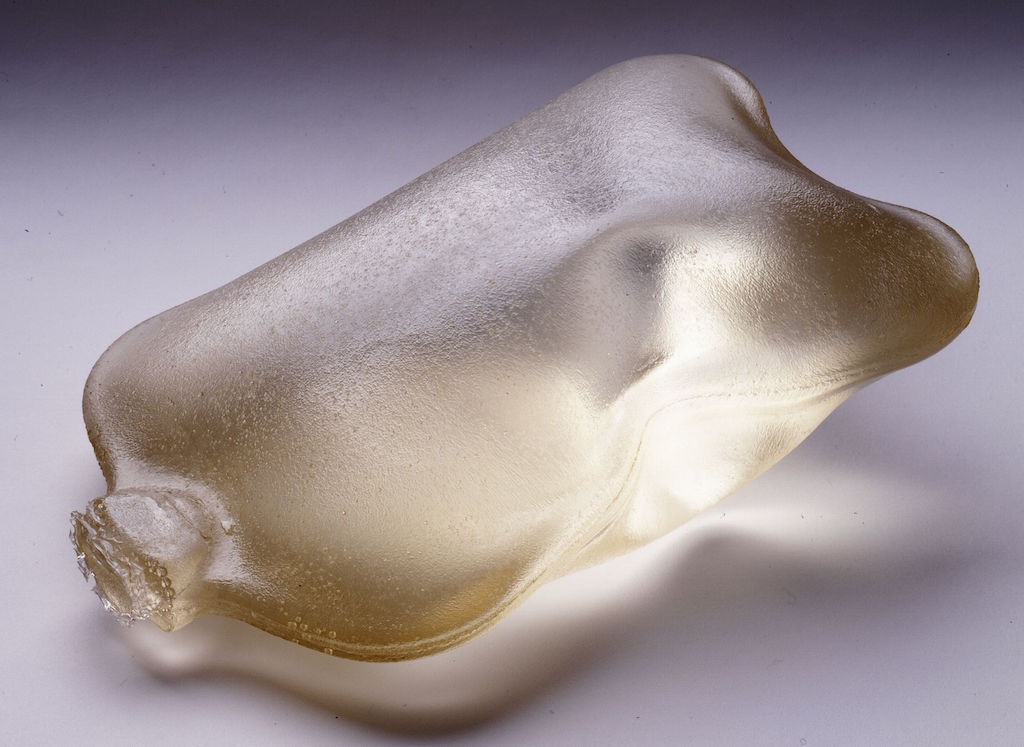 It could lead, though, to a wearisome feeling of repetition; and by emphasising the formal qualities of the work – so the sculptures are seen primarily as explorations of space, colour, texture, scale and so on – this presentation encourages a sense of sameness, when what keeps the work fresh and alive are the differences. The strength and peculiarity of each piece derives not from its relationship to other sculptures, but to things in the real world. Recognising the original object is crucial to one's engagement with each piece; therein lies the resonance and poetry. Encountering a familiar item ripped from its normal context and given a new, surreal identity creates a jolt of surprise, which this installation diminishes.
A case in point is the series of Torsos (pictured above). While still a student at the Slade, Whiteread began casting hot water bottles in plaster. With the neck removed, the resulting objects resemble the body of a doll; lying alone on a plinth, one of these decapitated and limbless torsos appears disturbingly vulnerable. The emotive power of each little body is lost, though, when nine of them are shown side by side in a vitrine; one's attention is drawn to differences in the colour, texture, opacity and sheen of the materials used for casting – whether dental plaster, polyurethane resin, wax or rubber. The strange beauty of these odd objects is foregrounded at the expense of their emotional affect, which to my mind is crucial.
Take Ether, 1990 (pictured above), the cast of the underside of a bath, for instance. The process of casting transforms air into solid substance and the chosen object into empty space, so the area beneath the bath has become a series of plaster blocks supporting a bath-shaped void. This inversion creates a sense of loss, of an object being sacrificed to create a fossilised negative, beautiful but lifeless; meanwhile, the sculpture's resemblance to a Roman sarcophagus encourages thoughts of death and departure.
Lying on the floor or slumped against the gallery walls are casts of beds and mattresses made variously in white plaster, black urethane and red rubber (pictured below: Untitled (Amber Bed), 1991). Some look battered and worn, others warmly inviting; since they all invite thoughts about the many things experienced in bed – from conception to birth, maturity, sickness and death – these unassuming items become metaphors for the different phases of human life, associations that vastly enrich one's response.
These early sculptures exert a strong sense of retrospection, of looking back on times past. Not surprisingly, Whiteread gave the name Ghost to the plaster cast made in 1990 of a room similar to one in which she grew up. The space once lived in by a family has been ossified along, one fancifully imagines, with their words, memories, thoughts and dreams. Ghost is not on show; instead we have Room 101, 2003, a cast of the room occupied at the BBC by George Orwell during World War II, which inspired the torture chamber featured in Ninety Eighty-Four. A sealed space from which there is no escape, the sculpture fills the centre of the gallery with its obdurate presence.
In 1999 Whiteread bought a former synagogue in Bethnal Green and began converting it into a studio and home. A cast of the staircase sweeps one's eye upwards with a momentum that makes it completely different in feel from works like Ether, Ghost and House which are resolutely static. In implying forward motion, Untitled (Stairs), 2001 (main picture) seems to embrace the future, rather than gaze backwards into the past.
In 2004 Whiteread began casting doors and windows at first in plaster then, increasingly, in translucent resins coloured pale blue, amber, pink, green and violet that allow the eye to pass through their subtle surfaces. Now the mood changes dramatically. These exquisite panels invite reverie and suggest promise; rather than blocking vision or enclosing space they imply new openings and fresh beginnings. Hung either side of the exit, they appear to lay claim to the Tate's glass doors as if they, too, were Rachel Whiteread sculptures. When an artist interferes with your perceptions to this welcome degree, you know you are in the presence of someone really good.
Rachel Whiteread at Tate Britain until 21 January 2018
Encountering a familiar item ripped from its context and given a new identity creates a jolt of surprise
rating
Explore topics
Share this article