Ron Mueck, Hauser & Wirth |

reviews, news & interviews
Ron Mueck, Hauser & Wirth
Ron Mueck, Hauser & Wirth
The model-maker with magic in his fingers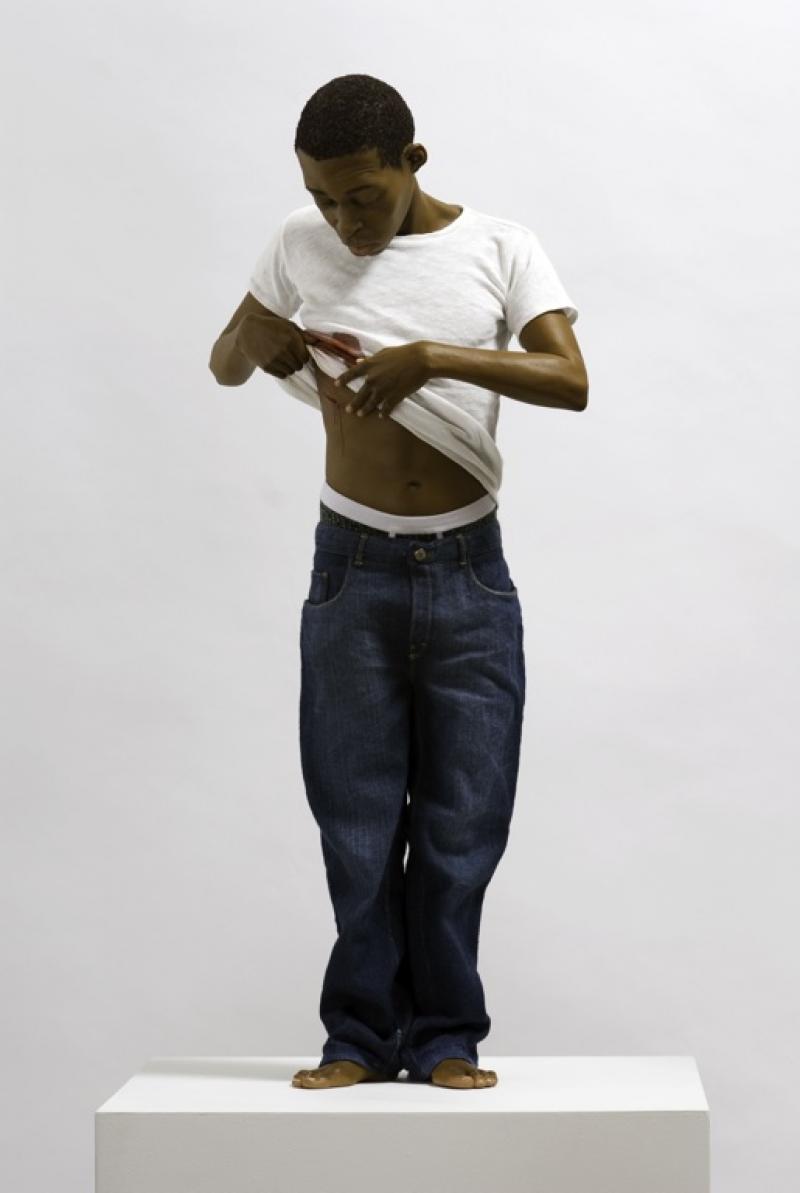 'Youth' by Ron Mueck
Yesterday I fell in love with a black boy less than half my age and half my size – or, rather, a sculpture of a black boy. At just over two feet tall, Ron Mueck's Youth is utterly beguiling. His silken skin, slender fingers, low-slung jeans and paisley patterned underpants are seductive enough; what made me lose my head, though, was the suggestion of dirt under his neatly clipped toenails.
This beautifully observed detail made me want to kiss his exquisitely modelled feet.
Mueck's hyper-real sculptures have the same presence as Madame Tussaud's waxworks; this is scarcely surprising since he started out as a puppeteer and model-maker for Australian television. When they are good, though, his sculptures are infinitely more engaging than mere models.
The amount of attention lavished on fine detail doesn't just make his figures plausible, it breathes vitality into them – as though his tenderness confers life on them. Scale is also a determining factor, of course. An encounter with a life-sized boy would be too close to normal experience to be really arresting.
The boy lifts his blood-stained T-shirt to reveal a stab wound. Suddenly one recognises the gesture from paintings of the risen Christ showing the wound in his side to Thomas, the disciple who doubted his identity. The comparison is understated, though; Mueck is not making claims on behalf of his boy so much as opening doors in the viewer's mind.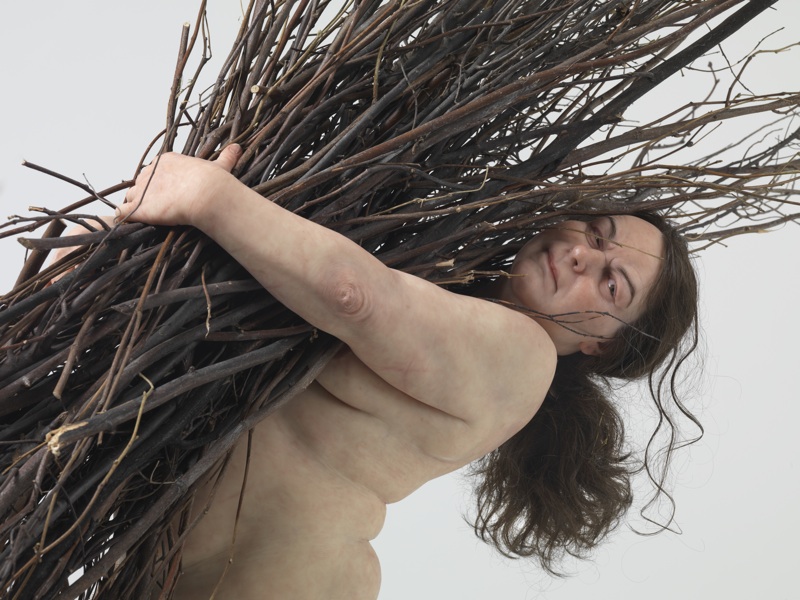 Wander into the next room and you see a man in floral trunks wearing shades, a gold medallion and a waterproof watch floating on a green lilo (Drift pictured above). Instead of drifting across a hotel pool or an expanse of sea, though, he is levitating up a sea-green wall. With his outstretched arms, suddenly this diminutive figure looks less like a bather than the crucified Christ, and the airbed becomes a mandorla.
Yet this middle-aged man lacks the appropriate serenity; one gets the distinct impression that, behind his sunglasses, he is glancing around nervously. And judging by his trim physique, far from being ready to shrug off this mortal coil, he looks keen to prolong life by maintaining good health and a youthful appearance.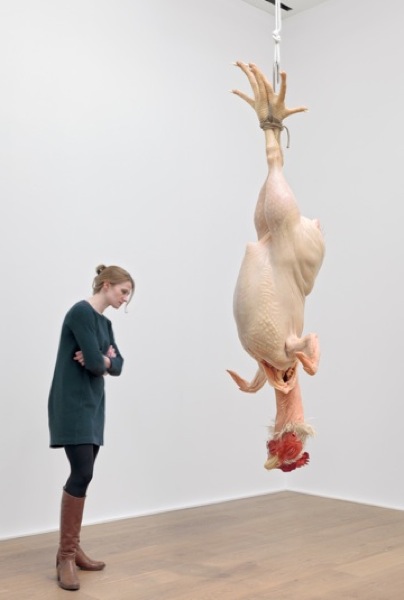 Mueck doesn't shove the message about mortality down one's throat, but allows it to float in the ether alongside the sunbather. The same cannot be said for Woman with Sticks (pictured above right), a naked female struggling beneath an armload of firewood. Whereas the man and boy are recognisable characters from everyday life, this stocky matron seems like a denizen from the realm of myth or fairy tale. Rather than sparking one's imagination, her presence feels prescriptive – directing one's thoughts like an illustration towards a pre-existing narrative.
Sharing the room with her is a giant chicken (Still LIfe pictured left) plucked, eviscerated and hung upside down by its feet. Its huge scale invites comparison with the human body, but this corpse is more comic than poignant – a grotesque inviting mockery, rather than a victim arousing sympathy.
When Mueck hammers his message home, the figures become banal – models striving for profundity and failing; but when he allows the sculptures to wear their wisdom lightly, they become meaningful as well as profoundly magical.
Ron Mueck at Hauser & Wirth, 23 Savile Row, until 26 May
When he allows the sculptures to wear their wisdom lightly, they become meaningful as well as profoundly magical
rating
Buy
Explore topics
Share this article