Rude Britannia: British Comic Art, Tate Britain |

reviews, news & interviews
Rude Britannia: British Comic Art, Tate Britain
Rude Britannia: British Comic Art, Tate Britain
Satire, bawdy humour and the winsomely absurd in an exhibition lacking coherence
Satire, like roast beef, is what Brits are famous for and this exhibition takes us right back to its earliest days in graphic print. In the 1600s, Dutch allegorical prints were adapted by British printmakers to comment on contemporary issues and one of the first examples in this exhibition is a print that illustrates the purportedly cruel and barbarous treatment meted out by the Dutch to the English at the outset of the Anglo-Dutch war - so it's hardly rib-tickling stuff.
This is before we get to Hogarth's moral outrage and thence to the birth of political satire's golden age with the big three: Gillray, Rowlandson and Cruickshank. But without a thorough-going historical perspective, what are we to make of the butt-kicking jibes attacking the likes of Pitt the Younger, or his Whig opponent Charles James Fox? (Gillray's A Democrat, or - Reason & Philosophy, 1793, pictured below, shows Fox literally "sans-culotte", like the French revolutionaries who refused to wear aristocratic breeches.) Or the little light mockery that's employed against the Abolitionists by showing the raucous antics of black people (courtesy of Cruickshank with his elaborate colour print The New Union Club, 1819 )? Humour is a serious business, after all, and it's employed for serious gain and attack. And when it gets vicious, don't expect it to be at all naughty-but-nice.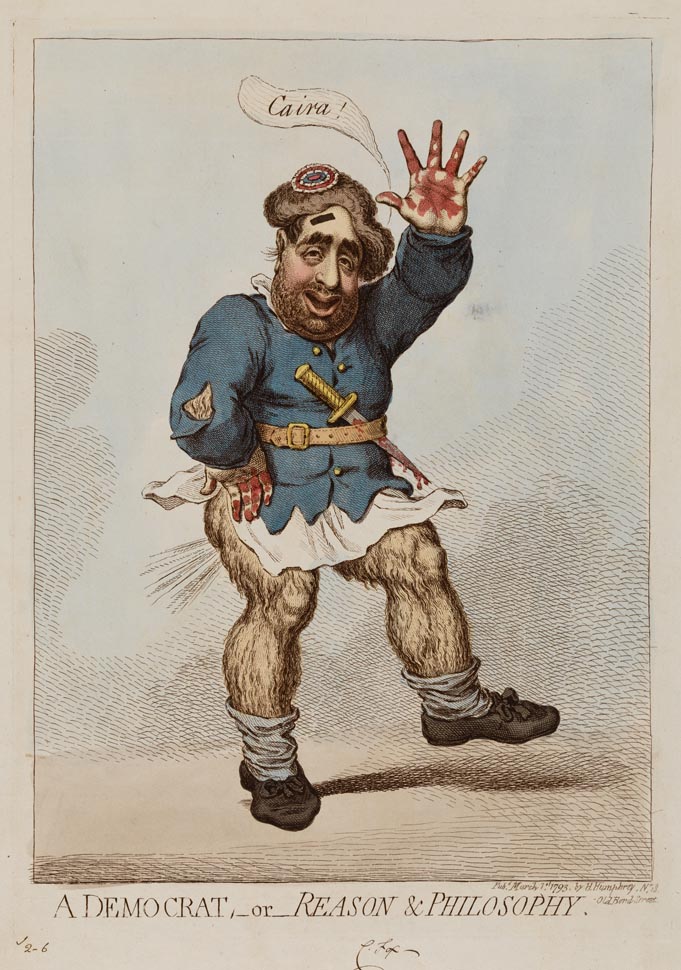 And that's the thing about this exhibition. Going by the title you'd think it'd be a belly-laugh a minute, an "Ooh missus" tour that takes in all the fart jokes and the sexual innuendo that the Brits employ not only to titillate but to skewer apparent hypocrisy and to deservingly deflate the great and the good. But by mixing satire with the whimsically absurd, the historical with the contemporary, the comic-book with the "fine art" and the saucy postcard with the trenchantly political, it doesn't really do any of it justice. By, for instance, putting Leonardo de Vinci's sketches of various pug-ugly "character types" - influential to the later caricaturists - next to the doodles of contemporary artist David Shrigley, what finer points are the curators hoping to make? It seems to me that the focus needs to be far sharper and a lot more precise to offer any kind of coherent overview.
That's not to say that Tate Britain hasn't selected a fine collection of works. The exhibition is divided into galleries devoted to the political, the bawdy, the absurd - with one room given over to a "serious", long-forgotten painting by Cruickshank that highlights the social ills of 18th-century binge-drinking Britain. And there is certainly plenty to divert and detain in each. What's more, there are three guest curators who have each been given a theme and a room to themselves: the political cartoonists Gerald Scarfe and Steve Bell and TV comic Harry Hill. Given the higgledy-piggledy nature of the first two galleries - with a character from Viz magazine irritatingly acting as "tour guide" in the second - they step up to the task pretty well.
Best is Scarfe's selection of political works and here we get some of the finest political cartoonists of Fleet Street, including David Low during the war years and Martin Rowson during the Blair years (Rowson's Blair, once a doe-eyed Bambie, is a putrifying, terrifyingly flesh-eaten, manic-eyed creature by the time of the Iraq war). The Italian Carlo Pellegrini's caricatures of political figures of the Victorian age, commissioned for Vanity Fair and Punch and including Gladstone and Disraeli, are exceptionally mild in comparison, though brilliant in their own right. The age that was given over to so much sentimentality just couldn't get a handle on political satire at all, so what they might have made of Scarfe's take on Thatcher, screeching and reptilian (main picture), is anyone's guess.
Needless to say, the works that are of figures and events that have remained a part of our living memory have lost little of their impact, while one or two might even still have the power to shock - though perhaps rather more for their witlessless than for their incisiveness. I'm thinking here of the artists' collective Henry VIII's Wives, selected by Harry Hill. I can't imagine that getting a couple of pensioners to re-enact that famous Eddie Adams' photo of a Vietcong agent getting his head blown off raises much of a ripple of amusement amongst anyone.
Explore topics
Share this article