Sea Star: Sean Scully, National Gallery review - analysing past masters |

reviews, news & interviews
Sea Star: Sean Scully, National Gallery review - analysing past masters
Sea Star: Sean Scully, National Gallery review - analysing past masters
The latest encounter between a living artist and the national collection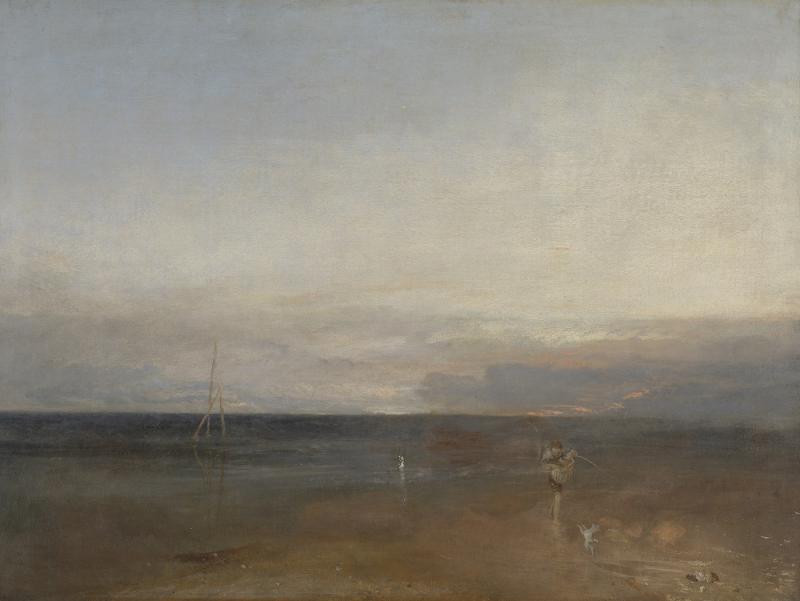 Joseph Mallord William Turner, 'The Evening Star', about 1830
Either side of a doorway, framing a view of Turner's The Evening Star, c. 1830 (Main picture), Sean Scully's Landline Star, 2017, and Landline Pool, 2018, frankly acknowledge their roots.
Abstract
as they are, Scully's horizontal bands of colour read as landscapes – or rather seascapes – in which the meeting points of earth and sea, sea and sky provide a compositional and conceptual scaffold.
This exhibition of new work by Sean Scully is the latest in a series of encounters between contemporary artists and works in the National Gallery. Irish-born Scully pays homage to paintings he has known since his childhood, spent in London. Scully emphasises that the Landline series, represented here by three paintings and a number of works on paper, is not simply a response to Turner's The Evening Star, that in its depiction of light, and water and wet sand underfoot, is a remarkably complete evocation of sensory experience. Nevertheless, his works appear here as both interrogations and meditations on Turner's painting, which, in an echo of Scully's own approach lies somewhere between abstraction and figuration.
Landline Pool, with its palette of blue and black, focuses on the expressive capabilities of the brush, a large house-painting brush on aluminium amplifying the gloss and texture of the painted surface. Each sweep of paint holds within it the energy of the brushstroke that put it there, just as in The Evening Star, visible brushstrokes remind us that what we see has not been conjured up, but put there by hand and eye. In Landline Star (Pictured right), the effects of colour laid one over the other take centre stage: Scully analyses Turner's painting element by element, in a perpetual process of looking, painting and looking again.
The act of looking, rather than painting itself is underlined by Scully's response to Van Gogh's Chair, 1888, a painting that Scully first saw aged 17, and that provides the second major reference point in this show. He was struck by its workmanlike depiction of the textures and colours of tiles, wood, and woven fibres, qualities that, he says: "made it possible for me to think that I could actually make paintings."
There is much to learn here of Scully's own practice and his relationship to his forbears. Perhaps his paintings help us to see Turner and Van Gogh afresh. But if their strength is as commentaries on other people's work, it is the fatal weakness that prevents them from being works of consequence in themselves.
Visible brushstrokes remind us that what we see has not been conjured up, but put there by hand and eye
rating
Explore topics
Share this article