Song Dong: Waste Not, The Curve, Barbican |

reviews, news & interviews
Song Dong: Waste Not, The Curve, Barbican
Song Dong: Waste Not, The Curve, Barbican
A moving and disquieting display of an obsessive accumulation of everyday objects
Wednesday, 29 February 2012
Waste Not: 'Soft toys in eternal repose, never to be played with again'
A remarkably tidy parade of thousands upon thousands of objects, neatly grouped into their categories – soap, plastic bottles, cooking pots and utensils, empty cardboard boxes, shoes, flower pots, gloves, string, to name but a few – Waste Not is a deeply disturbing yet affecting display of the obsessive accumulation of sheer stuff.
These are the household goods of Zhao Xiang Yuan, the mother of the Chinese conceptual artist Song Dong, collected over five decades of family life.
Xiang Yuan and her family suffered the usual outrageous reversals of fortune common to most of the Chinese population during her lifetime, moving from prosperity to prosecution and severe material shortages: in the 1960s soap was rationed, which helps explain the scores of slivers of soap on view. Cloth was also hard to obtain (she made all the clothes for the family), hence the masses of scraps neatly tied up in row upon row. The most wistfully touching installation consists of stacks of cardboard boxes, towers of varying heights, over which many of the soft toys this devoted mother had acquired - puppies, kittens and animals of all sorts - are draped in eternal repose, never to be played with again.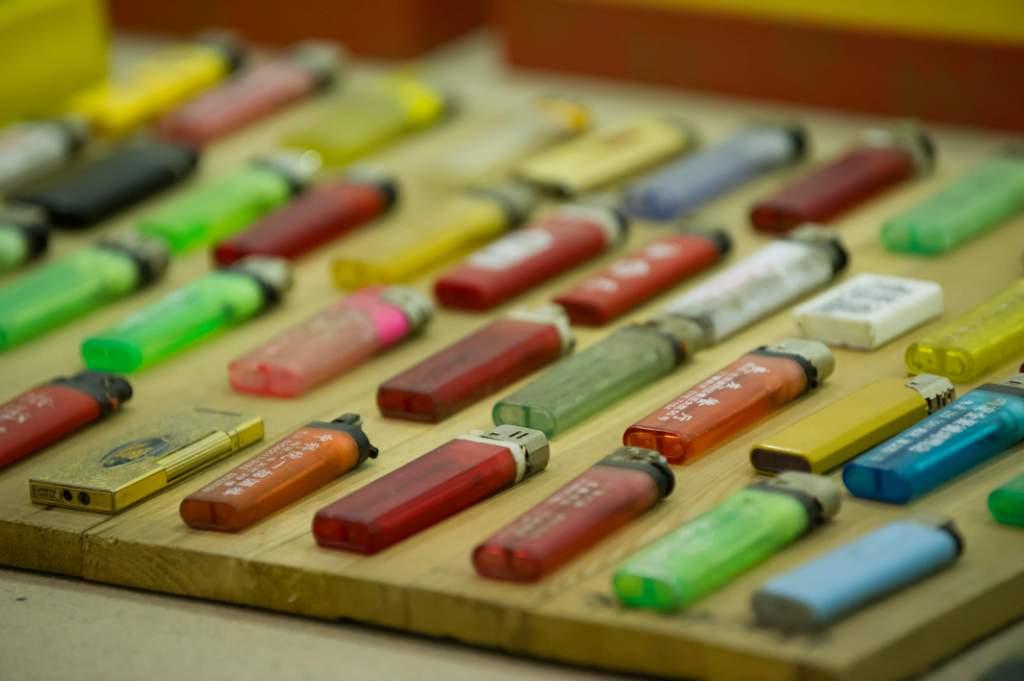 The mantra of Waste Not became an obsession and a compulsion, and when her husband died a decade ago the hoarding of household and personal goods – crockery, basins, empty drink containers, bottle caps, lighters (pictured), fast food containers, biscuit tins – took over to an even greater extent. There are rows of battered chairs, worn-out cupboards and chests, and hundreds of cardboard boxes.
Her son, Song Dong, his family and her daughter realised that the objects were her memory: through them their mother held onto the past and was able to live in the present. The extraordinary inspiration was to turn the maternal compulsion – which was, of course, partly an outcome of heroic and indeed successful attempts to feed, clothe and care for a family through the grimmest political and economic times – into art. Not only were the 10,000 objects classified and presented in terms of both material and function, a fascinating echo of the great 19th-century preoccupation with classification and taxonomy, but an extension of the family home was demolished and reconstructed in the several art galleries which have shown Waste Not during the past seven years.
It has been a way of remembering the husband and father, too, through Zhao Xiang Yuan's painful widowhood. A brilliant blue neon sign in Chinese characters over the Barbican's Silk Street entrance simply states: "Dad don't worry about us. Mom and the family are all doing well." Accompanying publications deftly sketch the history of the family which, while singular, stands for the past half century of change in China. In millions of households the slivers of soap have long been outmoded by the possession of washing machines, whilst political constraints are subtly (and sometimes not so subtly) more in force than ever.
Zhao Xiang Yuan wrote in detail about why each artefact was so important, for example describing in a wall text at the Barbican the different varieties of soap and their rationing, collection and treatment. She died suddently several years ago in a curiously symbolic accident, falling out of a tree whilst trying to rescue a trapped bird: among the more poignant objects on view are a clutch of empty bird cages. Before her death she was thrilled that all the things she had saved and kept – waste not, want not – had been put to such good use, in art if not in the household. By our objects shall we know ourselves, and after viewing this three-dimensional lesson in love, loss and how we live and have lived, home will never look quite the same again. Perhaps Steve McQueen's next film, after Hunger and Shame, should simply be Stuff.
The objects were her memory: through them she held onto the past and was able to live in the present
rating
Explore topics
Share this article