theartsdesk in Florence: Hating the Sin, Loving the Sinner |

reviews, news & interviews
theartsdesk in Florence: Hating the Sin, Loving the Sinner
theartsdesk in Florence: Hating the Sin, Loving the Sinner
A new exhibition at Palazzo Strozzi deals with the Fascist era as objectively as possible
Piero Gaudenzi's 'Wheat' nods to both Piero della Francesca and Mussolini
Perhaps the longest-lasting, the oddest – and almost certainly the most gratuitous – battle still busy raging with its roots in the ideological conflicts of the past century is the one regarding the artistic output of Italy's engagement with Fascism.
You would be hard pressed to find even a ferociously anti-communist critic who condemned Shostakovich or Prokofiev's Stalinist-era oeuvres as an affront to our liberal sensibilities. Aware of the ideological pressures of the time, we take it in our stride, as we do when viewing those 1960s "worker porn" posters (hunky proles building the new China, garlanded with flowers by obliging Maoist maidens, peace doves fluttering overhead), which have now been rightly recognised for their artistic merit.
And yet the cultural manifestations of Italy's enforced dalliance with Mussolini's ideology - terminated with extreme prejudice in the mid 1940s, and followed by a completely different kind of political and cultural regime, officially called "Anti-Fascism" - remain somewhere between Room 101 and a sectioned-off decontamination chamber.
Italy emerged from a devastating world war as a sparkling protagonist in almost every sphere of cultural endeavour
Never mind the fact that many Italian creative types were party members in name only, or that the ideology of Fascism itself was so elastic and protean in form that it could mean almost anything. For many "progressive fascists" or "social fascists" including the Party's cultural supremo, education minister Giuseppe Bottai, this meant flirting with notions, content and techniques that had more in common with their Soviet, French or even American equivalents than with Nazi Germany's. Indeed, after World War Two the leaders of Italy's newly re-legalised democratic parties were very happy to allow all but a tiny number of former fascists to join their parties as if Fascism had never happened. If the postwar settlement guaranteed the centre-right political control of the country, it allowed Palmiro Togliatti's Communists and their fellow travelers to assume "cultural hegemony" in a manner incredibly similar to the way the Fascists had done prior to the war.
It was all very different from postwar Germany, where a collective process of self-examination led to a very radical and (for some) painful purge of the leading cultural figures of the Nazi era. In Italy most creatives just "kept calm and carried on", after perhaps having made a token gesture of remorse for their previous adherence to Fascist tenets. Togliatti's strikingly Catholic policy was "hate the sin, love the sinner". It proved as effective for the arts as it was pragmatic towards the artists: Italy emerged from a devastating world war as a sparkling protagonist in almost every sphere of creative or cultural endeavour, an elevated position it was to maintain until at least the early 1970s.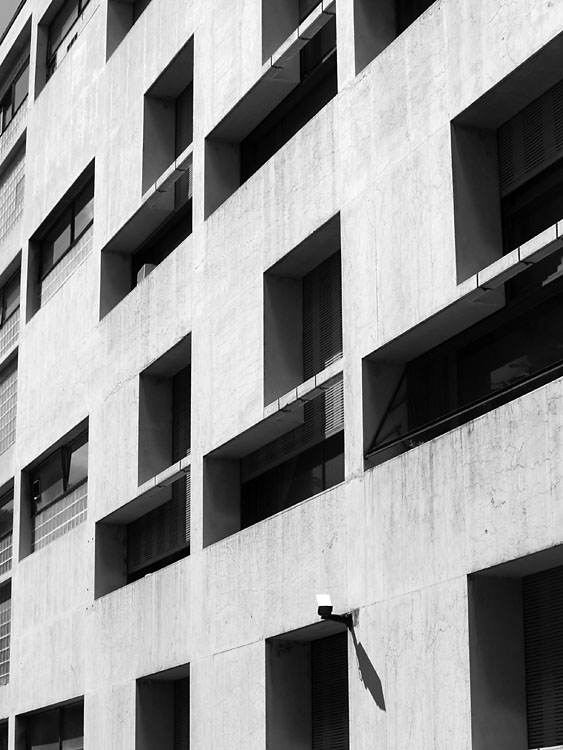 But the necessary corollary of "hating the sin" meant creating an artificial – and unnecessary - cordon sanitaire around all artistic creativity in Italy from 1922 to 1945, on the basis that it was tainted. Like those superstitious American hotels that don't have a 13th floor, Italian cultural narratives have tended to skip il Ventennio – the 20-year regime – completely, or dismiss it with a few hurried generalities of disdain.
Some of the finest modernist architecture in the world was built under Mussolini, including that of Giuseppe Terragni (a convinced Fascist), whose work stands shoulder to shoulder with that of Le Corbusier; yet it remains largely unrecognised for its genius (pictured above right, Terragni's Casa del Fascio in Como). Classical music flourished too, yet most of the exquisite – and strictly apolitical - compositions of Ottorino Respighi (who wasn't a Fascist) are only being rediscovered now, some 75 years after his death.
So it is of immense significance that one of Italy's most prestigious privately funded museums, Palazzo Strozzi in Florence, has inaugurated a large and very comprehensive multimedia exhibition entitled The Thirties: The Arts in Italy Beyond Fascism. This marks the first time ever that artistic creativity of Mussolini's era has been presented in a considered and objective context, and without the antagonistic rhetoric to which it has been coupled since 1945.
While some of the work has an obvious Fascist stamp to it, such as Adolfo Wildt's arresting marble face mask of the heroic pilot Arturo Ferrarin, most of the works reveal much more of the heavy yoke of Italian artistic tradition through the centuries, often self-consciously expressed and sometimes to its detriment. Gisberto Ceracchini's The Guardians (1932), depicting two cow herdsman enjoying a post-prandial nap, riffs on a Piero della Francesca landscape, while Piero Gaudenzi's gorgeously detailed faux 14th-century triptych Wheat (main image) contains both a nod to Il Duce's exhortations to grow more crops and the style of Piero and his school.
Likewise Italian "metaphysical" surrealism, as typified by Giorgio De Chirico and his kid brother Alberto Savinio, contains nothing that could upset the delicate sensibilities of the anti-Fascist, but plenty of elements that link their work to the art, and the architecture, of preceding centuries.
Many of the works appear simply to be of their time. Some are influenced by the giddy mechanistic rhetoric of Art Deco, such as Fortunato Depero's hymn to New York, Skyscraper and Tunnel (1930). Others take their cue from the glacial alabaster beauty which typified female fashions of the decade: the sublimely enigmatic Woman at the Café by Antonio Donghi (1930, pictured above) is like a Hopper painted by Giotto. Appropriately, it has been chosen by the curators as the poster image for the entire show.
Among the curios are works by lesser-known foreign artists working in Italy at the time, and clearly influenced by the massive return to Renaissance and Pre-Renaissance values. Edward Irvine Halliday's frantically hallucinogenic Hypnos, the God of Sleep whispers Cookham (and Stanley Spencer) out of one side of its mouth.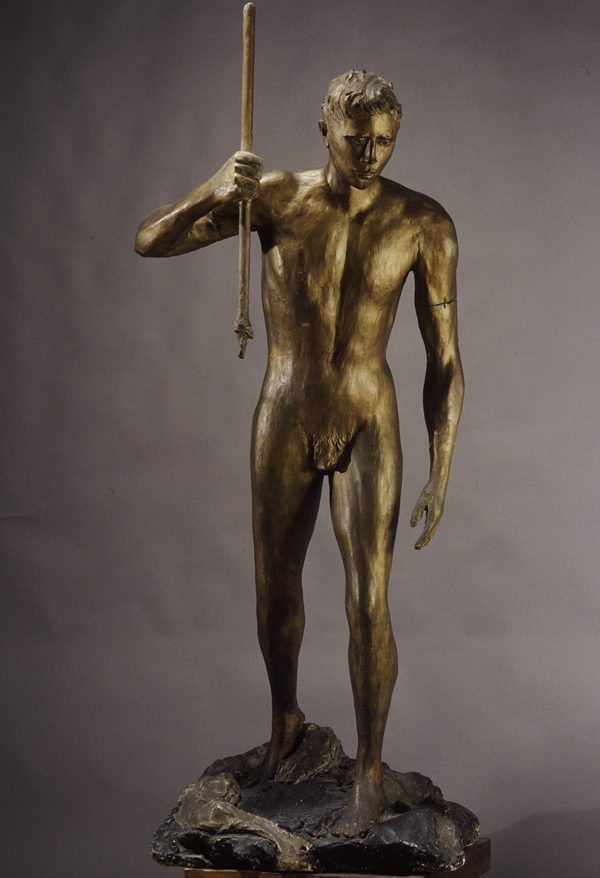 Outstanding are the two statues by the precociously talented Argentinian-born Lucio Fontana. Olympic Champion (1932) and The Harpooner (1934, pictured right) fitted neatly into the Fascist concept of athletic prowess; but they are still exquisitely wrought. So do we condemn the founder of the postwar Arte Povera movement for being a "collaborator"? Equally, the prewar work of Sicilian figurative painter Renato Guttuso ticks all the right aesthetic boxes for being "(social) fascistly correct". Yet he was to become the Italian Communist Party's favourite son.
Despite the growing hostility and mutual suspicion between Italy and the soon-to-be Allies during the 1930s, it is perhaps surprising how much cultural cross-contamination was still so obviously taking place. In the light of which, the continuing vituperative attitude of so many critics and cultural commentators both in Italy and abroad, towards the work of that era, seems utterly misplaced.
Like those superstitious American hotels that don't have a 13th floor, Italian cultural narratives have tended to skip 'il Ventennio' – the 20-year regime
Explore topics
Share this article