theartsdesk in the Hamptons: The $26 Million Barn |

reviews, news & interviews
theartsdesk in the Hamptons: The $26 Million Barn
theartsdesk in the Hamptons: The $26 Million Barn
Pollock and de Kooning settle in to a new address on Long Island
Wednesday, 28 August 2013
Country barn meets city loft: Parrish Art Museum, view from west
There's never a good day for traffic in the Hamptons, and a Friday in August takes the biscuit. The Montauk Highway, also known as Route 27, was bumper to bumper on the way to the Parrish Art Museum, recently relocated from nearby Southampton village to an exciting new building in the Watermill area.
There's never a good day for traffic in the Hamptons, and a Friday in August takes the biscuit. The Montauk Highway, also known as Route 27, was bumper to bumper on the way to the Parrish Art Museum, recently relocated from nearby Southampton village to an exciting new building in the Watermill area. However the slow pace didn't prevent me missing the turning for the museum, a remarkable achievement as it's a vast barn-like structure, the length of two football fields, just off the highway on a site of a former tree nursery. But its tiny black sign was almost invisible and at first I thought that maybe it was, in fact, just a barn or warehouse. Or perhaps I was traumatised by the Hamptons' crazy glitz, coming as I was from the north fork of Long Island, a calmer backwater two ferry rides away via Shelter Island.
Architects Jacques Herzog and Pierre de Meuron, who also designed Tate Modern and the Beijing Olympic Stadium, started out with a different design – a complex of low pavilions connected by paths, costing $80 million – but the 2008 financial crash meant cutting back the budget to $26 million, and this huge, simple building – actually two joined gabled structures - in the middle of a meadow of grasses and wildflowers is the result. The pale roofs are made of corrugated metal, the rest is concrete and glass, with lots of barn-like wooden beams and trusses in the enormously high ceilings of the 10 connected, white-walled galleries.
The long terrace under the eaves is big enough to hold summer benefits galore for the bling and Botox crowd
Architecture critic Paul Goldberger calls the Parrish aesthetic a "farm-industrial hybrid" that joins together "the feeling of a country barn and city loft". Long Island used to be full of potato fields and barns and there's still a mix of urban and rural about the area, in spite of the celebs and billionaires in the Hamptons. There are still flat expanses of fields of corn and vineyards and the famous iridescent light – Chuck Close came here because de Kooning said it was a combination of Holland and Venice. On the walkway into the museum you can feel it shimmering. Inside the museum there's a Tate-Modern-ish massiveness to everything, including the doors to the café, where I wound down on the long terrace under the eaves, big enough to hold summer benefits galore for the bling and Botox crowd. Not cheap, but a good selection of artisanal cheese, salads and the inevitable gluten-free cookies.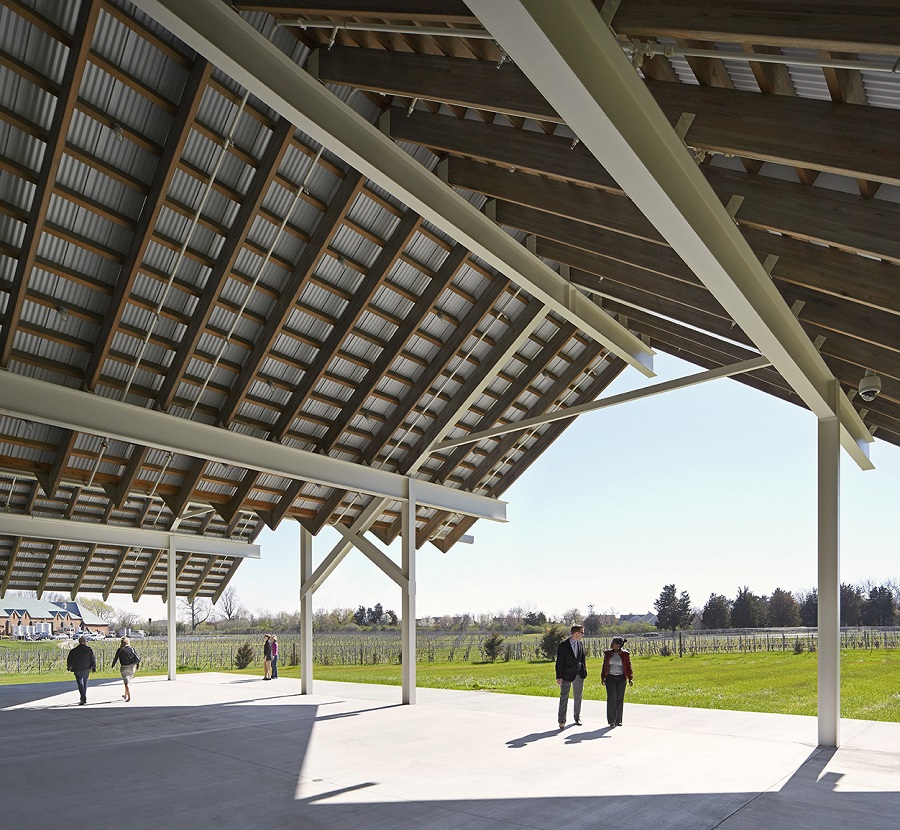 Herzog and de Meuron say their starting point was an artist's studio. This part of Long Island, also known as the East End (though not much of a Hoxton vibe in evidence) has been an artists' hang-out for years, starting in the late 19th century with William Merritt Chase (see gallery overleaf), and later Fairfield Porter, de Kooning, Jackson Pollock, Robert Motherwell, Roy Lichtenstein, Mark Rothko and Andy Warhol (Eothen, his Montauk estate, where everyone from Jackie Onassis to John Lennon partied in the 1970s, was sold for $27 million in 2007). More recently, Chuck Close, Julian Schnabel, Jasper Johns, Jim Dine, among countless others, have all spent time here. No wonder the glitz lives on.
Twelve thousand square feet of exhibition space houses the art works, all American and most connected to the area in some way. It's a remarkably easy, calming space to negotiate and makes urban Tate Modern feel a bit dark and claustrophobic in comparison. There are no stairs, no turnings, just big white spaces with art works displayed in a wonderfully uncrowded way in galleries off the central spine.
In the main lobby are fluorescent light tubes made in 1963 by Dan Flavin, a neon sculpture by Keith Sonnier, a vibrant De Kooning (Untitled XXXVIII pictured left) and – suitable for those recovering from the highway - Josephine Meckseper's Corvette, a sculpture in metal and acrylic. A little further along is her Sabotage on Auto Assembly Line to Slow it Down. This is an installation of car tyres on a chrome conveyor belt, alongside videos of car ads from 2008, with the glorious traffic on the Montauk Highway mirrored in the platform. Definitely site-specific. In the first gallery, an organic counterpart to the chrome and neon, is Michelle Stuart's Drawn from Nature exhibit: she is a pioneer in Land Art, using natural materials such as earth, wax, seeds and plants. Here are many glass bottles filled with earth specimens from all over the world as well as drawings, sculptural objects and photographic grids.
On the other side of the central spine is an exhibition that explores the connections between Jackson Pollock and Jean Dubuffet, who never met, and a less famous friend and patron of theirs who flourished in the golden age of the East End. The wealthy Filipino-American artist and collector Alfonso Ossorio, heir to a sugar fortune, lived on a spectacular 57-acre estate in East Hampton called the Creeks - Pollock, who lived nearby in a farmhouse in the hamlet of Springs (his studio was a renovated barn), advised Ossorio to buy it in 1951 and he housed his large collections of both artists' works there, as well as creating, with his partner the ballet dancer Edward Dragon, an extraordinary garden of rare conifers.
Ossorio died in 1990 (you have to wonder if his and Warhol's paths and parties overlapped – surely a movie there. Ron Perelman, chairman of Revlon, now owns the Creeks). His work was influenced by Pollock and Dubuffet; he used Pollock's famous drip method in his oil and enamel paintings in the Fifties and later Dubuffet's assemblages inspired his "congregations", full of Christian iconography, made of all kinds of found materials – horns, mirror shards, dolls' eyes, driftwood, bones. (Pictured right, Ossorio's Couple and Progeny, 1951)
Further down is a permanent exhibition of landscape paintings: American Views: Artists at Home and Abroad, featuring artists from the 1860s to the present. Some are not exactly household names in the UK. Henry and Edith Prellwitz and Irving Wiles, for example, painted Peconic Bay in 1902 and 1910 - charming scenes, and especially interesting because that's where I was staying, near the oyster ponds of the North Fork. Martin Johnson Heade, one of the Luminists, painted intense Florida sunsets that look almost Oriental with their rich light and palm trees. And Charles Burchfield, who painted intense, visionary watercolours, was a luminist of a different kind. His work is hallucinatory, with zig-zag lines and swirls and halo-ed trees pulsating with electric energy.
Two permanent galleries are devoted to American impressionist William Merritt Chase and Fairfield Porter. Chase spent summers at Southampton in the 1890s and directed the Shinnecock summer school of art there – the Hamptons were full of mansions and style mavens even then. An influential, fashionable figure, he also founded the Chase school of art in Manhattan, now the Parsons. Fairfield Porter, who lived in Southampton in the 1950s and '60s, remained a steadfastly figurative artist in the midst of abstract expressionism. His use of colour and tone is wonderfully powerful and atmospheric. He has been compared to Hopper but, says Robert Hughes, "without the melancholy".
Another Swiss Water decaf in the well appointed café, then a worried look at John Chamberlain's sculpture of crumpled red car fenders, and I was back on Route 27, not quite as rammed as a few hours previously. The fields and houses I drove past on the way to the Sag Harbor ferry took on a new luminosity. The spirit of the East End and its artists shines on in the Parrish.
Overleaf: click on a gallery of art from the Parrish Art Museum
Click on the images to enlarge
This part of Long Island, also known as the East End (though not much of a Hoxton vibe in evidence) has been an artists' hang-out for years
Explore topics
Share this article