Time, Weather, Place: Folkestone Triennial 2014 |

reviews, news & interviews
Time, Weather, Place: Folkestone Triennial 2014
Time, Weather, Place: Folkestone Triennial 2014
Headless 'terror' chickens, a naff baroque beach hut, and digging for gold
Monday, 01 September 2014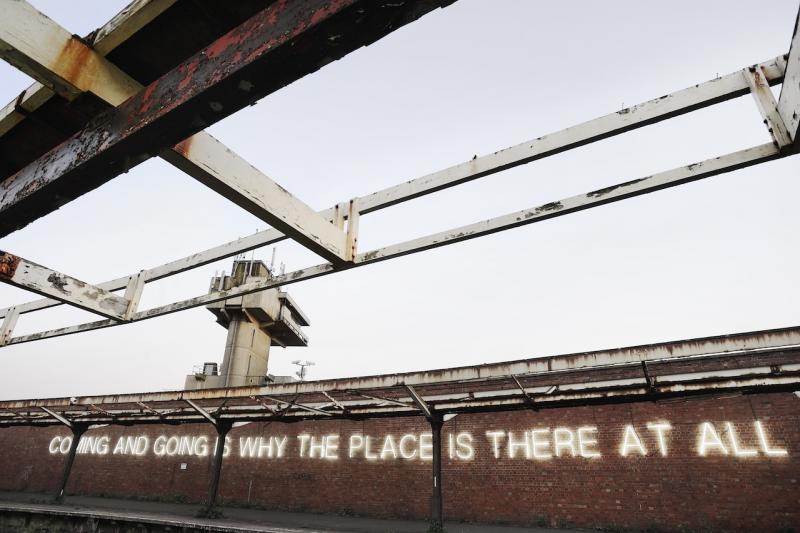 'Is Why the Place' by Tim Etchells, at Folkestone's disused Habour Station
The crusty old Scottish artist Ian Hamilton Finlay died in 2006, but there's a new art work by him at this year's Folkestone Triennial. You won't be able to see it with the naked eye, but you can through a pair of binoculars. If you peer through a viewing tower from Folkestone's disused Harbour Pier you'll see one of Finlay's enigmatic phrases come into focus: "WEATHER IS A THIRD TO PLACE AND TIME".
The words are written on the grey façade of a lighthouse in that gorgeous shade of midnight blue the artist favoured.
The work was realised in collaboration with Finlay's estate, and though I would normally find the posthumous creation of an art work – one that has not been conceived by the artist – just a bit iffy, that fragment of a sentence feels timelessly fitting and resonant. Finlay was an artist obsessed by the sea. And in this spot, haunted by the ghostly seafarers of Folkestone past, death, decay, dilapidation, as well as renewal, all feel very present.
What an unappealing spectacle this is – so much for enjoying the simple pleasures of the English seaside
From the lighthouse it's only a skip and a hop to the deserted Harbour Railway Station, where you'll encounter another text work, this time by Tim Etchells. On walls either side of two platforms, two neon signs spell out the sentence: "Coming And Going is Why The Place Exists At All" (see main picture). The signs are mirror reversals of each other, so can be read travelling in either direction. It's obvious in meaning and a little trite in execution – neon writing felt dated 10 years ago. If it's hoping to nudge us into gentle reverie it fails, as does Yoko Ono's "Earth Peace" poster. What's not to irritate about Ono's glibly punning, generic peace slogans?
Folkestone has its fair share of empty shops, and in one, closer to the town centre, you'll find Andy Goldsworthy's low-key time pieces, filmed locally. In one film, Rain Shadow, he's seen lying on the pavement on the high street, then getting up and leaving his wet imprint to slowly dry on the concrete – though it's far more interesting to note the complete indifference of the passers-by, as they continue to go about their business. Another film shows a small river boulder in shallow water covered in wet poppy petals. These disperse as the water ebbs and flows. Time and nature erase presence and memory. In World War One, some ten million soldiers departed from Folkestone; only two million returned. Though Goldsworthy's work often strikes me as fey, his best pieces ring out with eloquence and mystery.
Elsewhere, Goldsworthy has caked a shop window in wet clay. As it dries, cracks and crumbles, the interior darkness lifts as light gradually floods the room. Light, the epic metaphor, yet Goldsworthy's work is quiet, quotidian. Sometimes, just sometimes, he pulls it off. I like his Clay Steps (pictured right), a stairway carpeted in fissured clay. It suggests an arid landscape but one that's as precarious as thin ice. We can attempt to ascend, the piece might be saying, but the ground beneath our feet may just give way. What looks solid is fragile.
Then there are the five big water tanks by local artists Diane Dever and Jonathan Wright. These follow the course of the Pent stream, which flows underground and is a largely forgotten part of the town's industrial history. I can't say the tanks speak to me of anything much, and nor do the headless chickens perched on the tops of several ugly buildings. The Withervanes, by Cézanne Charles and John Marshall, are designed to pick up internet signals from newsfeeds and twitter alerts and to respond to levels of global terror: they change colour (red for highest alert), they rotate or they stand still, tails or heads (I can't remember which) in the direction of the greatest threat. If you send enough twitter messages they'll respond. But I'm not sure what the point is (are we all in a "headless chicken" panic? What about sticking a few pub-bore armchair politicians up there?). You'll have more meaningful fun playing a war game.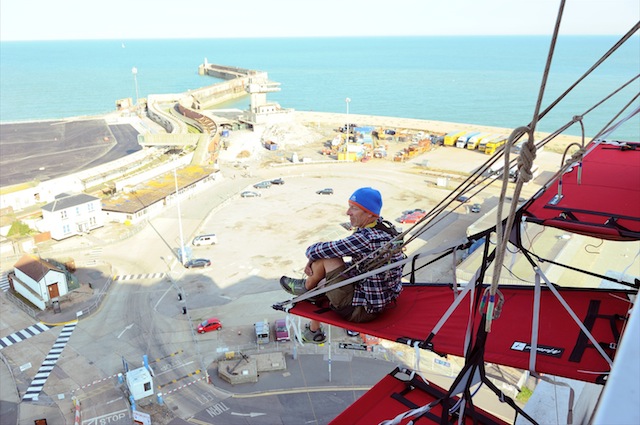 Perched on the edge of another building, the rather magnificient though grubby and weatherworn ocean liner-like Grand Burstin Hotel, is Alex Hartley (pictured left). Hartley has set up an an eyrie with some camping equipment and intends to keep vigil over the town, occasionally changing places with a volunteer with a head for heights. It's a fair panorama that greets his gaze, but I'm not sure he'll be able to see the gold prospectors on what I can gather may be the only stretch of sandy beach on the whole of Folkestone's coast. Michael Sailstrofer had hidden 30 pieces of gold in the sand in the Outer Harbour and visitors have been busy getting stuck in. What an unappealing spectacle this is – so much for enjoying the simple pleasures of the English seaside.
But you can still enjoy a walk along the promenade with its beautiful pastel-coloured beach huts. They're a wonderful sight, each painted in an array of colours. What a delight those stacked art deco huts you'll encounter at one end are. And here stands Pablo Bronstein's contribution: a naff "beach hut" in the style of Nicholas Hawksmoor, or at least a kind of ugly, brooding grey Lego version of a Hawksmoor design. I hope it doesn't become permanent, as some of the works this year will. It's not a functional beach hut – it's a sculpture – and in its overbearing po-mo "playful" way, it's an eyesore.
One of the nice things about going to any town or city at art festival time, is the chance to simply explore. Whatever your level of familiarity, an art trail is an opportunity to discover more about a place. This is the overriding pleasure of the Folkestone Triennial; the actual work, with one or two exceptions this year, doesn't add anything more.
We can attempt to ascend, the piece might be saying, but the ground beneath our feet may just give way
Explore topics
Share this article