Turner Prize 2013, Ebrington Barracks, Derry-Londonderry |

reviews, news & interviews
Turner Prize 2013, Ebrington Barracks, Derry-Londonderry
Turner Prize 2013, Ebrington Barracks, Derry-Londonderry
There's a definite feel-good vibe to this year's exhibition of the four shortlisted artists
Wednesday, 30 October 2013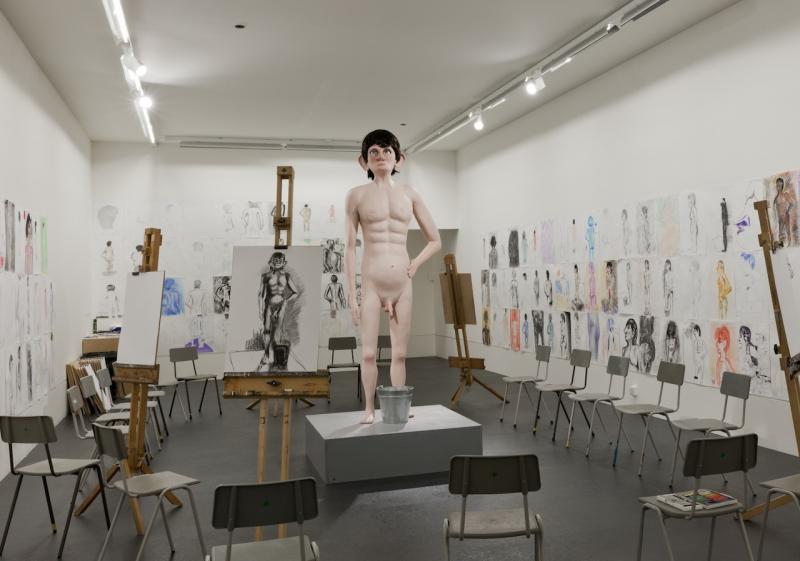 David Shrigley, 'Life Model 2012'
This year, if you don't live in Ireland, you'll have to take a plane or a boat to see the Turner Prize exhibition. But the effort will be nicely rewarded, for Derry (or Londonderry/Doire – wherever your affiliations take you) is a beautiful city, and it's also the first UK City of Culture, so there's plenty going on.
And aside from the tempting premise of the exhibition, the building that's been specially converted to house it is an inspired choice, not only because it makes for a very good exhibition space, but because it carries such symbolic weight. And such things count for a lot if you're rebuilding a city in the public's imagination.
As soon as you walk into the building it all feels very inclusive
Ebrington Barracks, which was built in the early 1840s, is a former British Army base, so it has a long history connecting it to the Troubles and to the devastating impact of Bloody Sunday, which took part in the city's Bogside area. The barracks are located near the waterside, which is mainly Loyalist, but it's a short trip to the Peace Bridge, which opened in 2011 and leads you into the central part of the city, which is largely Unionist. So, I'm told, it's still a fairly divided city geographically, but culture offers a hopeful means of bridging that divide in spirit.
And as soon as you walk into the building it all feels very inclusive. The gallery guides and assistants are the nicest and most helpful I've ever encountered, and the first gallery you enter is David Shrigley's art class (main picture), where you're invited to pick up a box of pastels and charcoal and take part in a life-drawing session. Here though the model is an odd-looking, strangely proportioned animatronic man who periodically blinks and pees in a bucket. Therefore, any faithful rendition is likely to end up looking equally odd and stiff, though this, I suppose, may be the point, or at least producing something good is beside the point, since the point isn't to make something that's going to be judged either good or bad, unlike the Turner Prize. Naturally, it's the taking part and the entering into the fun spirit of the thing that counts, though in fact, the experience of having to produce something yourself shows how difficult it is to be even interestingly bad, and this may also be a lesson to all Turner Prize naysayers. To be interesting is to surely transcend even the values of good and bad – which, actually, Shrigley himself deftly manages to do.
Anyway, when you're done, your picture, good or bad, interesting or dull for it won't be judged, can join the others on the wall, so that every visitor can take part in the Turner Prize exhibition. And though all this feel-goody vibe may, on paper, induce cynicism among the weary, the experience feels nice because it's also a bit daft. Inclusivity needn't feel like a worthy and self-consciously well-meaning exercise.
The daft feel-good vibe continues with a two-room installation by Laure Prouvost, who's created a sweet, dreamy make-believe world, in which she involves us in a shaggy-dog tale about her grandma and grandpa. Grandpa is a conceptual artist and a friend of Kurt Schwitters. The main installation of wonky teapots etc was created for Tate Britain's Kurt Schwitters exhibition and includes a whimsical film about Schwitters' girlfriend Wantee (picture above: installation view). The second installation is a snug, sloping hideout: carpeted with Axminster and painted in cloying pink, you settle down to watch a short, fractured film called Grandma's Dream. Being a conceptual artist, Grandpa is wont to do strange things, including digging a tunnel to Africa through the floor of his house, through which he disappears, never to be seen again. It has some very funny lines in it – Grandma doesn't dig conceptual art at all – and Provoust's voiceover is delivered in a barely audible, tantalising whisper as light and as sexily French as soufflé. I'll add that it's a beautifully edited film, filled with strong, fleeting images, and it captures a kind of fevered dream-like state better than most. It's been said her films are very like Pipilotti Rist, but I can vouch that Provoust is less irritating and has much more of a grounded sense of a fun.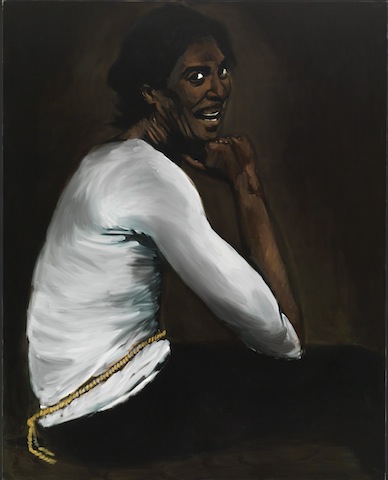 Lynette Yiadom-Boakye presents six large paintings in a gallery that's so dimly lit your eyes have to adjust to the gloom. This forces you to get up close to the work. Emerging from the gloom is a gallery of black men. White teeth, white shirts, the dazzling whites of eyes – all glint with a fury that seems to accuse the onlooker. They're not portraits, but representations of fictional characters, their arresting postures, the style in which each is painted, suggest different works by old and 19th-century masters: Caravaggio, Velázquez, Degas. These are not pastiche works; they are echoes and there's a sense of familiarity, but this looks like contemporary painting and they express contemporary concerns about representation. (Pictured above right: Bound Over to Keep the Faith, 2013)
I'm tempted to pass over Tino Seghal's contribution, since he's an artist who doesn't allow any documentation of his work – no contracts, no photos, no filming, no interviews to camera. His work exists to the public at large either through direct experience or mediated experience – through the media or word of mouth. This strikes me as an awfully strained conceit. But here goes.
What would happen if my encounter in the gallery had been filmed? Well, that might become a saleable art commodity for the art market, and this is what Seghal wants to circumvent. In fact, it probably wouldn't count for much, as it wouldn't feature the artist – and that's who the really important commodity is in all this, since the value in "dematerialised" art often resides less in the idea than in the artist as brand, or the "buzz" around the artist. But, inadvertently, Seghal might also be in danger of creating a mystery cult around his brand, as the invisible impresario of fetishised encounters that are in fact common to us all when we meet strangers in real-life situations – in taxi cabs, in coffee shops, while walking the dog. In a way, this isn't new, because this was once common practice with artists who worked with ordinary objects – they defamiliarised the ordinary object by putting it in an art context so that you'd rethink your relationship to it as art.
Stage-managed human encounters are currently where it's at, it's where the buzz is
So what's different about this? Not much. Especially since there's that old-fashioned contradiction at its core – that all the apparatus that goes into staging his pieces doesn't side-step the cost of production. What's more, I don't even find any of this a particularly interesting debate to have anymore. It feels old, it feels hackneyed. It feels like I'm having a sixth-form debate with myself.
My encounter involved being asked by a gallery person to talk about the market economy in exchange for £2. This bought out my inner Holden Caulfield – it just felt phoney (also he didn't say "talk about money", but the "market economy", so what was he expecting – a short discourse on Hayek?). And why £2? Why, gosh, that's below the minimum wage – would I do it? (It wouldn't buy you a coffee in the nice gallery café.) Would it have felt more meaningful had the exchange resulted in a voucher for the café, or for the shop? No, but it might have grounded it in the gallery-going experience – we all know people, ourselves maybe, who spend more time in the shop than looking at the art.
But that might have been an obvious and cheap shot, whereas there was meant to be nothing obvious or slick or cheap about This is Exchange (and, see, at least it's making me think). And anyway, those are just more objects of consumption, which Seghal has distain for. No, he's more into recycling old conceptual ideas until they've been rolled out so often they fall apart like thin pastry. Stage-managed human encounters are currently where it's at, it's where the buzz is. But objects? Meh.
I don't really mind who wins. It's only the Turner Prize – interesting artists have lost out to dull ones in the past. Indifferent artists, now forgotten, have bagged the prize. It seems to mean little in the long run. Despite Seghal, it's a good, robust show. That's what counts. What's more, it's not the art that just "makes you think" that's any good, at least not in terms of its traction, but the art that gets under your skin. This year, I think Yiadom-Boakye has done that more than the others.
Naturally, it's the taking part and the entering into the fun spirit of the thing that counts
Explore topics
Share this article