Courttia Newland: A River Called Time review - an ethereality check |

reviews, news & interviews
Courttia Newland: A River Called Time review - an ethereality check
Courttia Newland: A River Called Time review - an ethereality check
Picturing a world without the legacies of colonialism and slavery
Courttia Newland: alternate realities and astral planes
It is near impossible to imagine what the world would look like today if slavery and colonialism had never existed, let alone to write a book on the subject. Courttia Newland sets himself this daunting task in his latest novel, A River Called Time.
Imaginative fiction
rubs shoulders with a naturalistic impulse to create the world of the Ark, an alternate reality in which African cultural influences represent the status quo. Rooted in a decolonised narrative style where every turn of phrase brings forth the weight of its cultural implications,
A River Called Time
is a deeply thoughtful, surprising and rewarding read.
The novel follows the life – and lives – of Markriss Denny, set against a backdrop of shifting realities and physical and ethereal planes. At its geographical and narrative centre is the Ark, a fully enclosed city-within-a-city that represents an intangible ideal to those unfortunate enough to live outside it. Their misfortune, however, is paralleled on the inside. The Ark is not the heady paradise imagined by some; it is the world of inequality, violence and deception suffered by many. The lasting impact of colonialism might not be felt, and African cosmology might well provide the dominant religion, but humanity has still found a way to perpetuate injustice. Markriss' narratives traverse the vertical levels of society and simultaneously the levels of reality, where to conceive of astral planes and lived realities beyond the immediate physical setting is no less normal than a daily commute to work.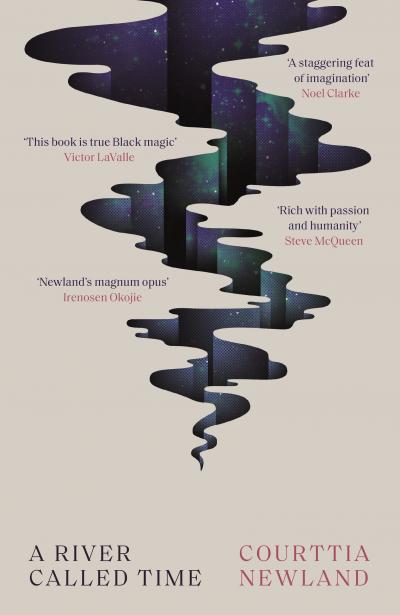 It would be a disservice, however, to brand this novel pure fantasy. The cultural setting is the product not of the vagaries of novelistic imagination but of meticulous research into such subjects as Kemitan cosmology and indigenous belief systems. If, early in the novel, to wish someone "Raspeed" seems an entertaining novelty, by the latter stages it is no stranger than its equivalent Christianised idiom. The curious combination of naturalistic and mystical styles, too, overcomes its initial peculiarity to evoke the quasi-dystopian society of the Ark.
The strangeness of this imagined world, moreover, moves the reader to consider the strangeness of their own, a mark of high-quality speculative fiction. Certainly, some phrases jut out in their direct pertinence to the reader's reality: the Ark is "no more than a single conglomerate company", for instance, creating an elitist world where "it's almost as if they took all the opportunity with them". But it is in fact the oddest parts of A River Called Time that come closest to envisaging a recognisable reality. An artificial climate where daylight, or "Day-Lite", is controlled, and upon whose "counterfeit ground" its inhabitants walk, is part-Truman Show, part-modern metropolis. An impenetrable city governing by means of mass surveillance and misinformation looks backwards to Nineteen Eighty-Four at the same time as casting a sly glance sideways to the travails of our times.
In short, much of the novel is less an imagined reality than a conditional one: a status quo that could well exist, had major historical events panned out differently. The achievement of Newland is to convey this reality so convincingly.
Reality, however, is itself no simple term for A River Called Time. Newland tasks himself and his reader with picturing a multiverse of existences sitting side by side. More than once, the novel explores a new plane (whether physical or astral), almost a new world that the reader must seek to comprehend all over again. If, at times, this can frustrate – the trickle-down narrative style flatly refuses to lay bare the facts until the reader has done the work themselves – it serves to maintain an intriguing sense of mystery. It equally makes for an enjoyable irony in phrases such as "a zone that could easily have been theirs if they had been other people, who lived other lives". Alternate realities pile upon alternate realities.
The latter stages of the novel offer revelations on almost every page. Readers of fantasy are familiar with its ability to form metaphors for real life experiences, but not many books endow this endless referentiality with the same urgency as A River Called Time. On the one hand, there are questions of literary creation: does fiction create alternate realities, or does it result from them? Is a society that is more recognisable than another necessarily more "real"? On another, the decolonising narrative impulse is thrown into stark relief, where the reader is moved to consider that other reality which happens to be their own, one in which the legacies of colonialism and the slave trade are all too tangibly felt.
The lasting value of A River Called Time is that it shows us the literary, cultural and historical import not only of the story but also the "making of" that story. The fabric of Newland's construction becomes ever more visible as the story approaches its close, akin to that creation of Dr Frankenstein whose "skin scarcely covered the work of muscles and arteries beneath". The reader is shown the journey from truth to fiction and back again, in a work that could take a single step sideways and emerge into our times.
It would be a disservice to brand this novel pure fantasy
rating
Explore topics
Share this article