Neil MacGregor: Living with the Gods review - focuses of belief |

reviews, news & interviews
Neil MacGregor: Living with the Gods review - focuses of belief
Neil MacGregor: Living with the Gods review - focuses of belief
Understanding the impulses behind faith, at a time when faith is being distorted
Sunday, 23 September 2018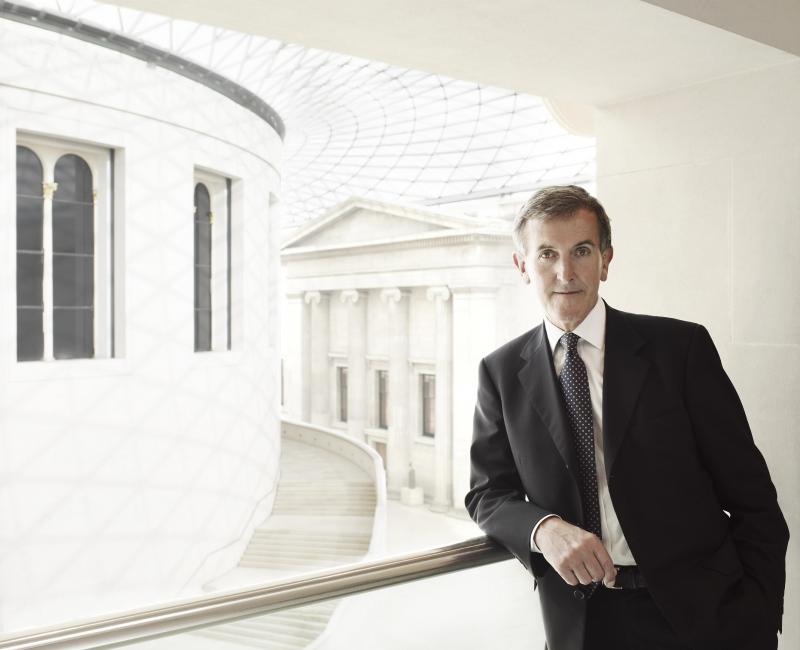 Assaying old haunts: Neil MacGregor
Dip in, dip out, argue, agree and disagree: Living with the Gods is the newest manifestation of a rich multimedia format that keeps on giving, devised by that superb writer and lecturer, Neil MacGregor, sometime director of the British Museum, and his team.
This ample
publication
, subtitled "On Beliefs and Peoples", is intertwined with the
objects on view
in last year's exhibition at the British Museum "Living with Gods: Peoples, Places and Worlds Beyond". That was accompanied by a small guidebook and followed by 30 BBC radio broadcasts, which incorporated many voices – academics, experts, curators – as well as the chief narrator and interlocutor, Neil MacGregor, not to mention music and other sound effects.
MacGregor first ventured into the potent combination of radio broadcasting and publication with the imaginative and wildly successful History of the World in 100 Objects – each object chosen from the vast collections of the British Museum. The format was a stroke of genius, enabling persuasive approaches to the biggest subject imaginable – human culture – by devising accessible and representative segments. It has been widely imitated, and deservedly so: for example, the Imperial War Museum has published A History of World War One in 100 Objects. It is wonderfully adaptable, telling stories about the very objects that were themselves devised to show and tell stories.
In several senses this latest iteration of the possibilities of understanding complex ideas and emotions through objects is the most difficult: it is probably true that the highest proportion of what we might call "art" is a way of making visible an interconnected web of belief and faith in the imagined – and invisible.
Inuit parkas made of seal gut; Newgrange near Dublin, a mere 5,000-plus years old, where the ray of light at the same time every December signals the turning of the year; the life of Indian rivers; a 17th century melancholy Muscovite icon of Our Lady of Kazan; the classical third century Buddha in prayer from Gandahar, Pakistan: the 16th century Iznik blue-and-white mosque lamp, exhibiting swirling calligraphy… Those are just a handful from the dazzling selection of man-made artefacts, and natural landscapes that are part of a dizzying array of diverse earthly manifestations that are involved in ways of human life – and belief. Everything here has a meaning, and MacGregor does not shy from the spectrum of human behaviour, evil to good, enabled by belief, mistaken or not.
He and his experts are surefooted and do not shy away from episodes of intolerance, hatred or murder in the name of belief. If there is an overall thesis, it is that by looking at history to gaze at the current world cycle, we recognise that there are groups influential beyond their numbers which are turning secular and material preoccupations to versions of faith and belief which are energising holy – and unholy – conflict, war and terrorism. Understanding the backgrounds to belief and faith are more important than ever, in part so that we can learn to avoid the violence that can be caused by distorted adherence to imposing beliefs on societies at large.
As long as human history has been recorded, its surviving material culture has been the product of faith, that inescapable human longing to find a pattern to human existence (and, of course, its history), and what might come after the ending of individual life. No less a philosopher than Rousseau simply stated that "no state has even been founded without religion servings as its base". Political systems also demand faith, nowhere more so than with communism, and currently many believe that the pragmatic myth of liberal capitalism is dying.
So long before societies organised themselves in such complex ways, it is thought that any communal human grouping had to have some shared belief system. The assertions at the exhibition were very firm, and reiterated in this satisfyingly solid publication is that there is no known human society without beliefs in invisible spiritual powers. Moreover there is a natural human inclination for transcendent worlds and beings expressed in stories, objects, images and rituals. Living with the Gods suggested more than that phrase from Descartes, "I think, therefore I am", expanding it to "I think, therefore I believe." You might even believe in atheism, which is also a kind of faith, and indeed in increasingly secular societies, nationalism.
It is the stimulating mission of this marvellous book - which draws no conclusions, asking questions rather than providing answers - to draw our attention to all the man-made things that attempt to portray visions of the invisible world
We begin, so to speak, at the beginning with the Lion Man, the oldest known human-animal image, created 40,000 years ago from mammoth ivory, and discovered in a cave in southern Germany in 1939 but not pieced together until after the war, when further discoveries were made, including a smaller Lion Man. The Lion Man is a solid figure, an imagined creature. But ephemeral elements also come into play – light, water and fire, constantly changing – to be examined commemorated, depicted, worshipped.
The spirits of the ancestors inhabit many places; shamans from various cultures communicate with these spirits, negotiate with them, ask for protection. In other ways, the spirits of the dead have to be cared for, and there are objects associated with a huge array of beliefs about the worlds beyond the senses, the underworld, hell and heaven.
Buildings are made for the gods: the oldest known are in South-East Turkey built by hunter-gatherers about 11,000 years ago. In Mesopotamia (now Iraq) Sumerian peoples ritualised communal worship some 6,000 years ago in structures usually made of stone, with stone statues depicting the human form. Ancient Hinduism has temples, rituals, sacrifices and a huge pantheon of gods. Greeks and Romans also had sacrifices and temples, and gods made overtly in man's image, only on a larger scale, polygamous, squabbling, petty and power-crazed. More recently, only several millennia ago, the three great monotheist religions – Judaism, Christianity and Islam – shared some prophets and preachers, and structure time each with their own characteristics: some with music, all with prayers, fasting, communal meals, dietary suggestions and the like. There are portable creations to aid such worship – rosaries and prayer beads, and many great buildings. Buddhism, more a way of life, has its prayer wheels, mantras, prayer flags. There are festivals and processions, each with costumes, statues, vehicles to carry statues and representations of deities, bonding social occasions.
It is the stimulating mission of this marvellous book – which draws no conclusions, asking questions rather than providing answers – to draw our attention to all the man-made things that attempt to portray visions of the invisible world, and how humans interact with their imaginings. The objects may be stable and solid, from the smallest coins – and even American dollars are adduced for their religious phrases – to vast temples, but human reactions are anything but. There are no solutions to the human quest here, but myriad embodiments of varied hopes, expectations and journeys.
Living with the Gods: On Beliefs and Peoples by Neil MacGregor (Allen Lane, £30)
MacGregor first ventured into the potent combination of radio broad-casting and publication with the imaginative and wildly successful 'History of the World in 100 Objects'. The format was a stroke of genius
rating
Explore topics
Share this article