Civilisations, BBC Two review - no shocks from Schama |

reviews, news & interviews
Civilisations, BBC Two review - no shocks from Schama
Civilisations, BBC Two review - no shocks from Schama
The much-heralded successor to Kenneth Clark's series reveals little new so far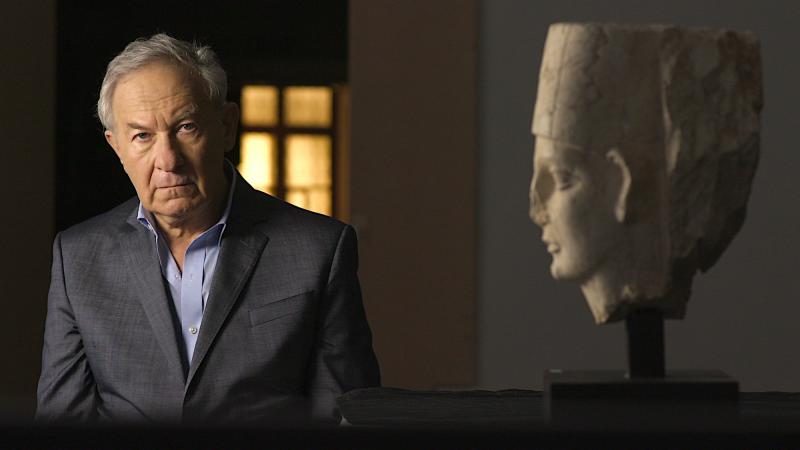 Simon Schama with a Palmyran sculpture at the History of Art Museum, Geneva
Lord Clark – "of Civilisation", as he was nicknamed, not necessarily affectionately – presented the 13 episodes of the eponymous series commissioned by David Attenborough for BBC Two in 1969; it was subtitled "A Personal View", and encompassed only Western Europe (from which even Spain was excluded).
The whole
guide
, narrated in that upper-class accent, wrapped in bespoke suiting and accompanied by full-scale orchestral throbbing, was the kind of
documentary
that families stayed home to watch. It proved, said those rightly enthralled by that authoritative patrician presence, that the BBC was fulfilling its Reithian agenda.
Well whoop-de-doo, now look at that subtle plural in the title for this new series, nine programmes in a new narrative for the 21st century. Has the West, in the form of our public broadcaster, really acknowledged at last that civilisations, aka culture, exist outside Western Europe, a canon into which once even Eastern Europe, Russia and America had a hard time fitting. That new identity – new narration, if you like – is reflected, up to a point, in its trio of presenters: Simon Schama, historian of France and Holland, the art of landscape and British portraiture, and the epitome of the television don; Mary Beard, no stranger to the screen with the likes of her Meet the Romans, whose marvellous quirky intelligence takes no prisoners; and the Geordie Nigerian, David Olusoga, whose documentaries like Britain's Forgotten Slave Owners and The World's War: Forgotten Soldiers of Empire have brought new viewpoints to some well-trodden paths of history.
The record of human history is shadowed with the urge to destroy
This first episode, "The Second Moment of Creation", came from Schama, who told us that he had always felt at home in the past – for what is the present but an endless chain of memories, some translated into stone? We are all inheritors of the memories, and we look after them as best we can. No scaring the horses there. Professor Schama is a bouncy, excited guide, his boisterous enthusiasm almost exhausting as we travelled the world: and we did, in under an hour, covering southern Africa, the Middle East, China, Mexico and Central America, not to mention Spain, France and Germany.
But the opening sequences were of the shocking episodes of the 21st-century destruction of ancient art, in the name of ISIS. Not Afghanistan's Bamiyan Buddhas, but the shattering of the contents of Mosul Museum in Iraq in 2015 in an orgy of sledgehammers. In Syria, the octogenarian head of Palmyra's antiquities, labelled the "director of idolatry", was beheaded for allegedly refusing to reveal the location of safeguarded, hidden antiquities. Schama paid a brief visit to the Geneva museum which now houses some art looted from Palmyra, saved for now even if presented out of context.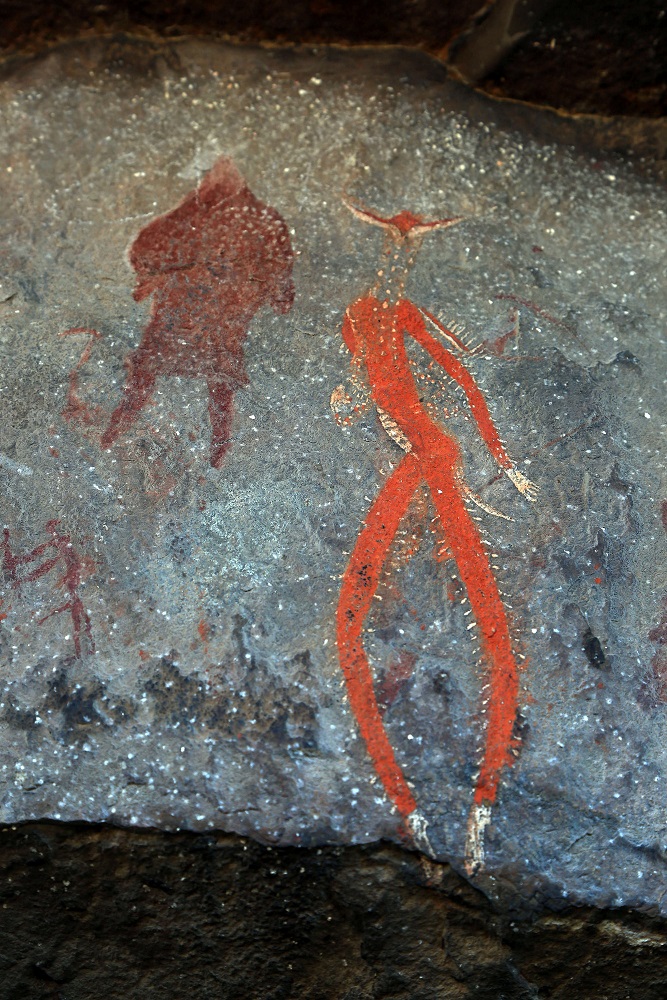 The record of human history is shadowed with the urge to destroy. Yet Schama defines humans as the art-making animal, with art as our claim to immortality: as civilisations vanish, what is left is the art. To set the scene, images of masterpieces from all eras flashed by in montage, before we went back thousands of years.
Opening in Africa, where human creativity started perhaps 100,000 years ago with Homo sapiens – the programme was obviously made well before recent discoveries concerning Neanderthal art hit the headlines – it leapt on to El Castillo, Spain where 30,000 years ago red ochre had become paint, in cave images. No brushes, but colour mixed in the mouth with saliva and blown onto the surface; we do not know what the meanings are, but there was the compulsion to create pattern. Hand stencils have been found in caves as far apart as Patagonia and Indonesia.
Art needs to be seen by others and endure beyond the life of the maker. Rock art in Drakensberg, South Africa shows us humans and beasts together, and man-beasts (San Painting, from 6000-1900 BCE, from Game Pass Shelter, Drakensberg, pictured above right). In Germany a single man-beast carved in ivory was found: contemporary archaeologist Wulf Hein carved a replica, estimating it must have taken 400 man hours to create. Society would have held such an artist in very high esteem, releasing him from the obligations of hunting.
The whistle-stop tour continued, themes whirring. Animals were memorialised by Paleolithic man (Picasso's bulls duly referenced), but humans too, sometimes enshrining fertility, or just remarkable in themselves (the amazing "Lady of Brassempouy", a tiny carved ivory head found in France that is one of the earliest realistic representations of the human face, pictured below, National Archaeological Museum, Saint Germain-en-Laye, France).
Pottery for cooking, eating and storage appeared in the world's first true cities between the Tigris and the Euphrates. In Mesopotamia, the great city of Ur was created, with cultivation of cereal crops, the keeping of cattle: settlement produced not only cities but hierarchies from kings to workers, and the invention of writing. Then on to the Minoans on Crete, with extant paintings of living societies and quotidian social activities: fishing boats, the surprising sport of bull-leaping, in which even women seemed to participate, and processions. Next the Mycenaeans in mainland Greece and the discovery in 2015 of a grave with Minoan artefacts, some 1500 objects, from combs and metal mirrors to swords and associated elements of the complete warrior kit. One seal from 1450 BC found there is the first three-dimensional carving of a battle, some 700 years before Homer.
Onwards, ever onwards, and further afield… Saxingdui was excavated in China in 1986, its remains dating back three millenia – hundreds of elephant tusks, remains of sacrificed animals, and extraordinary stylised bronze masks. Yet we know nothing beyond these artefacts: no stories, no writing. Next stop, Petra in Jordan and its rock-carved temples and the Nabateans, nomads who traded and grew rich on incense ("emperors of aromatics", Schama called them). Finally to Central America, Calakmul in Mexico, the Mayans and their forest and urban theatres of religious and political power, including mass sacrifice of human captives. Right back, one rather felt, to that destructive beginning.
The subjects were so alluring that Civilisations did not need the portentous soundscape – endless drum beats and swelling sustained chordal moaning – to underline what we saw: just trust the viewer to get it without subliminal mood music? And hardly any cliché was left undeployed. We had to be grateful for the journeys through time and space on view, the marvels on screen, and the superb aerial photography of such sites as Petra and Palmyra. But what may truly expand our geographical and mental horizons will be the other voices to come, Mary Beard and David Olusoga. Here's hoping that they can shift some of the damaging assumptions we may hold, without even noticing, in our unchallenged mindset.
What may truly expand our geographical and mental horizons will be the other voices to come
rating
Explore topics
Share this article