Omar Robert Hamilton: The City Always Wins review - Egypt's revolution, up close and personal |

reviews, news & interviews
Omar Robert Hamilton: The City Always Wins review - Egypt's revolution, up close and personal
Omar Robert Hamilton: The City Always Wins review - Egypt's revolution, up close and personal
A fierce and hectic docu-novel charts days of hope, and despair
Tales of the city: Omar Robert Hamilton
A few days ago we learned that British taxpayers have unwittingly donated around £1m. in aid to the police and court systems of Egypt's military dictatorship, via an opaque "Conflict, Stability and Security Fund". That news only sharpens the topical edge of Omar Robert Hamilton's debut novel, inspired by his own experience as an activist in Cairo during and after the revolution that began in January 2011. Hamilton helped to found and lead the Mosireen collective.
During this most media-savvy of mass uprisings, its members shot, edited and posted the filmed evidence of popular revolt and state repression. At one point, Mosireen ranked as the world's most popular non-profit YouTube channel. Drawing on its author's journeys, in the mind and on the street, this is a fictionalised report from the front-line of a heroic but, ultimately, doomed democratic insurgency. It thrills in its evocation of days of hope and solidarity; and shocks in its unblinking witness to the lingering aftermath of division, frustration and despair. The graphic account of cruelties inflicted by police and troops on the beaten, broken demonstrators, and the movement's tortured supporters and organisers, may well dismay readers. In which case, they must not forget that their money helps to keep the uniformed victors of Egypt's endgame securely in power.
Hamilton, the son of a British poet and an Egyptian novelist, originally intended to edit his vast archive of video footage from the revolution into a documentary. In The City Always Wins, the young academic-turned-activist Hafez argues that the collective drama of their uprising mandates only one art-form: "It's gotta be a movie… It's not about one hero, it's not about feelings or interiority, it's just too big. Nothing can do the twenty-eighth [the Egypt-wide "Friday of Anger" in January 2011] justice other than cinema". Yet, in the end, Hamilton did not direct a film but composed this work of fiction. Its rapid-fire cuts and collage methods have the same cinematic pace and fast-changing perspective as many classic novels of the modern metropolis, from the 1920s onwards. But nothing that humans do, however idealistic and collaborative, can ever avoid "feelings or interiority".
So Hamilton offers not an impersonal wide-screen panorama but a close-focus study of two young revolutionaries, Khalil and Mariam. They and their tight band of media militants, armed with nothing more than smartphones and video cameras, share and record Cairo's short hours of bliss, and long months of mourning. Hamilton begins not in the new dawn of January 2011, when Tahrir Square suddenly became a global hub of freedom, but in October – and with a defeat rather than a victory. Then, the army massacred peaceful Coptic Christian marchers and the protestors, crucially, failed to occupy the state broadcaster's HQ. The revolution would not be televised to Egypt's people – not on its own terms, at least.
From that moment until mid-2013, the action leaps from crisis to crisis, showdown to showdown, through the suppression of pluralist democratic movements, the rise of the Muslim Brotherhood and its short-lived president Morsi, and the final, blood-washed return to absolute military rule under Field-Marshal Sisi. Throughout, we grasp that control of the message matters as much (if not more) than command of the squares and streets. The lacerations from floggings, the bullet wounds, the electric burns, the tormented corpses dumped in the morgue for grief-wracked families to collect: the hi-tech democrats must point and shoot it all with their frail gadgets, even while fearing that they transmit no more than a real-time horror show. "How many last breaths will be auctioned off to the breathless internet? If a revolution's fuel is death, then what will be its end?"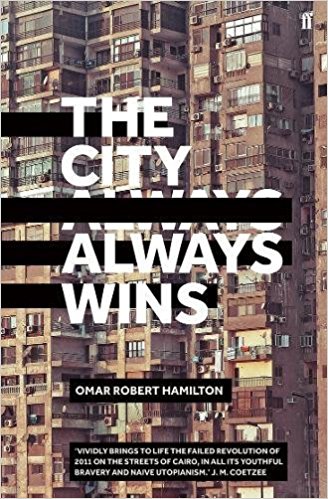 More comrades than lovers, Khalil and Mariam – one the son of a Palestinian exiled in America, the other a Coptic doctor's daughter – throw themselves from the margins of Egyptian society into the heart, and heat, of the revolution. Their aspirations, their insecurities, deepen their commitment to the cause. They become the eyes, and the pulses, through which we observe and experience the lurching onrush of events. Khalil thinks of downtown Cairo's frantic polyphony as a form of "jazz". The novel performs its own crazy bebop. Twitter reports, video commentaries, street dialogue, emails, political disputes, state propaganda, snatches of memory: many musical lines clash, weave and, frequently but not always, harmonise. At times, this city in its cacophonous upheaval deafens us. Hamilton creates a volcanic mood of immediacy, of danger, of excitement. But the din of the Egyptian "madhouse" can numb the senses too.
Still, we never lose sight of the plot's tragic arc. This is the chronicle of a social and spiritual death. Was it foretold? At the finale, Khalil speculates that in a couple of golden hours, the revolutionaries' takeover of official media might have altered the course of Egyptian – therefore Middle Eastern, therefore global – history. But this story deliberately shuns the judicious hindsight of some all-knowing narrator. Media activists will always give the image, and the word, an epoch-making role. In this disenchanted aftermath, Khalil can only regret the roads (and buildings) not taken, and count the losses endured: "What a glorious start it was… What a terrible end it had." The wonder, and arguably the weakness, of Hamilton's incandescent debut lies is its in-the moment refusal of last words and Olympian verdicts. Wearied and downcast, his hero feels that history has moved on and suffers "the cold weight of judgment pressing down on our chests like medieval torture". Scarily, bracingly, close to the drama it depicts, this novel with a hammering heartbeat completely inhabits its time and place. History, though, has a fondness for second thoughts and revised scripts. Let's hope that "the great surprise sprung" in Cairo will not have been in vain.
The City Always Wins by Omar Robert Hamilton (Faber & Faber, £14.99)
This novel with a hammering heartbeat completely inhabits its time and place
rating
Explore topics
Share this article