Sema Kaygusuz: Every Fire You Tend review – an education in grief |

reviews, news & interviews
Sema Kaygusuz: Every Fire You Tend review – an education in grief
Sema Kaygusuz: Every Fire You Tend review – an education in grief
A celebration of, and lament to, the Alevi Kurds massacred in Dersim 1937-38
In March 1937, the government of Mustafa Kemal Atatürk instigated what it called a "disciplinary campaign" against the Zaza-speaking Alevi Kurds in the Dersim region of eastern Turkey. What followed was a bloody, coordinated assault that resulted in thousands of civilian deaths and forcible deportations.
The episode has "weighed on Turkey's official history ever since" and supplies the context to Sema Kaygusuz's
Every Fire You Tend
, translated into English by Nicholas Glastonbury. The novel, which grapples with memories that are both an obligation and a burden, is a brave rejoinder to an ideology and a nation that continues to insist, even today, upon the "uniform homogeneity" of its citizens.
Split into two sections, 'Sigh' and 'Wail', Every Fire You Tend takes the form of a direct address towards the unnamed female protagonist from whom the narrative voice and consciousness is distinct, yet intimately connected. This woman – who is "half dead", emotionally paralysed inside her Istanbul apartment – serves as a symbol for the survivors and descendants of the attack, those living with what Kaygusuz describes as "the shame of being human… that grows in the aftermath of ruin." What follows is an education in grief. As the novel unravels a woven, dream-like parable of personal fragments and Alevi mythology, the reader is drawn into a rich universe populated with gods, widows and fisherman, each reverberating in the fallout of "'38" and "the unspeakable things that one human can do to another… the rawest, most vulgar portrait of tragedy."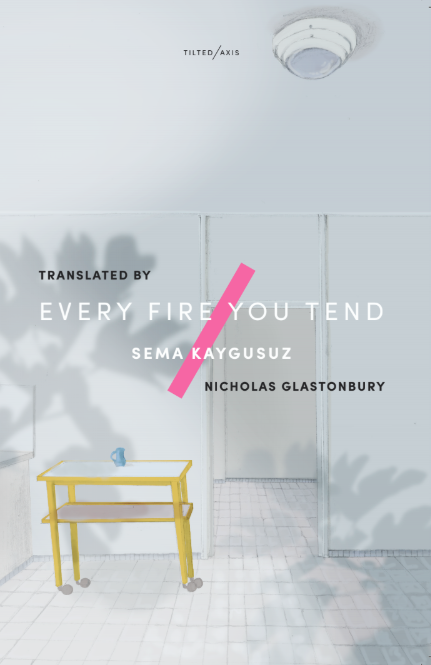 From the "baby struggling to nurse at the breast of its dead mother" to the narrative voice itself – described as "a wound, etching itself upon your lungs day by day" – Kaygusuz's account of the atrocities rubs up to devastating effect against rhythmic and beautiful prose. It is a dichotomy that speaks to the complex relationship individuals bear towards their own heritage, when they serve as the repository of a culture and a history that cries out for remembrance, but which continues to sting with the after-image of destruction. As "pain gives way to silence", so the very act of storytelling becomes a fraught exercise that flounders in its attempt to resolve what is unalterable, where "the true witnesses… were the dead, and they will never be able to speak again."

Kaygusuz's writing is not born of choice but compelled by necessity. In the words of her narrator, "I don't know why, but… I find myself exchanging future for past". But if Dersim is "where meaning had been blown apart", it is in the absurd chaos that follows where we find our resolution. For all the horror, it would be wrong to mis-categorise as lament a novel that is more properly a celebration – of life, the world and its people. Every Fire You Tend renders its universe with an informed reverence. Its voice shifts vibrantly between time and place, between the fictional and the real, even lighting with nostalgic sympathy on "the smell of alcohol wafting through side streets, the heaps of filth in corners, the nylon bags soaring in the morning breeze".

On the one hand this novel is about a specific people. But it is also a rallying call to humanity, and an artefact of Kaygusuz's own effort to tackle events that are, to her at least, as personal as they are cultural. Her narrative is an exercise in how to step free from sorrow, offered up in the very instant that it comes to be. Doubtless, her intense, highly figurative style ensures that it will not be to everybody's liking. But this is a profound exploration of erasure, and an impassioned argument for a life that is as valuable as it is resilient. It will reward all those who persevere.