Sunday Book: Min Kym - Gone: A Girl, a Violin, a Life Unstrung |

reviews, news & interviews
Sunday Book: Min Kym - Gone: A Girl, a Violin, a Life Unstrung
Sunday Book: Min Kym - Gone: A Girl, a Violin, a Life Unstrung
A tragic musical love affair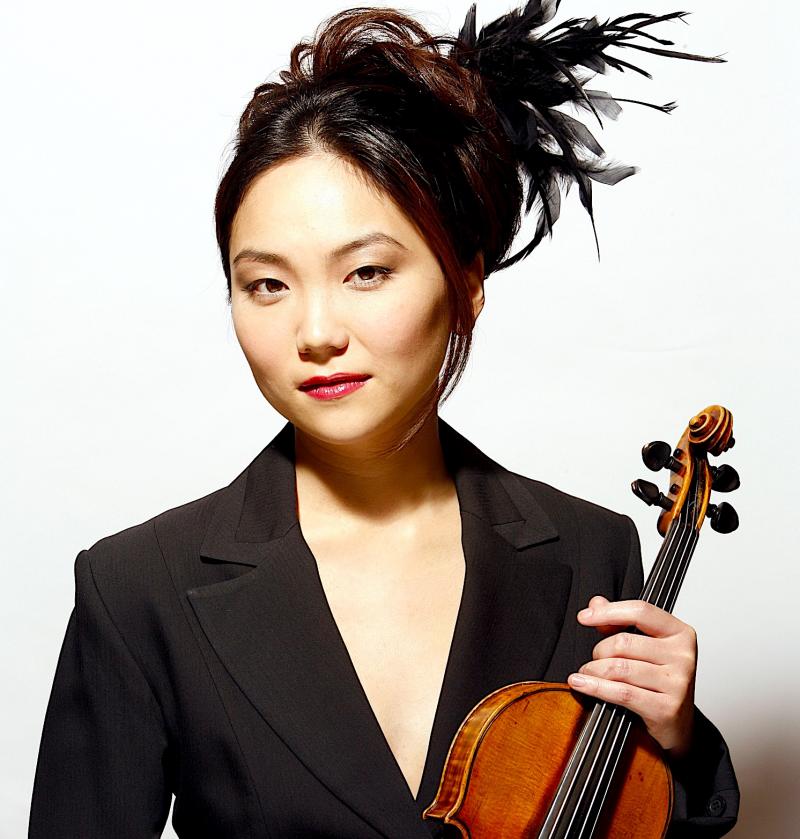 Min Kym: 'Talent is a burden you can't throw off'
"What's it like to be a child prodigy?" is a question asked by violinist Min Kym several times in the course of this fascinating, agonising memoir. There's no simple answer, but this description rings true: "There's that peculiar sensation of feeling completely normal within yourself, but acutely aware that you are different."
And it's something you never entirely grow out of. As she says later on, "Talent is a burden you can't throw off." Music came to her with ridiculous ease, but other aspects of her life have proved more problematic. The younger of two daughters of a Korean family living in London, Kym's spectacular musical gifts were evident from the moment she first picked up a violin – "I knew right away that holding a violin, playing a violin, was not simply for me, but it was me," she writes.
At age seven, she became the youngest-ever pupil at the Purcell School of Music. At eight, she was attending the Royal College of Music and was taken on as a pupil by the renowned Russian teacher Felix Andrievsky ("A dead ringer for David Suchet's Hercule Poirot," she observes). At 11 she won the Mozart International Competition in Bologna, and later would be awarded the Heifetz Prize and make recordings for Sony.
When she was 21, she met the love of her life. It was a 1696 Stradivarius violin, from the revered fiddle-maker's so-called "Long Pattern" period, and Kym and the violin fell into a swooning, perfect synchronicity. This was "the violin that would be the key to my art," she reflects. "This was marriage till death us do part, made in heaven right here on earth."
The decade she spent with this soul-mate, constructed from wood and glue, knocked about a bit over the centuries yet imbued with some almost supernatural magic, found her reaching ecstatic heights of musicianship. She gives much credit to another teacher, Ruggerio Ricci, and to Gerald Drucker, the former double-bass player with the Philharmonia Orchestra who became her guide to the tricks and pitfalls of the professional musician's life. Yet it's her relationship with the Strad which has come to define her life (so far, at least – she isn't yet 40). It reaches an apotheosis when she records the Brahms Violin Concerto, in particular its shiveringly poignant slow movement: "Love... This is what my violin was made for. This is what I was made for."
In admirably lucid and uncluttered prose, she describes her intimacy with the instrument in almost scandalous detail. She recalls how a conductor came into her dressing room before a concert and began idly plucking its strings, and her shock "that he should touch me so, that he felt he had the right..." She cossets it and adores it for its imperfections, which "were what made my violin my violin, what made it almost human... I loved my violin, but I also had compassion for it."
But you know what they say about the course of true love, and her passionate affair was doomed to a brutal ending. Her violin was stolen while she sat in a Pret à Manger cafe on Euston station, and its loss hit her like a bereavement. While the search for the lost fiddle became an international cause célèbre, it stopped her life in its tracks, leaving her unable to play music or even get out of bed. It took her years to thaw out from a kind of psychological hibernation, until, in the final pages, we find her playing Brahms again and tentatively learning to live with the new violin in her life, an Amati instrument of rare quality.
Kym artfully sweeps us up in her grand passion, using it like a magician's misdirection to lead us away from the yawning fault-lines in her life. She describes the regimented formality of her Korean family, which led to her natural lack of assertiveness, a compulsion to do what other people wanted ("the pattern of acceptance I have always fallen into"). The theft of the violin is interwoven with her account of a disastrous affair with an ambitious and manipulative cellist called Matt. She was with him at Euston station on the fateful day, and she portrays the theft as a convergence of inevitable forces, the thieves prowling for prey while her relationship with Matt disintegrates into a maelstrom of resentment and miscommunication.
We're nearly at the end of the story when she suddenly says by the way, did I tell you I was anorexic throughout my most of my childhood and teens? "It seemed normal at the time, what one did, the price you paid." It's like looking behind the curtain and finding a tiny, timid creature curled up in the corner, blinded by the light. Kym would probably feel some sympathy with John Lennon's comment, "genius is pain."
Gone: A Girl, a Violin, A Life Unstrung by Min Kym (Penguin, hardback, eBook and audio download, £10.49)