Soweto Kinch, LSO / 'London Third Stream', London Sinfonietta, EFG London Jazz Festival review - projects from the political to the loop-y |

reviews, news & interviews
Soweto Kinch, LSO / 'London Third Stream', London Sinfonietta, EFG London Jazz Festival review - projects from the political to the loop-y
Soweto Kinch, LSO / 'London Third Stream', London Sinfonietta, EFG London Jazz Festival review - projects from the political to the loop-y
Thoughtful provocation from Soweto Kinch
Saturday, 20 November 2021
'White Juju' at the Barbican
"Take Jazz Seriously," wrote Maurice Ravel after his American trip in 1928. This past week of the 2021 EFG London Jazz Festival has seen that advice itself being taken seriously, with a bunching of projects and premieres. Jazz musicians have been welcomed in to work with London orchestras. The fruition of months of preparatory work has been on show.
Soweto Kinch's White Juju is a 75-minute "artistic response to a year of pandemic, racial animus and culture wars", consisting of 10 pieces. It received a loud, prolonged, vociferous and very enthusiastic reception in a nearly-full Barbican Hall.
The title, as is typical for Kinch, is alive with clever and challenging paradox and wordplay. "Juju" is a word almost invariably linked with the adjective 'black', and describes the folk magic of West Africa which can be used to cast good or bad spells.
What White Juju deals with is the "powerful suspicion that the current receptivity to the black experience sparked by George Floyd's murder may only be momentary… the stultifying status quo would return." It is an intensely felt and very political work, replete with a welter of soundbites and visual images from the past year, as it probes and questions current events.
Musically the main focus is on "oscillating between unity and division", and there is indeed quite some range in the writing. At the beginning, chattering woodwind evoke a dawn reminiscent of Janáček, and that is contrasted with an anarchic in-your-face free jazz episode. By the end, the forces have been united in an uplifting groove-infused (and surprisingly upbeat) finale.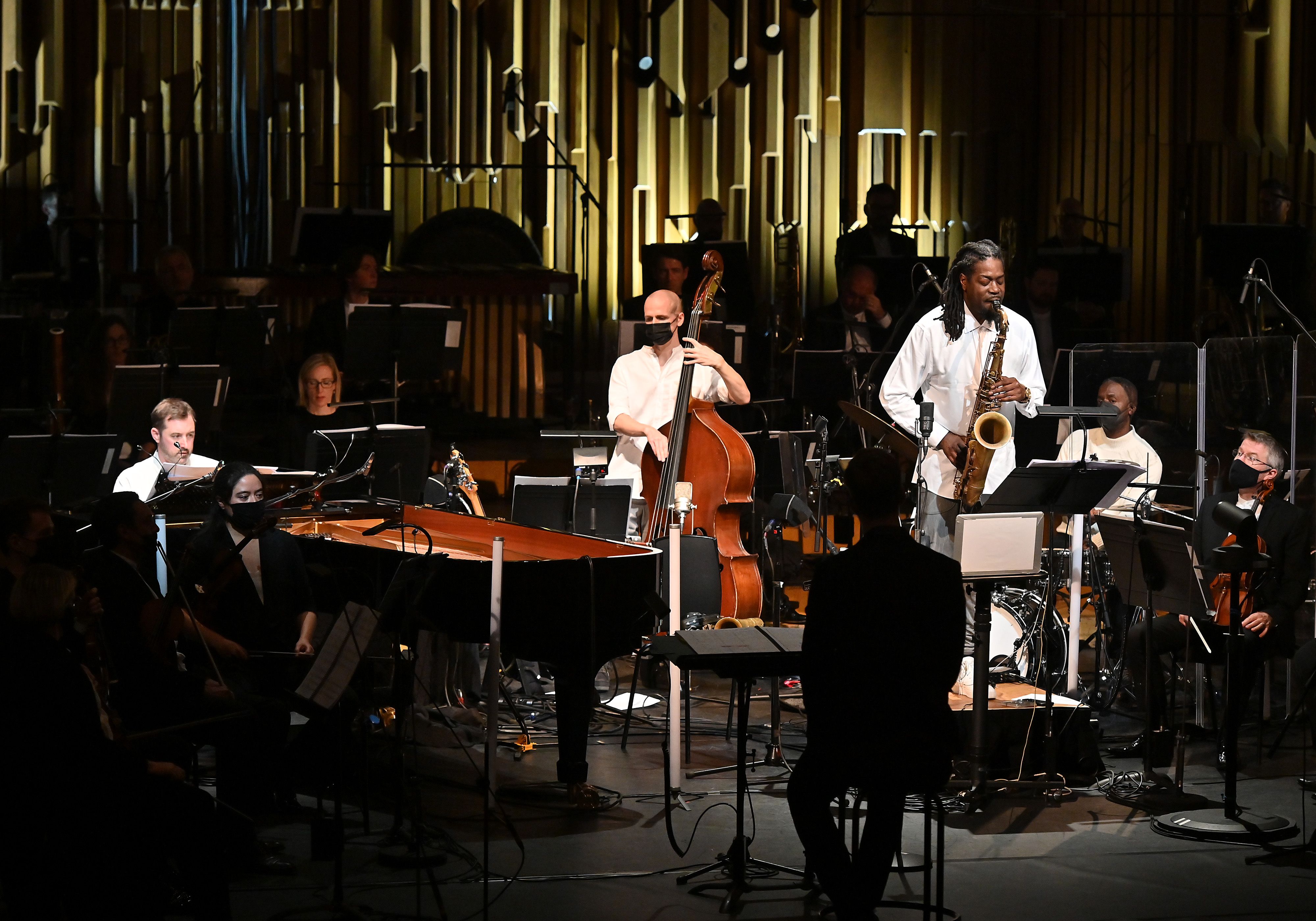 Although Kinch's suggestion that people could get up and dance if they felt like it went completely unheeded, the music essentially has rhythmic drive, propelled above all by the positivity and huge presence of American drummer Gregory Hutchinson (a member of the recently revived classic Joshua Redman Quartet with Aaron Goldberg and Reuben Rogers), powerful bassist Nick Jurd (pictured above with Soweto Kinch by Mark Allen) and piano/keyboard Rick Simpson. Kinch has also clearly developed a good and fruitful partnership with arranger/conductor Lee Reynolds.
It is such a good thing that Kinch ignored the wrong advice he was given early in his career that he would inevitably have to choose between either the jazz saxophone or rapping, because he does both so well. As a saxophonist, his preternatural grasp of vast areas of the jazz idiom and vocabulary are not to be underestimated. And as a rapper the provocative subtlety and humour of his wordplay will always have the capacity to take the listener by surprise… that is, providing one can actually hear it. The sound mix in the hall was not helping him in that respect last night; it is to be hoped that the LSO Live Recording and the video stream will put that right.
The London Sinfonietta's "London Third Stream" evening on Wednesday at the Queen Elizabeth Hall was very different. Enjoyable and cerebral too, but in a very different way. The Sinfonietta invited four London-based performer/composers to write contrasting pieces and in some cases work together. The ethos of the London Sinfonietta is to set new challenges for their main corpus of players and this project fulfilled that. Strong musical personalities like leader Thomas Gould and clarinettist Tim Lines were visibly enjoying the experience, as was conductor Geoffrey Paterson, who has also successfully led the Sinfonietta's complex and ambitious projects with star Norwegian saxophonist Marius Neset.
The most "jazz" and most improvised of the four was the closer, Laura Jurd's "Ornette Variations" in which she and Cassie Kanoshi on alto saxophone (rehearsal photo above by Orlando Gili) invoked the spirit and the freedom of Ornette Coleman. The delightful orchestral writing also had nods to the Stravinsky of Renard and Ragtime. Shabaka Hutchings' opener "Hordes of Undemocratic Savages" was loop-based and inhabited the world of John Adams. As the composer explained, "the things I am working on are never-ending cycles, you get bigger loops than you expect." The most atmospheric and perhaps the most intriguing was Cassie Kinoshi's piece, teasing the listener with the repetition of what sounded like a tone row of four unrelated triads. Elliot Galvin's was the most experimental and complex, moving into the aesthetic of Varese and Ligeti, attempts at portraying the sounds of nature, forearm smashing of the keyboard and quite a few interrogations inside the body of the piano. It will be fascinating to hear these pieces again once the stream is available early next year.
Kinch sensibly ignored the advice that he would need to choose between jazz saxophone or rapping; he does both so well
rating
Share this article