Philharmonia, Channel 4 review - death on the podium |

reviews, news & interviews
Philharmonia, Channel 4 review - death on the podium
Philharmonia, Channel 4 review - death on the podium
Music, mayhem and madness as Parisian orchestra gets a new conductor
Maestra, take it away: Marie-Sophie Ferdane as Hélène Barizet
Great idea to use a symphony orchestra as the basis for a TV drama, because all of human life is there.
Not to mention death, since this entertaining, though melodramatic, new French import (
Channel 4
) began with the dramatic collapse on the podium of veteran
conductor
George Delvaux just as he was launching into the finale of the
New World
symphony. He was pronounced dead at the scene.
After Delvaux's demise, the plot orbits around the return to Paris of ace French conductor Hélène Barizet, played with flair and tremendous dress sense by Marie-Sophie Ferdane. Though strangely, she carries a gun in her bag. Having spent 20 years soaring through the heavens of New York's orchestral sphere, she has come back to her home town to take the helm of an orchestra known only as the Philharmonia, but even though musicians refer to her as "Maestra" there's resentment simmering in the ranks.
Barizet is brilliant, glamorous, comes from a renowned musical family and is female, to the disgust of many of the more primordial players on the Philharmonia's payroll. The players voted against her appointment and the director Léopold Saint-Just (Laurent Bateau) isn't too keen either, so she has only a trial period of six performances in which to establish herself.
It makes for a spicy dramatic bouillabaisse, and you don't have to dig far to find ambition, love, jealousy, murder and infidelity among the music stands. For good measure there are stimulating doses of Beethoven, Purcell, Vivaldi, Smetana, Strauss and some newly-composed pieces to push the action along and keep the emotional temperature simmering (l'Orchestre National d'Île-de-France has done some of the musical heavy lifting).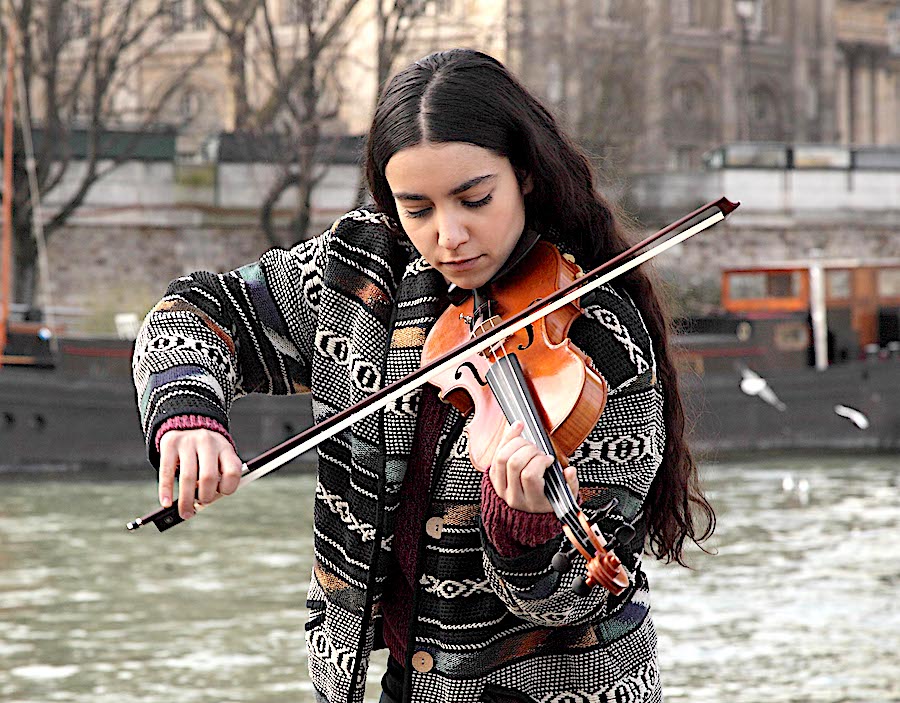 From the start, Barizet is engaged in a battle of wits with the players, though she usually has the intellectual edge to carry the day. At her first rehearsal, the players tried to steal the initiative by breaking into the theme from Mission: Impossible, only to find that she's a fan of composer Lalo Schifrin and delighted to accept the challenge of sharpening up their interpretation. A much dirtier trick was to glue the pages of her conductor's score together for their first concert. Unfazed, Barizet merely conducted from memory without batting an eyelid (though perhaps it was fortunate that the piece was something as familiar as Beethoven's Pastoral symphony).
Determined to make her mark, Barizet tears up the rulebook by sidelining the veteran concertmaster and violinist Vladimir Gregoriu and replacing him with the 20-year-old prodigy Selena Rivière (Lina El Arabi, pictured above). It's not only a musical risk, but also heresy to the hierarchical and heavily unionised orchestra, even if Gregoriu himself takes it with a good grace (and is still on full salary). And Selena herself seems a little... shall we say... volatile.
Away from the podium, all manner of psychodramas are set to blow the roof off the freakishly-shaped concert hall which is the Philharmonia's home. Somehow, oboeist Jeff Moretti (Olivier Chantreau) has amassed a stash of scandal and dirty secrets, though apparently he has made deadly enemies in the process. Barizet's husband, composer Peter Faulkner (Guillaume Dolmans), is having a fling with Agathe (Charlie Bruneau), one of the horn players, while a dark shadow hangs over Barizet's very life – has she inherited the Huntington's disease gene which killed her mother? Is she beginning to lose her mind, or is she merely suffering from the stress of tortuous orchestral politics? She's reluctant to go for medical tests, and declares that "when I'm conducting I control time, and nothing else matters." Brava! Let's hope she survives long enough for an encore.
All manner of psychodramas are set to blow the roof off the freakishly-shaped concert hall which is the Philharmonia's home
rating
Explore topics
Share this article