Bach Christmas Oratorio (Parts 1-3 & 6), Britten Sinfonia, Polyphony, Layton, Barbican review - glorious riposte to Arts Council axe
Bach Christmas Oratorio (Parts 1-3 & 6), Britten Sinfonia, Polyphony, Layton, Barbican review - glorious riposte to Arts Council axe
Festive flair and exuberance to shame the bureaucratic vandals
Thursday, 15 December 2022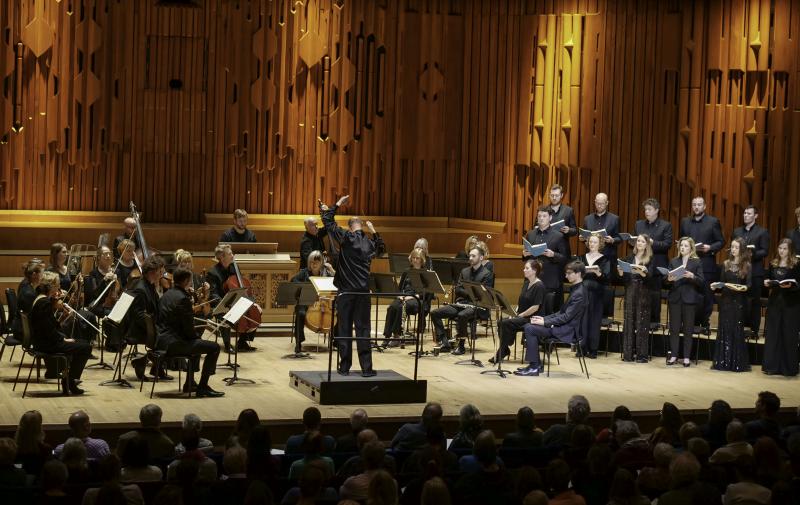 Joyful noises: Stephen Layton, the Britten Sinfonia and Polyphony
What do you do when your high-achieving ensemble has just been dealt a brutal, capricious blow, but you have the most joyfully festive work in the repertoire on your seasonal agenda? To say that the Britten Sinfonia came out with all trumpets (and timpani, and oboes d'amore) blazing would be the feeblest of understatements.
Along with the singers of Polyphony, their performance of Bach's Christmas Oratorio at the Barbican flung an exultant riposte back at the self-contradictory bureaucrats of Arts Council England. Last month, ACE stripped the Sinfonia of 100 per cent of its funding as a reward for levelling up multiply-deprived parts of the East of England with first-rate music-making in every kind of venue, from concert halls to hospitals, schools and prisons. Meurig Bowen, the chief executive, writes of a "commonly shared bemusement" that his outfit must face "the guillotine, not the salami-slicer". Bemusement? Make that "outrage" and "disgust". Maybe they should have put in for a juicy PPE contract instead.
Directed by Stephen Layton, the Sinfonia and the dozen singers of Polyphony warmed up the chilly Barbican stage with a reading of the Oratorio (Parts one, two, three and six) that brought a sense of ritual togetherness to the Brutalist auditorium. The choir, stage left, supplied all the solo roles, with singers stepping out and back for their numbers. The (excellent) woodwinds sat in front of them while, far across the stage, the trio of valveless trumpets stood up and sparkled. What resulted was a collective, congregational mood of equal-opportunity festivity, with no sense of the solo parts as front-stage star turns and – conversely – a drama and excitement to the chorales that avoided any hint of the dutiful dirge. Layton found a bracing drive and swing for each section and kept a dancing lightness to the overall tone that made the evening fly by. I know that this truncation has become the standard edit, but in these hands I would happily have heard all six parts back-to-back.
Given the integration of individual and choral numbers, it seems almost invidious to name singers, but the soloists all earned their place in the sun: sopranos Rowan Pierce, Lauren Lodge-Campbell and Marie-Antoinette Stabentheiner; altos Ciara Hendrick, Tim Morgan and Ruth Kiang; tenors (who also took on the Evangelist role) Jeremy Budd, Ruairi Bowen and Matthew Howard; and basses David Stout, Timothy Nelson and Philip Tebb. In the opening and closing jubilations, the trumpets – Paul Bosworth, Darren Moore, Shane Brennan – tripped along their high-wire lines with thrilling brightness and assurance. From the start, the Sinfonia's oboes – led to Peter Facer and Jessica Mogridge – brought heft and depth as well as tenderness, while William Lockhart's timpani stayed rousingly fierce and bold.
However, this felt like a properly collective celebration. Everyone chipped in to the Christmas story but no single voice eclipsed its partners. High and low, each part enriched the whole, from the counter-tenor radiance of "Bereite dich, Zion" to the regal bass invocation of "Grosser Herr, o starker Köning". The enveloping, candlelit warmth the players projected in the sinfonia that opens Part II transported us in spirit to some holly-festooned church, while the gorgeous lullaby ("Schlafe, mein Liebster") had an edge of urgent foreboding as well as soothing serenity. Some ecclesiastical purists might have felt uneasy with the operatic, rather Handelian colouring and phrasing of some of the Polyphony soloists (notably Rowan Pierce and Ciara Hendrick), but the Christmas Oratorio's radiance can welcome many kinds of light.
Pierce, Hendrick and Lodge-Campbell underscored the human drama at every turn; while Budd and Bowen served as confiding, authoritative storytellers, rich and refined in their well-phrased recitatives as shepherds and wise men come to worship the babe. Layton, meanwhile, drew from the chorales an invigorating sense of emotional light and shade, with bold dynamic shifts and, in numbers such as "Herrscher des Himmels", a fine grasp of the choir's contribution as an evolving character, not merely a vocal punctuation-mark. Throughout, the strongly accented oboes – not only wistful and lyrical but forthright, even dominant, when required – robustly complemented the singers' lines. The gutsy, driving strings of the Sinfonia – led by Magnus Johnston, who relished his solo excursions – never slackened, the cellos (led by Caroline Dearnley) held us in a deep, golden embrace, while Gregory Drott's organ continuo chugged sturdily along.
Highlights (for me) included the sinuous soprano-bass duet "Herr, dein Mittleid" and Pierce's soaring, defiant coloratura in "Nur ein Wink von seinen Händchen". As the holy family dodged murderous Herod on the Flight into Egypt, we cantered towards the joyous finale ("Nun seid ihr wohl gerochen") with glittering trumpets, pulse-quickening timps and a choir that truly seemed to blend all the solo voices we had heard rather than singing from a separate plane. Although the cheapskate Herods who govern British culture now might find achievements like this a dispensable luxury, the Barbican audience adored every bar. The Christmas Oratorio will continue to grace the season, whatever cynically populist politicians and their cliché-spouting lackeys choose to do. The tragedy is that, if current policies persist, thousands who might have shared Bach's joy will never get to know its warmth and light.
The complete Christmas Oratorio, performed across two evenings by John Eliot Gardiner with his Monteverdi Choir and English Baroque Soloists at St Martin-in-the-Fields, will be reviewed on Friday morning