Gabrieli Consort, McCreesh online review - joyous Bach Christmas Oratorio |

reviews, news & interviews
Gabrieli Consort, McCreesh online review - joyous Bach Christmas Oratorio
Gabrieli Consort, McCreesh online review - joyous Bach Christmas Oratorio
Pared-down reading makes for an immersive experience
Thursday, 07 January 2021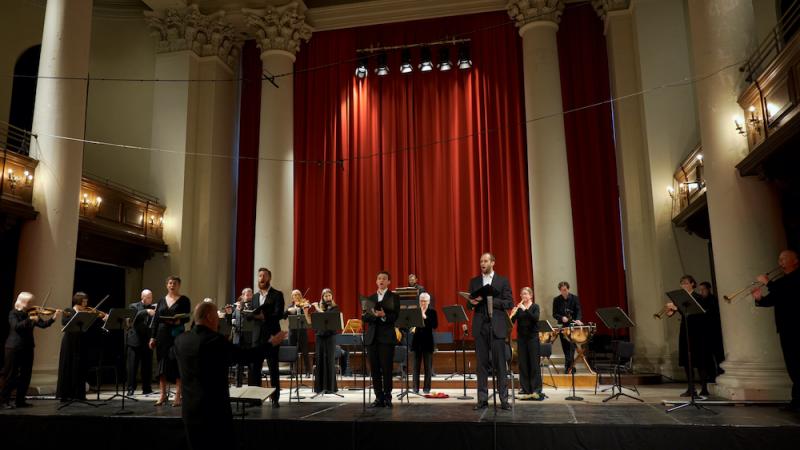 Anna Dennis, Hugo Hymas, Tim Mead, Ashley Riches and the Gabrieli Ensemble conducted by Paul McCreesh
After the main portion of the Voces8 Live from London Christmas festival revelled in the variety of its groups and repertoire, the final stretch allowed a single group to explore a single masterpiece by a great composer.
And although it offered different pleasures from the multifaceted approach of the main festival, Paul McCreesh and the Gabrieli Consort's pared-down reading of
Bach
's
Christmas Oratorio
was just as joyful and just as invigorating.
McCreesh adheres to the theory that Bach's so-called choral works would actually, in his day, have been performed, not by a choir, but by four singers singing all the music, one to a part. This notion, dating from the early 1980s when it caused outrage, is now mainstream, if not universally accepted. But McCreesh is a persuasive advocate for it, both in his pre-concert conversations and through the performances themselves.
This was helped by a starry line-up of singers, which would normally have been virtually impossible to assemble, but in these days of blank diaries became feasible. The eight singers rotated in different permutations, like a football team being kept fresh, and made for fascinating juxtapositions. And as McCreesh pointed out, singing arias, recitatives and choruses makes for a much more organic (if exhausting) experience for the singers, who would normally sing for a few minutes, then sit around looking ornamental for the rest of the piece.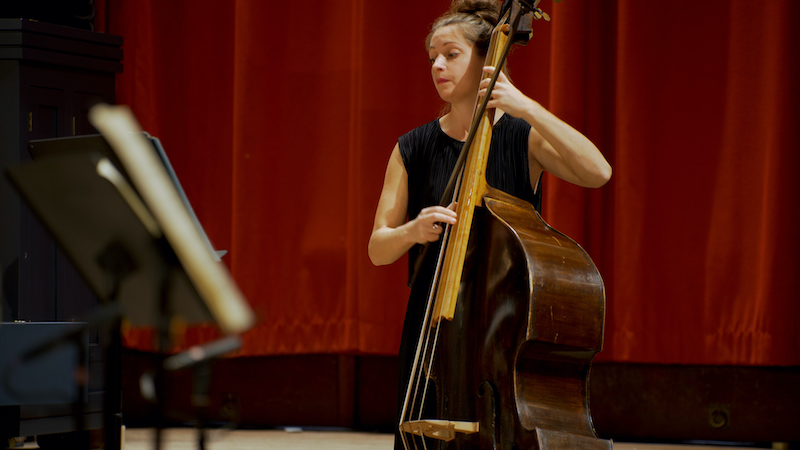 Bach's Christmas Oratorio isn't really one piece, but six discrete cantatas, each with a text designed for one of the twelve days of Christmas. Although pre-recorded, they were streamed on the appropriate day, making for a replication of the original liturgical pattern, and a sense of the piece unfolding over time rather than overdosing in one go. The Gabrielis also replicated the instruments of the time, with period violins, harpsichord, natural trumpets and the extraordinary oboe da caccia. These were played brilliantly throughout, and although I would single out trumpeter Paul Brough, oboist Katharina Spreckelsen and bassist Kate Brook (pictured above) for special mention, every one of the players deserves recognition.
As with the main festival, the Voces8 production was high-quality and crammed with added extras. Each concert started with an overture taken from a Bach cantata and an appearance for the school students involved in the education project Gabrieli ROAR, who sang in chorale-fantasia movements in virtual realisation. It is to the credit of the Gabrieli Consort that they involve their young singers directly in the main concerts, rather than as an adjunct. There was a terrific range of schools providing singers of all ages and experiences with the opportunity to sing Bach in this high profile setting – I loved Melsonby Methodist Primary School from Yorkshire, whose very young singers sported Christmas fancy dress, even while taking the singing completely seriously.
The concerts were also prefaced by in depth conversations between Paul McCreesh and Voces8 artistic director Barnaby Smith, which were consistently interesting, whether on the Bach scholarship, the practicalities of running an ensemble or venturing into autobiographical territory. He was interesting when he spoke as "an agnostic at best" about the importance of understanding religion in learning about history as a whole.
I could devote my entire word-count to any one of the concerts, but I must restrict myself to picking out some highlights. The first cantata is all about joyous celebration. This was apparent from the very opening – timpanist Adrian Bending enjoying the spotlight and the singers giving great immediacy to the chorus, not blending as a choir would seek to, but allowing each individual voice its line. Bass Ashley Riches (pictured above) was jaunty in the final aria, in which Neil Brough made the high wire trumpet part sound easy.
The pastoral second part – the shepherds and angels – has a wonderful siciliano overture, with the nutty sound of the oboe da caccia bell in antiphony with flutes. The tenor aria is extraordinary: after pootling along straightforwardly for a few minutes it suddenly erupts into a barrage of semiquavers. Jeremy Budd, visibly perspiring – fair enough – delivered passage with the minimum of fuss, lots of speed but no haste. The alto aria was taken by countertenor Tim Mead, whose long opening note was divine, the lullaby oh so tender and sweetly sung.
Cantata three was the first appearance of mezzo Helen Charlston (pictured below), whose sound is strong and focused, and who was bewitching in all her recitatives, not often a style that inspires bewitchment. Hers is not a heavy voice, but very expressive and flexible, with a strong sense of line. This was the first time I've heard her and I was very impressed. Also excellent was Roderick Williams, here in duet with soprano Anna Dennis, singing with each other but also listening to each other.
Cantatas four and five are the least often performed, often omitted altogether in a single-evening performance of the oratorio. It's difficult to see why on musical terms – perhaps there is a squeamishness about the subjects of circumcision and child murder? Carolyn Sampson gave a characterful echo aria, shadowed by the oboe and Anna Dennis from offstage. Bassist Kate Brook was athletic in the tenor aria, but I was most impressed with her continuo work, shaping the lines delightfully with her light bow.
The final concert saw a return to the jubilation of Christmas Day. Bach is wonderful at depicting joy, with his dancing rhythms and effortless, endless melodic invention. The best parts here were the choruses, with their contrapuntal busyness in sharp relief with just four voices. But the deep musical learning of these movements, and of the wonderful soprano aria, is so lightly worn by Bach, and was so generously sung. Ashley Riches' interjection as Herod was a horrible vision that stayed the right side of pantomime, and Carolyn Sampson was imperious as she insisted that "the thoughts of mortals be turned aside" by "a wave of His hands".
It was notable – and effective – that Paul McCreesh effaced himself in the performances, conducting from off the stage and usually off camera. As he says "the physical process of conducting has really little to offer this music" but his ideas and interpretation are stamped all over it, in the best way. His lack of ego allows him to get out of the way and let the singers sing and the players play, and as a result these concerts made for a joyful escape from the emerging reality of another lockdown.
Bass Ashley Riches was jaunty in the final aria, in which Neil Brough made the high wire trumpet part sound easy
rating
Explore topics
Share this article