BBC Proms live online: Aurora Orchestra, Collon review - down memory lane |

reviews, news & interviews
BBC Proms live online: Aurora Orchestra, Collon review - down memory lane
BBC Proms live online: Aurora Orchestra, Collon review - down memory lane
Insights, empathy and inspiration survive a busy filming
Friday, 11 September 2020
Nicholas Collon with the score of Richard Ayres' 'No. 52' and wind-up gramophone
The Aurora Orchestra's trademark expertise in playing symphonies from memory arguably reached new heights this week as they tackled Beethoven's Seventh, first in performances with a live audience and then, yesterday, in an empty Royal Albert Hall for what's left of the Proms.
The programme opened with a new co-commission from the British composer Richard Ayres, who, like Beethoven himself, has had a struggle with deafness. Entitled No. 52 (Three pieces about Ludwig van Beethoven: dreaming, hearing loss and saying goodbye), this was an unnerving and at times moving world premiere. Fragments of melody and figuration drift through its textures, disrupted by electronic shudders, with buzzes and whines that would be familiar to anyone who has experienced tinnitus, but now rise up and overwhelm, sometimes spilling over into screams - yet the music continues, calm under it all, and not above making a joke about Für Elise. Music can inspire compassion and empathy as it burrows us into the mind of another human being, and this assuredly did - even if the compassion was more for Ayres than for the indomitable Beethoven.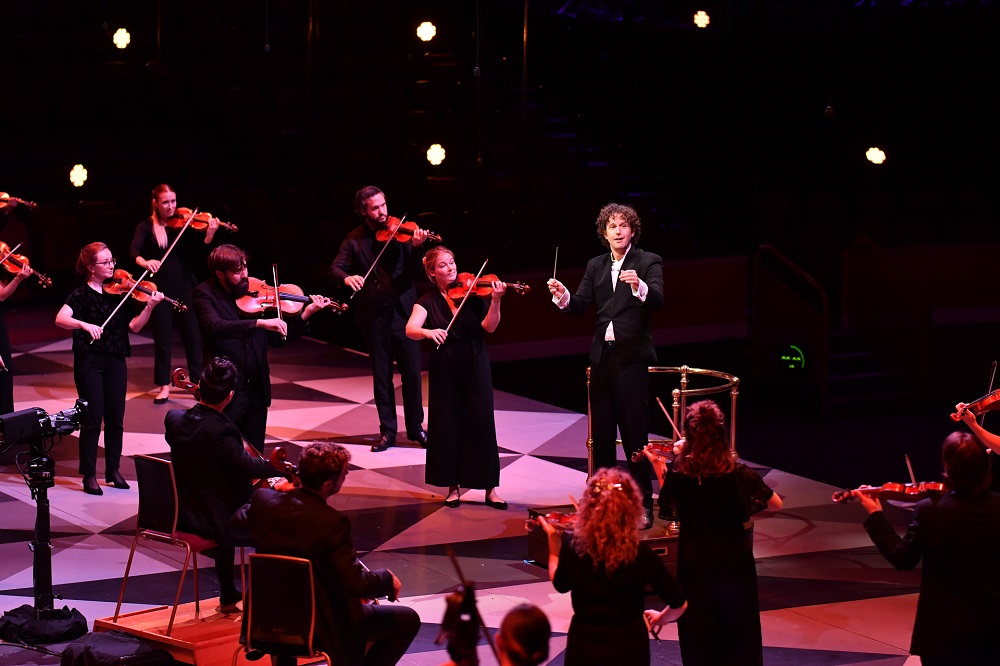 The latter's Seventh Symphony, that 1812 paen to what feels like life force itself, needs from its players founts of energy, virtuosity and a cool head to ensure rock-solid rhythmic assurance. It's all about rhythm, obsessive, driven, steamrolling us with its power. Here its workings were under the spotlight in an elucidating introduction from the conductor Nicholas Collon and the BBC's presenter Tom Service, aided and abetted by the players demonstrating extracts. Revelations emerged even for those who thought they knew the work well. That rhythm in the first movement: is it actually saying "Beet-ho-ven, Beet-ho-ven…"? As for the allegretto second movement, it's hard not to imagine Napoleon's hapless conscripts heading for the doomed Russia campaign. For the last movement, the whole orchestra abruptly broke into song: this impossibly repetitive finale turns out to be based on one of the Scottish folk songs the composer had been arranging.
The Aurora Orchestra is better placed than most to adapt speedily to socially distanced concerts without audience: maybe it's just another challenge to add to those innovative presentations that they love to invent and habitually surmount with aplomb. Collon took rapid, fleet-footed tempi - without which some parts of this "apotheosis of the dance" could risk sounding, as Thomas Beecham put it, "like a lot of yaks jumping about". Grass would have had scant chance of growing under the feet of these musicians, who each had room to breathe, move and play out. It was in many ways an absolute tour-de-force, displaying sky-high musicianship, memory and nerves of steel. Occasionally, too, they remembered they were on camera and managed a smile while playing at full tilt. The performance simply flew, and we, from our socially-distanced sofas, could fly with it. My personal choice, nevertheless, would be to let these free-spirited strings use expressive vibrato a bit more often - it would sound even better.
My biggest grumble is about the filming, which when we can only watch on screen is very much part and parcel of the performance. One of the many wonderful things about an Aurora concert with memorised symphonies is that you can not only hear, but see and virtually feel the way that the musicians are attuned to one another. The performance becomes chamber music on a grand scale. The cameras, however, rarely gave us more than a few seconds at a time to appreciate this. Constant motion, many close-ups - in and out and shake it all about - offered few moments to sit still and take in the key skills involved. We missed the core of what it's all about, and this was deeply frustrating. I envy the colleagues who were able to go to the King's Cross performances the other day.
The pandemic has turned the effect of the Proms neatly on its head. Usually one puts up with a dodgy acoustic and either a packed arena or shoulder-twisting seats in order to soak up the unique atmosphere, which relies on the proximity of performers and promenaders responding to one another. Now we can hear everything clearly while stretching out with a nice cup of tea - but is it the same? Don't give me that "new normal" notion: like everyone else, I'm praying that this is just a stop-gap.
Grass would have scant chance of growing under these feet
rating
Explore topics
Share this article