BBC Proms live online: Anoushka Shankar/Laura Marling - scintillating sitar and fortified folk |

reviews, news & interviews
BBC Proms live online: Anoushka Shankar/Laura Marling - scintillating sitar and fortified folk
BBC Proms live online: Anoushka Shankar/Laura Marling - scintillating sitar and fortified folk
Innovative collaborations from genre-melting musicians
Monday, 07 September 2020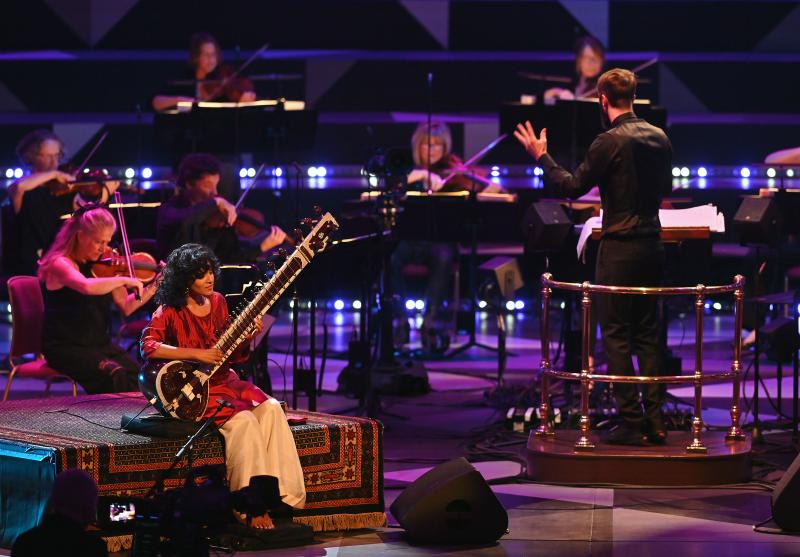 Anoushka Shankar with Jules Buckley and the Britten Sinfonia
In what would have been the year her father, the legendary sitar player Ravi Shankar turned 100, sitarist and composer Anoushka Shankar pays tribute to him and builds on his legacy in this online Prom.
The pre-recorded first half saw Shankar collaborate with
electronic
producer, composer and performer Gold Panda for a half hour long continuous piece,
Variations
. Written in response to her experiences of her father as a teacher, recordings of Ravi Shankar's instructions on how to perform ragas were sampled, with Anoushka's playing demonstrating his insights. The piece soon evolved into a beautifully woven canvas of virtuosic sitar playing and live electronics. Shankar and Gold Panda's musician relationship is demonstrably symbiotic, with a quick glance between the two resulting in a whole new soundscape.
The second half comprised some of Shankar's new arrangements of her own music for the Britten Sinfonia, together with her regular collaborator, percussionist Manu Delago, and, of course, herself on sitar. Voice of the Moon, based on the raga Kirwani, is a richly textured, haunting work, the strings providing a dense, dark background to Shankar's intricate sitar playing, while Traveller combines flamenco and Indian elements. Conductor Jules Buckley kapt a meticulous pulse as he steered the strings through a range of rhythms. Land of Gold, the title track from Shankar's 2016 album which she co-write with Delago and which focuses on the global refugee crisis. Its central themes are played both with a poignancy and an urgency, powerfully communicating the plight of so many who are fleeing war torn homes. Not only melding musical styles, but creating new ones, Shankar is a visionary performer and composer. As composer Soumik Datta, who joined BBC presenter Josie D'Arby, quite rightly states post performance, "Anoushka is pioneering a new era of Indian music, and this is what it sounds like."
Another Prom featuring an interesting collaboration was Sunday's concert with folk singer-songwriter Laura Marling, who performed with the unconducted string orchestra the 12 Ensemble, in Rob Moose's new arrangements of some of her songs. Performing in the round, Marling stands at the front of the stage facing the players, as though she herself is the conductor. It's a format which seems to work well, the emotions and stories of Marling's songs evidently felt by all on stage.
Marling's performance style has never been to dazzle, but rather envelope her audience in a soft glow, and though the seats of the Albert Hall were empty this level of intimacy still translated through the camera, into the TV screens, laptops and phones of those watching at home. Moose's string parts add a lovely flavour to Marling's deliciously doleful vocals, with music that's different to her guitar playing but doesn't distract from it. Take the Night Off, from Marling's 2013 Mercury Prize nominated album Once I was an Eagle, had echoes of folk, blues and classical crossover, while Song for our Daughter had more of a focus on Marling's guitar, with 12 Ensemble's strings providing a harmonic backdrop and unobtrusive obligatos. Not all of Moose's arrangements used 12 Ensemble's full forces, with one of the most effective being The End of the Affair, a tender duet with Marling on guitar and Max Ruisi on cello.
Not only melding musical styles, but creating new ones, Shankar is a visionary performer and composer
rating
Explore topics
Share this article