Classical CDs Weekly: Britten, Mahler, Arvo Pärt |

reviews, news & interviews
Classical CDs Weekly: Britten, Mahler, Arvo Pärt
Classical CDs Weekly: Britten, Mahler, Arvo Pärt
Seasonal Britten, historically informed Mahler and choral music from Estonia's finest
Saturday, 17 November 2012
Period-instrument Mahler with Vladimir Jurowski
Britten: A Ceremony of Carols, Saint Nicolas Choir of Trinity College Cambridge, Holst Singers, City of London Sinfonia/Stephen Layton (Hyperion)
2013 will be Britten's centenary, so brace yourself for an onslaught of new and reissued recordings over the next 12 months. Saint Nicolas and A Ceremony of Carols remain two of the most beguiling, approachable works Britten ever composed. Hearing the opening of this performance of A Ceremony of Carols is initially a bit of a shock – Stephen Layton uses female voices instead of the usual boys' choir. The sound is smoother, much less raw. Interestingly, the first 1942 performance was sung by womens' voices, though children were used by the composer for his first recording, noting that their "occasional roughness was easily outweighed by their freshness and naivety". Layton's singers do project beautifully, and their sheer security makes this Ceremony a gorgeous, invigorating experience. Zoe Brown and Katherine Watson take solo roles; the latter's account of Balulalow is sublime, aided by Sally Pryce's inspired harp obbligato.
Just as good is the cantata Saint Nicolas, premiered in 1948, brilliantly encapsulating Britten's ability to blend, in his words, "subtlety and simplicity" in a work written for amateurs to perform alongside professionals. The mood shifts are disconcerting, solemnity constantly yielding to whimsicality. It invariably works. The moment when the adult Nicolas (beautifully sung by tenor Allan Clayton) suddenly reveals himself in The Birth of Nicolas will induce goose pimples of delight in sceptical listeners. I'm always close to tears as the hymn God moves in a mysterious way steals in halfway through the final movement. Britten can be a difficult composer really to love, but this work is one of those occasions where everything works magnificently. Hyperion's resonant, fruity sound is glorious, as is the cover shot of John Piper's witty stained glass window.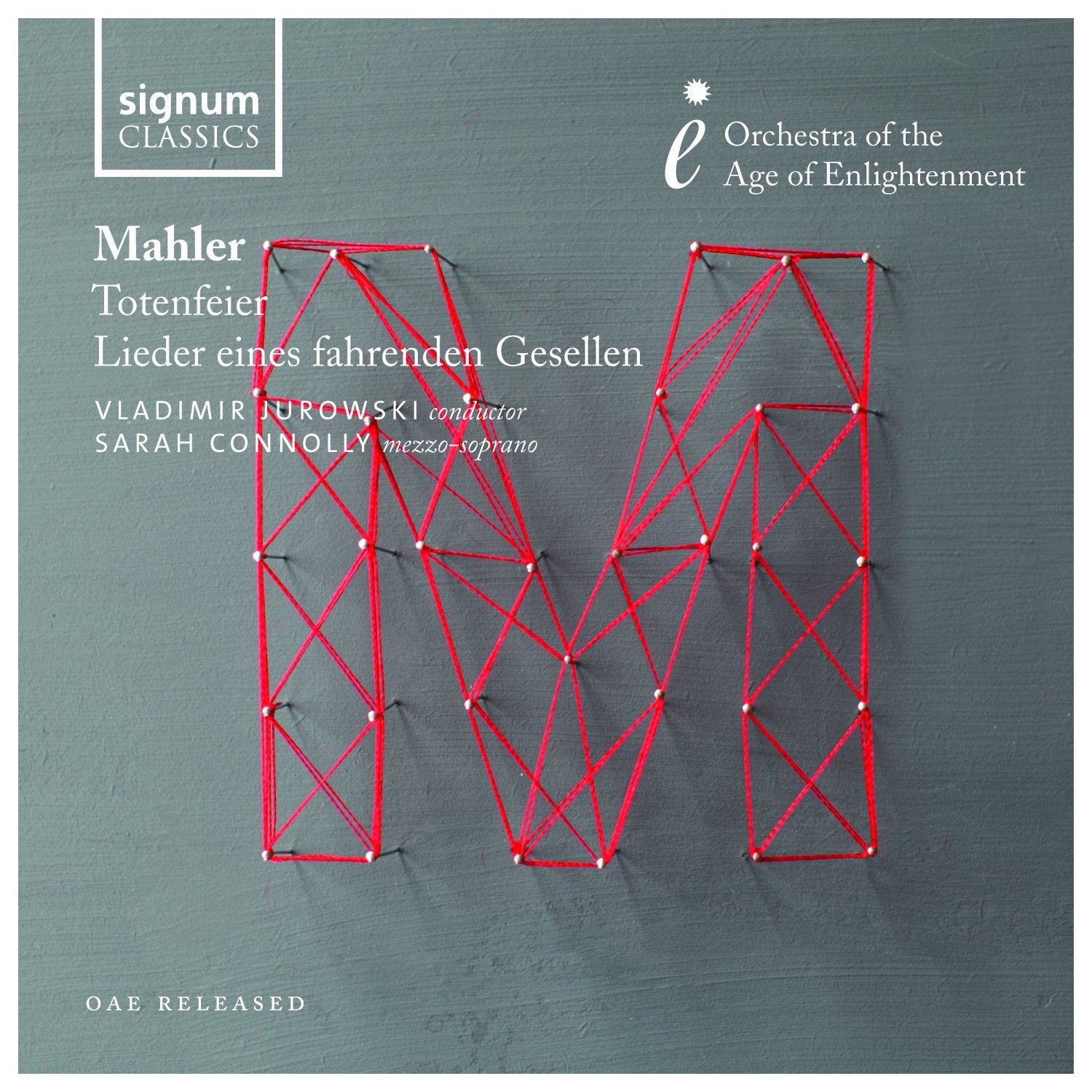 Mahler: Totenfeier, Lieder eines fahrenden Gesellen Sarah Connolly (soprano), Orchestra of the Age of Enlightenment/Vladimir Jurowski (Signum)
Perhaps playing Mahler on period instruments is one of the few ways in which this overexposed music can be made to sound fresh. Decently performed Mahler symphonies can be sensational, life-changing events. Dull interpretations are invariably tortuous. Herreweghe's recent period-instrument Fourth Symphony was a mixed success, but this live OAE disc is incredibly engaging; a modestly proportioned Mahler anthology which leaves you actively wanting to hear more instead of searching for the aspirin. Totenfeier began life as a one-off symphonic poem, 22 minutes of funereal screeches and grunts, soon recycled in slightly modified form as the opening movement of the Resurrection Symphony. The more modest original scoring makes the music sound punchier, edgier. Jurowski's wonderful orchestra play like angels, the narrow-bore brass incredibly present but never strident. Jurowski also understands the Mahler idiom, with elegant, restrained string portamenti in the work's reflective moments. Magical.
And so is Sarah Connolly's vocal in the Lieder eines Fahrenden Gesellen, her voice perfectly attuned to the colours made by the OAE's winds. Mahler's typically violent mood shifts are already present in this early song cycle; I'm always knocked sideways by the abrupt opening roar of the third song. It shocks more than ever here. This CD has a short playing time but it's sold at budget price. I'd rather have 38 minutes of delight than 79 minutes of tedium. Nicely recorded too.
Arvo Pärt: Adam's Lament Latvian Radio Choir, Sinfonietta Riga, Vox Clamantis, Estonian Philharmonic Chamber Choir, Tallinn Chamber Orchestra/ Tönu Kaljuste (ECM)
Arvo Pärt's music can delight and exasperate in equal measure, and, as usual, ECM's ultra-minimalist, chic packaging gives nothing away. Happily, Adam's Lament, an extended 2010 choral piece setting texts by the Orthodox monk and scholar Staretz Silouan, sounds like an invigorating departure for this composer. The forces involved are more extravagant than usual, and Pärt's previously spare orchestral writing feels full of colour, if typically muted. The normally stark, bald choral style is less constrained and much more melodic; there are moments when you could be listening to a Bruckner mass. Then you're further caught off guard by something uncharacteristically astringent and contemporary-sounding, as in the work's angst-ridden central section. It's exquisite stuff, and brilliantly paced over a 24-minute span – a pity that the translated text isn't given alongside the original.
We're on more familiar ground with the shorter couplings; the tubular bells in the Beatus Petronius a familiar Pärtian fingerprint, as are the men's voices ringing out at the start of the Statuit ei Dominus. The cunningly structured Alleluia-Tropus offers three minutes of austere joy. Listeners in search of Pärt's most readily approchable side need to go straight to the two lullabies placed at the close of the disc, written, in the composer's words, "for the child within every one of us". Both are consolatory, angst-free jewels. Immaculate, full-blooded performances under Tönu Kaljuste, and typically wondrous ECM sound.
Hyperion's resonant, fruity sound is glorious, as is the cover shot of John Piper's witty stained glass window
Explore topics
Share this article