Classical CDs Weekly: Butterworth, Liszt, Nielsen |

reviews, news & interviews
Classical CDs Weekly: Butterworth, Liszt, Nielsen
Classical CDs Weekly: Butterworth, Liszt, Nielsen
Perfectly formed British music, terrifying piano etudes and Danish songs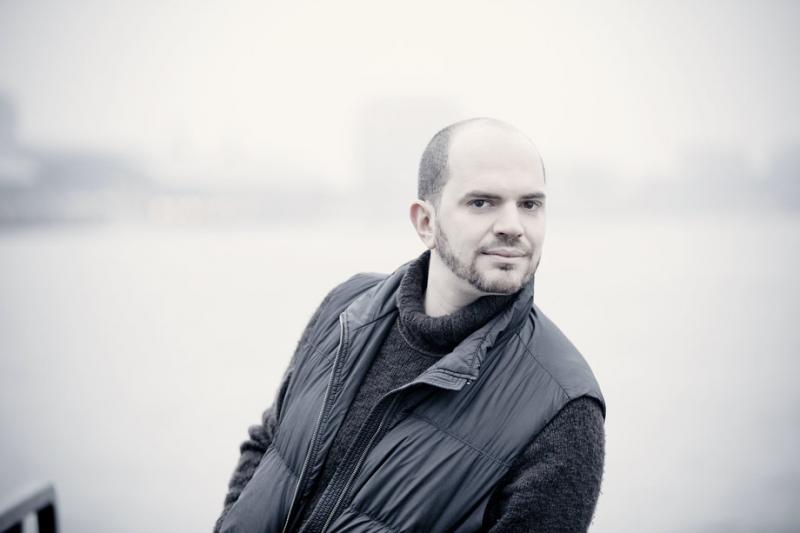 Kirill Gerstein
Butterworth: Orchestral Works BBC National Orchestra of Wales/Kriss Russman, with James Rutherford (baritone) (BIS)
George Butterworth died 100 years ago this week. His surviving orchestral music isn't enough to fill a single disc. But here we get 75 minutes' worth, the extras and completions all orchestrated by conductor Kriss Russman. The results are unfailingly sympathetic: Russman wisely keeps things light and transparent, making the full-blooded moments more of a surprise. A Shropshire Lad's "Think no more, lad" is wittily scored, and the string writing in "Is my team ploughing?" is exquisite. Impeccable singing too, from baritone James Rutherford. He's also heard in Butterworth's own orchestral version of Love Blows as the Wind Blows. "On the Way to Kew"'s bittersweet nostalgia is a thing to treasure, he and Russman handling the soft fade with tender affection.
The unpublished, undated Suite for String Quartette is a treat heard on tutti strings, its slow fourth section sounding like an Elgar slow movement in miniature. More speculative is a finished version of Butterworth's Orchestral Fantasia, its 92 bars left unfinished in 1914 after the composer had enlisted. This is richly scored, deeply attractive music, Russman's completion effective and idiomatic. Russman and the BBC National Orchestra of Wales also give us The Banks of Green Willow, the Two English Idylls and a ravishing, sensitive account of the Rhapsody 'A Shrophire Lad'. Verry well played and beautifully recorded: this is all the Butterworth you'll need.
Liszt: Transcendental Etudes Kirill Gerstein (Myrios Classics)
Kirill Gerstein quotes Busoni's description of Bach and Liszt as the alpha and omega of piano writing. This disc of Liszt's 12 Transcendental Etudes is dizzyingly good, but you might need to follow Busoni's advice and listen to a few Bach preludes afterwards. These pieces are terrifying to play. They can also be exhausting to listen to, and it's to Gerstein's credit that the musical values triumph over empty virtuosity. There are moments when you want to giggle with incredulity at what you're hearing. Liszt's flamboyant "Preludio" can, in the wrong hands, sound like someone showing off in a piano showroom. Gerstein gives this sparky minute of music proper shape, and you can sense him smiling as he does it. A soft, slow "Paysage" is sensitively done, and after a thunderous "Mazeppa", "Feux Follets" is played with supernatural delicacy.
Gerstein explains that, if performing the whole set in one go, "…you can't just make them noisy and self-consciously virtuosic, as if you are playing just one or two of them…" He treats the etudes as pairs: the "Vision"'s tremulous mystery is followed by a swaggering "Eroica", the "Wilde Jagd" matched by a warm, romantic "Ricordanza". "Chasse-neige" closes proceedings with a chilly resounding chord. Thrilling stuff – Gerstein's playing combines technical brilliance with a beating heart, and the close, rich recording adds to the disc's impact. He's playing Tchaikovsky this Sunday at the Proms – go and hear him live.
Nielsen: Sletternes sønner (Naxos)
Carl Nielsen is known to many Danes as a composer of songs rather than symphonies. Many are readily available on disc, and I'd prompt the curious to look at the composer's 150th anniversary website, where scores and recordings can be sampled free of charge. Here we have thirteen of them in delectable instrumental arrangements (sange uden orde - songs without words), mostly realised by composer Peter Jensen. Sleeve notes and song titles are in Danish, but a few minutes spent fiddling around with Google Translate will illuminate matters. My advice would be to listen blind first. Marvel at the oboe playing of Max Artved, who writes movingly of having grown up singing these pieces, and at Jensen's quirky, jazzy arrangements. Which can sound thrillingly contemporary but never disguise their source material. Nielsen could be a catchy melodist, and these tunes exude an unmistakeably warm affability. This is a composer you'd like to have met.
Jensen's ensemble also includes piano, bass and string quartet, his scoring typically highlighting these songs' links to better known Nielsen pieces: "Fordum var der Fred paa Gaden"'s slow opening making reference to the Helios Overture and Springtime in Funen. The lark in "Jeg ved en Laerkerede" tweets over high bass harmonics and soft glissandi on open piano strings. "Vi sletternes sønner" begins with antiphonal violin flurries before a rather lovely theme steals in on oboe. Every song works. The title of the opening track translates as 'Often I am happy' and it's as affirmative in tone as you'd hope. In other words, a glorious, life-enhancing collection which won't disappoint anyone. Buy it for yourself, and then get multiple copies for friends and family.
The Orchestral Fantasia was left unfinished after its composer had enlisted
Explore topics
Share this article