Classical Music CDs Round-Up 7 |

reviews, news & interviews
Classical Music CDs Round-Up 7
Classical Music CDs Round-Up 7
From Scarlatti to, er, Deep Purple's keyboardist: this month's releases considered
This month's eclectic selection of new releases includes offbeat performances of Berlioz and Mahler, a neglected masterpiece by Swiss composer Frank Martin, Bach performed in two contrasting styles, Schubert piano music, a Roussel symphony and an intriguing disc of orchestral music by a young French composer. We also have music composed by the former keyboard player of Deep Purple, Brahms's German Requiem, a pair of rare Stravinsky ballets and a wonderful new set of Tchaikovsky's piano concertos. Earlier delights are provided by a selection of motets sung by a renowned countertenor and a selection of Scarlatti cantatas.
RELEASE OF THE MONTH

Frank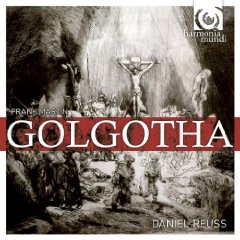 Martin: Golgotha
Capella Amsterdam, Estonian Philharmonic Chamber Choir, Estonian National Symphony Orchestra/Reuss (Harmonia Mundi, 2 CDs)

A life-enhancing recording which deserves to catapult the neglected Swiss composer Frank Martin (1890-1974) into the mainstream. The oratorio Golgotha, composed immediately after the Second World War, is a retelling of the Easter story inspired by a chance viewing of Rembrandt's sombre engraving The Three Crosses. Martin's setting, paying homage to the two Bach Passions, grips from the opening bars. The musical language is always lucid and approachable; Martin admired Schoenberg and used elements of dodecaphony to widen his harmonic palate, but always within a firmly tonal context. You occasionally taste the influence of Debussy or Stravinsky, but it's Bach who comes to mind again and again - every bar, every note seems so inevitable, so right. Golgotha contains many wonderful moments; Judas's betrayal of Christ in the fifth tableau is especially harrowing. But Martin also knew how to compose music of sublime beauty; the choral writing in the closing minutes sending goose bumps up the spine. Find Golgotha on Amazon
OTHER RELEASES
Bach: St Matthew Passion
Thomanerchor Leipzig, Tölzer Knabenchor, Gewandhausorchester/ Chailly (Decca, 2 CDs)

More stylish modern Bach from Chailly and the Leipzig Gewandhaus, this performance of the St Matthew Passion was recorded during concerts, and with some small cuts it fits nicely onto two discs. Chailly's approach is historically aware. Tempi are mostly flowing, and consequently the work sounds far less forbidding and more communicative. The real selling point is the choral sound: Chailly uses two boys' choirs, and their bright timbre has a thrilling immediacy and impact. There's a tangible sense of drama, of an unfolding narrative, helped by characterful solo singing. Find St Matthew Passion on Amazon
Bach: Orchestral Suites for a Young Prince
Ensemble Sonnerie/ Huggett, with Gonzalo X Ruiz (oboe) (Avie)

Period-instrument Bach, in this case new performing versions of the familiar Orchestral Suites. It is fairly certain that the versions commonly heard are retouched, with additional instrumentation provided sometimes by Bach himself, and in one case by his son CPE. The scaled-down versions on this disc are based on our understanding of the orchestral resources presumably available when the works were originally composed; the Second Suite is given in a new edition, transposed down a tone, prepared by the American oboeist Gonzalo X Ruiz. The performances are poised and full of joie de vivre, and not once did I miss the trumpets and drums. As usual, Avie's sleeve notes and presentation are excellent. Find Orchestral Suites on Amazon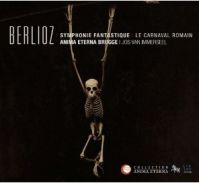 Berlioz : Symphonie Fantastique; Le Carnival Romain
Anima Eterna Brugge/ Van Immerseel (ZigZag Territoires)
This is the most enjoyable orchestral recording using period instruments that I have ever heard. Jos van Immerseel has already produced an excellent Beethoven cycle, and here his small group of Bruges musicians use period French instruments to perform Berlioz's hallucinatory masterpiece. The sounds are arresting - reedy French bassoons and flatulent ophecleides jostle with piston-valved horns and perky cornets. The biggest surprise is van Immerseel's use of piano instead of bells in the finale - his convincing argument for doing this is presented in the booklet. The orchestra is a small one, following Berlioz's own preferences, but the results have a seismic impact. Helped by a stunning recording, you really do hear everything as if for the first time, and get a sense of the shockwaves that this work must have caused in the 1830s. Fun cover design too. Find Symphonie Fantastique & Le Carnival Romain on Amazon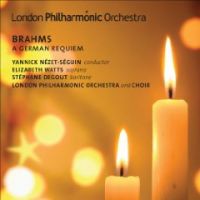 Brahms: A German Requiem
London Philharmonic Orchestra and Choir/ Nézét-Séguin with Elizabeth Watts (soprano), Stéphane Degout (baritone) (LPO)

A daringly spacious live Festival Hall recording, taped in the RFH on Nézét-Séguin's fourth appearance as the LPO's Principal Guest Conductor. The tempi do work. This conductor has demonstrated in his Bruckner performances how it's possible to maintain tension while beating slowly, and the whole performance has an autumnal warmth. Brahms's Requiem was prompted by the death of his mother in 1865 and is not a conventional mass setting but something far more consoling and positive. Nézét-Séguin's hushed opening sets the tone of his reading; golden-tinged sonorities on lower strings and secure, soft choral singing. I prefer Brahms's original version with a leaner piano duet accompaniment, but this is as good a full orchestral rendition as I've heard, and such a relief not to have the silence after the final chord shattered by loud applause: the sleeve notes tell us that the audience remained silent for a full minute after the performance. Find German Requiem on Amazon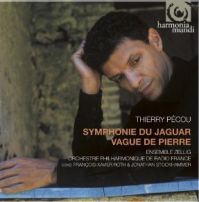 Thierry Pécou: Symphonie du Jaguar; Vague de Pierre
Ensemble Zellig, Orchestre Philharmonique de Radio France /Roth, Stockhammer (Harmonia Mundi)

In wonderfully fresh and off-beat music, Thierry Pécou (born in 1965) avoids any western classical influences in these two works. Symphonie du Jaguar (2002) is inspired by Mayan ideas concerning time and the passage of the sun. Five female voices sing and declaim texts drawn from ancient Mayan prophecies, over richly coloured orchestral textures that sound decidedly French despite their astringency. It's quirky, thrilling and visceral stuff, and what a pleasure to hear new music which sounds this bold. Vague de Pierre (2007) is scored for a massive orchestra and was inspired by Pécou's interest in 17th-century Chinese art. Not that you'd guess that when quaking at the dissonant brass chords. It does all make sense though, and the moments where Pécou relaxes are arresting. Try the final "Return to Silence" in the fourth movement, or the swirling woodwind writing in the third section. Exuberant, virtuosic performances, aided in the first work by the splendidly named Ensemble Zellig. Find Symphonie du Jaguar on Amazon
Below: a short extract from Thierry Pécou's "Le Nouveau Jardin" on YouTube
Roussel: Symphony no 4; Rhapsodie flamande; Petite Suite; Concert pour petit orchestre; Sinfonietta
Royal Scottish National Orchestra/ Denève (Naxos)

The last instalment in Naxos's series of Albert Roussel's symphonies doesn't disappoint. You can't imagine this music ever sounding better than it does here under Stéphane Denève's direction. Roussel's Fourth Symphony is a minature marvel - a 24-minute, four-movement work, full of incisive rhythms and pungent harmonies. It's not quite as memorable as its predecessor, but contains some choice moments: the slow introduction has a chilly beauty, the mood of which is developed in the languid second movement. Unkind listeners might complain that the accompanying Petite Suite, Sinfonietta and Concert pour petit orchestra sound superficially a bit samey, but not me. Too much Roussel can only ever be a good thing. Find Roussel Symphony no 4 on Amazon
Scarlatti: Cantatas and Chamber Music
Tempesta di Mare Chamber Players, Philadelphia Baroque Orchestra, with Clara Rottsolk (soprano) (Chandos Chaconne)
Alessandro Scarlatti completed more than 700 cantatas, most commissioned for private performance to sympathetic audiences. The four examples on this disc sound like fully fledged operatic scenes, and soprano Clara Rottsolk makes the recitatives between arias seem spontaneous and improvisatory. She is given sympathetic backing by Tempesta di Mare and the Philadelphia Baroque Orchestra who get the chance to shine in the instrumental Concerto IX with Gwyn Roberts's effortless recorder-playing a highlight. Lovely. Find Scarlatti Cantatas on Amazon
Imogen Cooper: Schubert Live vol 2
Piano Sonatas in C minor and G; 6 Moments Musicaux, 16 Deutsche Tänze, 4 Impromptus (Avie, 2CDs)
Recorded live by the BBC in the QEH in 2008 and 2009, two generously filled discs showcase some of the best Schubert playing you're likely to hear anywhere. A pair of desert island discs, full of electricity, pathos and profundity, with all the intensity and none of the drawbacks of live performance. Find Schubert Live vol 2 on Amazon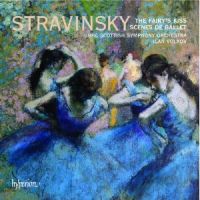 Stravinsky: The Fairy's Kiss; Scènes de Ballet
BBC Scottish Symphony Orchestra/ Volkov (Hyperion)

The second volume of rare Stravinsky ballets from this team succeeds as well as the first (Volkov's Agon was one of the best discs of 2009). The Fairy's Kiss was based on obscure Tchaikovsky piano music. Stravinsky revered Tchaikovsky, and the music so often nearly sounds like authentic Tchaikovsky but, as Stephen Walsh's notes put it, "a Tchaikovsky that seems to have been smashed up by an earthquake, then dug up and reassembled by a team of archaeologists with only a hazy notion of the music's original language". There are hints of Petrushka-style folkiness in the village fête sequence, and a devastating huge tutti near the ballet's tragic end. Following the music with a score makes you realise what a tricky work this is, and Volkov's BBC Scottish SO play with pin-sharp accuracy and sensitivity. Scènes de Ballet was composed in 1944 for a Broadway show whose other attractions included turns by Cole Porter and Benny Goodman. Fifteen minutes long, it's as near perfect a piece of neo-classical Stravinsky as you are likely to find, with that schmaltzy trumpet solo in the central Pas de deux a highlight. Find Fairy's Kiss & Scenes de ballet on Amazon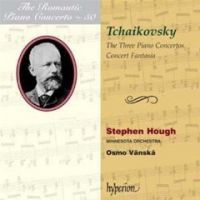 Tchaikovsky: The Three Piano Concertos; Concert Fantasia
Stephen Hough (piano), Minnesota Orchestra/ Vänskä (Hyperion)

Stephen Hough's live Rachmaninov set on Hyperion was a huge success several years ago. This collection of Tchaikovsky's complete music for piano and orchestra, this time recorded with Osmo Vänskä and the Minnesota Orchestra, is every bit as good. Hough seems determined to blow away the cobwebs that have accrued around these works, and the results are affectionate, propulsive and compelling. The First Concerto is swiftly paced and without bombast, and the single-movement Third leaves you regretting that the work was left uncompleted. Best of all is the underrated Second Concerto, which never once sounds overlong. As a bonus we get alternative versions of the slow movement, including Hough's own elegant solution to its structural problems. The closing pages of the finale are some of the giddiest, most rousing pianism you'll ever hear. Brilliant. Find Hough's Tchaikovsky concerti on Amazon
Stabat Mater: Motets to the Virgin Mary
Philippe Jaroussky (countertenor), with Marie-Nicole Lemieux (contralto), Ensemble Artaserse (Virgin)

The sound of Philippe Jaroussky's voice is startling and unearthly, used to wonderful effect  in this sequence of 17th-century sacred pieces from composers based in Rome and Venice. Originally released in 2006, this is serious music, but also alluring and sensuous in these hands. Giovanni Felice Sances's Stabat Mater dolorosa stands out among the more contemplative items, its repeating bass line gripping like a vice under a soaring vocal line. The two duets, sung with contralto Marie-Nicole Lemieux, work beautifully, Andrea Mattioli's Ave Regina coelorum providing three minutes of heavenly bliss. Stylishly accompanied and with informative booklet notes, here is proof that the major labels are still issuing interesting repertoire. Find Stabat Mater on Amazon.
Below, Jaroussky sings Carestini on YouTube

CURIOSITIES OF THE MONTH
Mahler: Symphony No 9
Radio-Sinfonieorchester Stuttgart des SWR/Norrington (Hännsler Classic)

Believing that orchestral string vibrato has become the norm only relatively recently, Sir Roger Norrington has been performing and recording the late-Romantic repertoire in an "historically aware" style in Stuttgart for the past decade. While this practice is now pretty standard in Beethoven and Schumann, hearing Tchaikovsky, Elgar and Mahler played without string vibrato or portamenti is initially disconcerting. The bright, clear orchestral sound is a plus, but coupled with a fondness for quick tempi it sometimes leaves Mahler sounding a little, well, lightweight - the first movement's terrifying funeral cortège suggests moderate annoyance rather than tragedy, and the hymn-like string chords that begin the Adagio sound as if they're played on a harmonium. But you do quickly warm to Norrington's positive slant on what can be a gruelling work. The two inner movements are swift and witty, and the symphony's closing pages are more consolatory than usual. Essential listening for curious Mahlerites. Find Norrington's Mahler 9 on Amazon
Jon Lord: To Notice Such Things; Evening Song; For Example; Air on the Blue String
Royal Liverpool Philharmonic Orchestra/Rundell, with Jon Lord (piano), Cormac Henry ( flute) (Avie)

The list of pop musicians who have successfully crossed over into the classical firmament is not a long one. For every Damon Albarn triumph there's a Paul McCartney stinker to balance things out. Jon Lord was a founder member of Deep Purple, who successfully collaborated with Malcolm Arnold in the late 1960s with their Concerto for Group and Orchestra. Thankfully, Lord does know what he's doing, and To Notice Such Things is a suite for flute and strings dedicated to the memory of Sir John Mortimer, whom Lord got to know in the 1990s. There's nothing remotely radical in the musical language, but it's idiomatically orchestrated and well-structured, with none of the movements outstaying their welcome. The last two sections, depicting the final stages in Mortimer's long life, are especially affecting. We also get several of Lord's shorter works as couplings and the disc closes with Jeremy Irons reading Thomas Hardy's "Afterwards", a poem with which Mortimer would end his stage performances. An unexpected treat, beautifully performed and recorded. Find Air on the Blue String on Amazon
Explore topics
Share this article