Elliott Carter Remembered |

reviews, news & interviews
Elliott Carter Remembered
Elliott Carter Remembered
American composer who went on writing masterpieces in his eleventh decade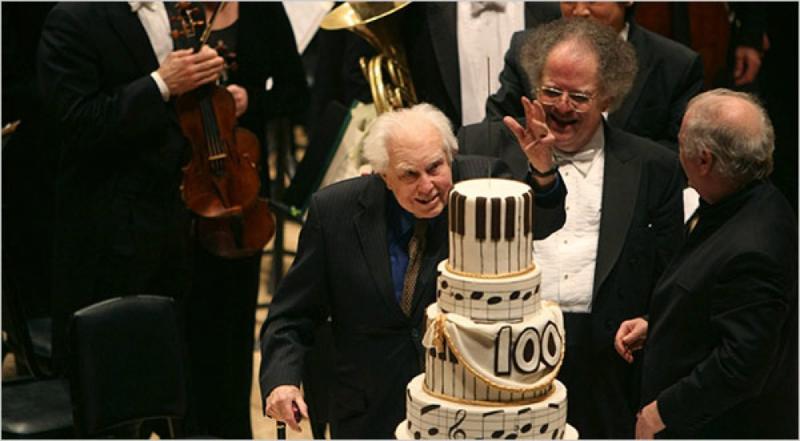 Carter at 100: energy, candour, total absence of nostalgia
It's hard to imagine that a composer's death at the age of 103 could be a loss to music, in the sense of possible future work, as well as a personal loss, which of course death will always be. But Elliott Carter was a unique exception.
Not only was he still writing music up to a few weeks before his death on 5 November, but the dozen or so works he had completed since his 100th birthday showed none of the negative traces of old age one would normally expect to find in the music of somebody even four-fifths his age.
The nearest significant parallels I can think of in modern times are Verdi and Stravinsky, both of whom wrote great music in their eighties. But Carter composed something like 40 works in his nineties, and they represent a new phase in his art, not just a mulling over of old ideas and processes, as with some composers of advanced age.
There's a real sense in works like the Cello Concerto (2001) and the Boston Concerto (2002) that he had finally achieved a fluency that enabled him to write at speed, but without superficiality and certainly without compromise. The lyricism of the Cello Concerto harks back to aspects of the Cello Sonata, composed more than half a century earlier (but when he was already 40). But where the sonata was moving his music away from the quasi-populism of his earlier works towards the hermetic complexity of Fifties and Sixties scores like the Double Concerto and the Piano Concerto, the Cello Concerto seems to clear away all superfluous intricacy and speak directly, to the performer as much as the listener.
Carter was born in New York in 1908, and his life as a composer is almost as much a map of 20th-century music as that of his friend and idol, Igor Stravinsky (pictured with him above right). At the age of 15 he heard the American premiere of The Rite of Spring and decided that he wanted to be a composer. Later he met Charles Ives, became a close friend, and got to know Ives's most radical music at a time when it was hardly known or played.
There was the same relish for banging different kinds of material into one another
He studied for a time with Nadia Boulanger in Paris, and his own music of the Thirties and early Forties is a kind of American neoclassicism with populist attachments, partly influenced by jazz. He once told me that at that time he and other American composers like Copland and Roy Harris were consciously trying to find a demotic style appropriate to American egalitarian ideals. "But it made no difference what kind of music you wrote," he explained. "They still didn't come and hear it. So I decided to forget about the public and simply write the music I wanted to write." The result was the Cello Sonata, and the dense, difficult but superbly assured First String Quartet (1951), which ironically became in due course one of his most played works.
Carter's complexities remained his own. He studied but never adopted Schoenbergian serialism; and needless to say, when many so-called avant-garde composers retrenched into a quasi-neotonal style in the Eighties, he would have none of it, but pursued his path towards a highly personal late lyricism that emerged directly from the rich polyphony of his own music. At the start of the new century he was writing in a way that seemed genuinely to answer the questions posed, however laboriously, by his own earlier work.
There was the same energy, the same relish for banging different kinds of material into one another, the same musical candour, the same total absence of nostalgia or sentimentality. Only the utter lucidity and succinctness were new. And that was perhaps the only concession he ever made to the world's assumption that he would at some point start composing like a grand old man.