First Person: composer Conor Mitchell on challenging religious orthodoxy from a queer perspective in MASS |

reviews, news & interviews
First Person: composer Conor Mitchell on challenging religious orthodoxy from a queer perspective in MASS
First Person: composer Conor Mitchell on challenging religious orthodoxy from a queer perspective in MASS
Finding the authentic gay 'me' in a new work premiered with the Ulster Orchestra tonight
Wednesday, 17 November 2021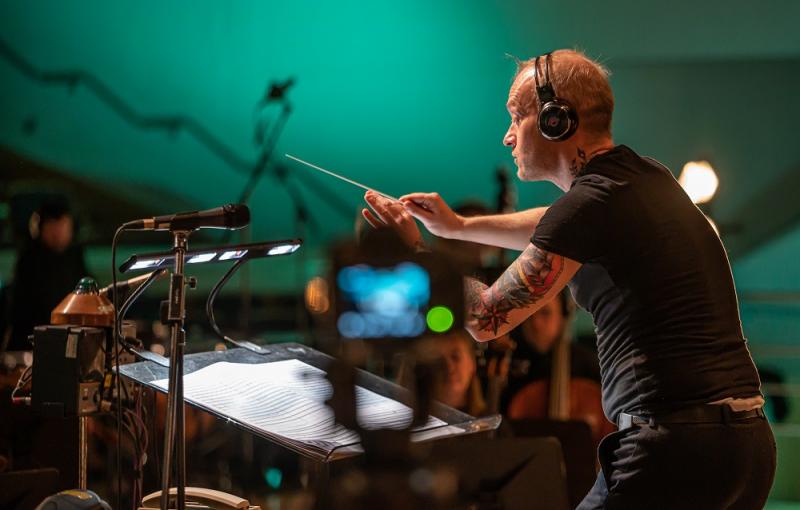 Conor Mitchell conducting the Belfast Ensemble
A mass, in its simplest form, is the order of prayers that are said in a religious service. It is standardised and has been for centuries, in order to create a theatrical journey that takes us through a service. Composers have always been drawn to the mass as a structure because it has an inherent drama. It draws on themes of rebirth, change, redemption.
As a gay man, finding myself and being "reborn" as an authentic "me" has always been held in a state of balance with faith-based backgrounds that have been embedded in society from childhood. I reacted against this. Then I embraced it. Then I challenged it. Then I accepted it. All those things make "me" It is all in this music.
In Northern Ireland, we are raised in Catholic or Protestant traditions, so any inherent trauma that we have cannot truly be explored until you have first explored our own acceptance of belief, or lack thereof. I think that relationship needs to be dealt with. It's something that we can muse on – in a very beautiful way. There will always be a political statement by gay artists who take a traditional, Christian structure and do what they will with it. Gay people doing anything that is traditionally heteronormative will always have a politic attached to it.
However, the friction hasn't been caused by us as artists. The rub has happened before an audience have sat in their seats. It happens when the audience buys their ticket. The friction comes from saying that there is a queer Mass happening in Belfast, and the fact that people demand such a thing in the first place.
At its core, this project is a piece of new music.
We committed to the mass structure because its history as a music text is vast, and we could therefore build a skeletal framework from which to hang musical flesh off. We committed to 'stretching the rubber band', but not ripping it apart; taking the 'familiar' (an opera, or… a symphonic mass) and stretching its familiar form to tentatively explore new distances.
To do this, we decided to invert the operatic form and make the music the centre. We wanted a visual dynamic to bring the conversation beyond Belfast and into the lives of queer people from across the world. They evaluate and challenge the concept of faith. This visual accompaniment is designed to place the music at the heart of the performance, to force an audience to see the music through the lens of those onscreen.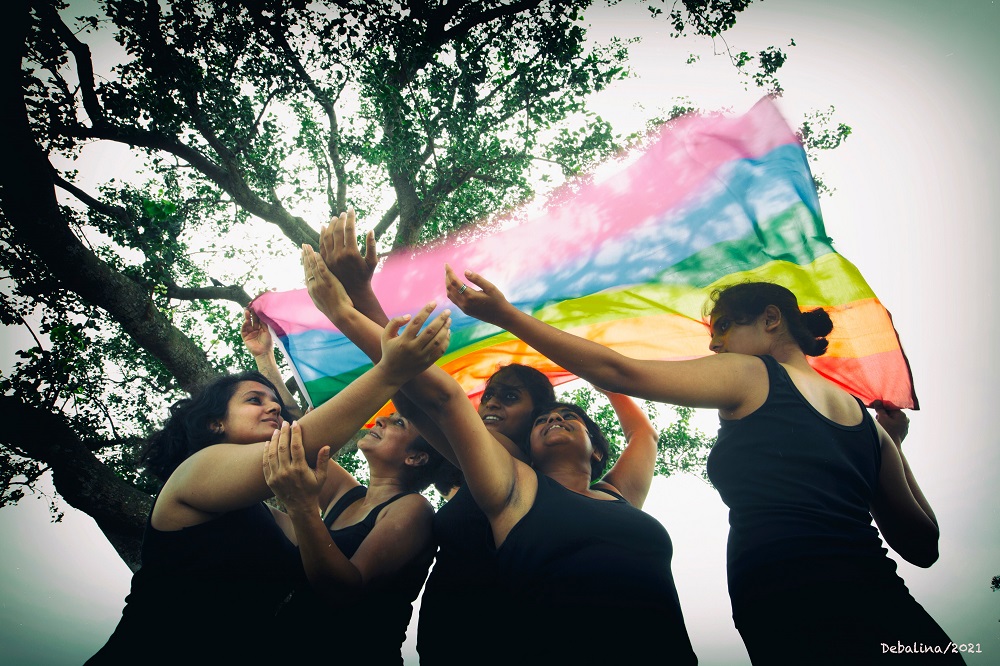 The addition of film propelled me to compose in different ways. I found repose in harmony and resolution – things that settle us and allow the carpet to be pulled away at other moments, balancing the familiar and the new. Once that balance has been struck, I allowed myself to experiment with rhythms and motifs that seem secure but aren't – further stretching the rubber band.
The films are incredible (stills pictured above and below). They're made by Madonna Adib from Syria, Paulo Mendel & Vi Grunvald from Brazil, Mariah Garnett from USA, Simone Harris from Jamaica, Mohammad Shawky Hassan from Egypt, and Debalina Majumder from India – queer artists from different corners of the world.
I want the audience to feel the effect of the mass on other people from thousands of miles away. To feel that they are in the inside of the camera. To exist in a space where they are compelled to see the music in new and challenging ways. To be trapped in the experience and be affected by the way that we subvert the structures to deal with our journeys towards rebirth.
And then there's the orchestra; my previous piece for Outburst was Abomination: A DUP Opera, which used verbatim homophobic statements by DUP members and set them to music. Abomination was an opera created to challenge the stereotypical Italian and German opera forms to make it pertinent to Northern Irish queer politics, in the way that MASS will do the same for Northern Irish religious systems. So for the Ulster Orchestra, our national symphony orchestra, to say 'yes' to a multi-disciplinary project of this importance to challenge sanctified styles, and to even commit to the same vagabonds that made Abomination, was seismic, brave and throws down a very heavy gauntlet to orchestras across the world. From the start, they wanted to come on a journey which explored 'seeing the orchestra' in a new way.
Perhaps you wouldn't imagine that a cutting-edge, grassroots queer arts organisation such as Outburst would choose the Ulster Orchestra as one of their first partners. But they've given me agency and trusted my vision. Outburst is a creative playground and that's why I've loved making this work for them and the community.
It must be said though, standing in front of a group of musicians, in this case, a symphony orchestra, for the first time is completely terrifying. Being a Northern Irish person, it's been an ambition to conduct the Ulster Orchestra for many, many years, so to have the opportunity to do it on this challenging and exciting new work has been a pleasure.
The creation of all new music is incredibly stressful. You're making a baby, which you then put out into the world for everybody to judge. It's magical though, to hear music that is existing in your head played. It's amazing.
We wanted a visual dynamic to bring the conversation beyond Belfast and into the lives of queer people from across the world
Explore topics
Share this article