Hughes, Manchester Collective, Lakeside Arts online review - creating the occasion |

reviews, news & interviews
Hughes, Manchester Collective, Lakeside Arts online review - creating the occasion
Hughes, Manchester Collective, Lakeside Arts online review - creating the occasion
From gentle melancholy to burning conviction in a single stream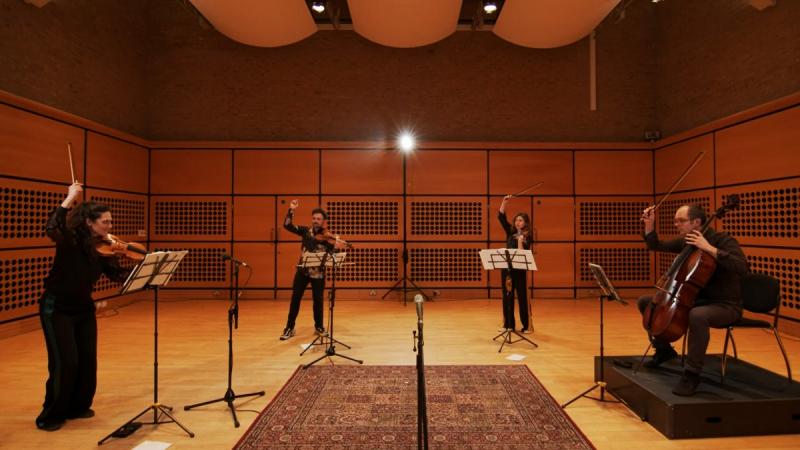 Going where the spirit takes them: Manchester Collective at Lakeside Arts
There's an atmosphere of tender restraint through most of the programme created by Ruby Hughes and Manchester Collective for Lakeside Arts at the University of Nottingham. It was streamed live yesterday afternoon, and, as is the way with most performances just now, was in an empty hall, with its slightly strange "empty" acoustic affecting the spoken word as the artists introduced their music.
Talking to an audience is very much the style of Manchester Collective, though, and artistic director Rakhi Singh does it with natural ease even when she can't see who she's talking to. She and the other string quartet members assembled under the Manchester Collective banner for this event (Donald Grant, violin, Ruth Gibson, viola, and Nick Trygstad, cello) begin the music with Caroline Shaw's Valencia, a popular piece allegedly to do with oranges but notable mainly for its emphatic, pounding rhythms, accompaniments of drones and ostinati, and harmonies that range from raw to rich with a prominent role for open fifths.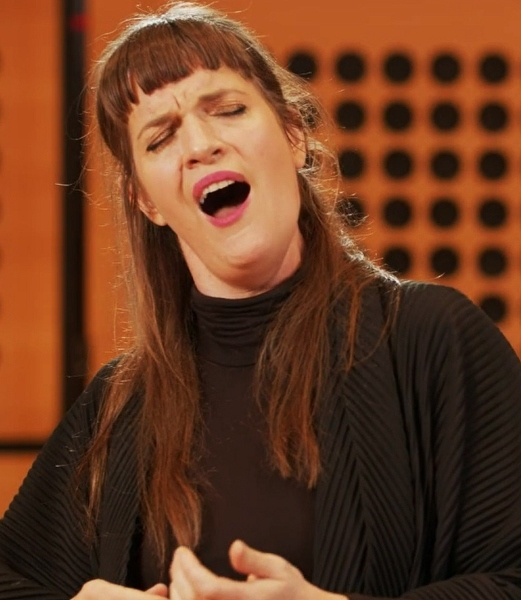 It's characteristic of Manchester Collective that you don't necessarily get the music in the order of items pre-advertised: they prefer to create an occasion every time by going where the spirit takes them, and this one begins in that lively mood but soon plunges into gentle melancholy with Two Laments by Dowland. Their guest soloist Ruby Hughes (pictured right) made her own choices from a very wide range of soprano repertoire as a major factor in the compilation of the programme: she brings beautifully meditative and focused singing to these songs (which I guess are versions of David Bruce's arrangements, though with no written accompaniment to a performance such as this it's hard to be sure), and the quartet members' playing of their varied sonic textures is masterly.
The impression of the three Akhmatova Songs by John Tavener that follow isn't greatly different (though the second gives Ruby Hughes an opportunity to display a more forceful quality in her singing for the first time), and some of the modal language of the music in the ones chosen make a kind of link from Dowland to Ravel's Kaddish – sung with a blend of purity and emotional commitment, building to a passionate climax that's surprising in its sudden intensity.
Follow that? They do so with a Beethoven slow movement: the Cavatina from the Op. 130 Quartet, tender and brimming with pent-up emotion, particularly from Rakhi Singh's sweet solo line. Complete contrast comes with Three Scottish Tunes, described as 'trad. Arr. Donald Shaw and Donald Grant' – the latter being the second violinist of this performance's quartet, and the former the folk artist and composer, whose "Callum's Road" is notable for a static accompaniment texture gradually finding its highway to rhythmic life as it develops, and segueing into the final Reel by Donald Grant which has a lot of fun and nicely voiced chording.
Hughes and the quartet complete their programme with Debussy's Trois Chansons de Bilitis and Mahler's "Urlicht" ("Primeval Light", the song from Des Knaben Wunderhorn that he also used in the "Resurrection" Symphony). By this time I was quite sold on everything they did and found the second Debussy song exciting as they let the feeling in it show – and the Mahler one prayer-like, sung with a burning conviction that better times are still to come.
There are obvious limits to the cinematic resources available for a performance such as this, and despite the modest lighting and limited number of camera positions, the mixing was very well done, with the occasional foray into soft-focus and a little bit of panning. Credit to the Lakeside production team.
Talking to an audience is very much the style of Manchester Collective, and Rakhi Singh does it with natural ease
rating
Share this article