Iestyn Davies, Aurora Orchestra, Collon, Kings Place review - Elizabethans and extraterrestrials |

reviews, news & interviews
Iestyn Davies, Aurora Orchestra, Collon, Kings Place review - Elizabethans and extraterrestrials
Iestyn Davies, Aurora Orchestra, Collon, Kings Place review - Elizabethans and extraterrestrials
Four centuries of London's musical life anchored by a star counter-tenor
Monday, 27 September 2021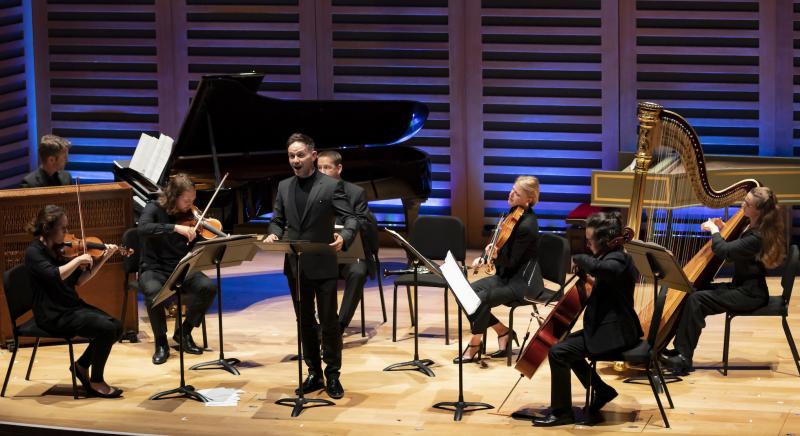 Boldly going: Iestyn Davies and the Aurora Orchestra
Music in London has faced down plagues, puritans, philistines and planners over the four centuries spanned by the Aurora Orchestra's season-opener at Kings Place on Saturday. This concert in the venue's "London Unwrapped" strand filled its main hall without distancing for the first time since the capital's (and the world's) latest pandemic struck.
Accompanied for several works by the
counter-tenor
Iestyn Davies, on their own in others, a score of the Aurora's players were led by their founder-conductor Nicholas Collon on a journey from the first Elizabeth's city to our own, by way of the Baroque musical metropolis that Purcell and
Handel
knew.
The result of this "New Elizabethans" mix was an eclectic cabaret of powerfully performed items, with startling but not always self-evident segues between them. Typically committed musicianship from the Aurora principals united a disparate bill crowned by Davies's emotionally agile and (of course) technically adroit leaps between styles and epochs. The sheer breadth of his repertoire gave proof of the counter-tenor's roaring comeback in this city.
In three opening songs by Purcell (the anthemic "Fairest Isle", "Strike the Viol" and "So when the glitt'ring Queen of Night") Davies's honeyed tones – lower down, at any rate – did not always quite escape muddy entanglement with the Aurora strings. This proved a temporary balance glitch, as later he cut cleanly brilliantly through the entire ensemble. As an instrumental follow-up came Oliver Knussen's "…upon one note": his 1995 post-Purcell quintet for clarinet, piano and strings. Full of witty flourishes, but respectful of his original, Knussen's little gem surpasses mere pastiche. It introduced the theme of creative dialogue between composers and periods that ran through the evening. That sense of a homage to past masters joined to modern renewal also marked Nico Muhly's beguiling arrangement of John Dowland's gorgeous song "Time Stands Still". Here, Davies's disciplined beauty of tone and line filled the hall with its melancholy sweetness, much enriched by the contribution of Sally Pryce's harp. Amid this gently lyrical to-and-fro between musical eras, Harrison Birtwistle's abrasively dramatic Cortege – written for the reopening of the Royal Festival Hall in 2007 – barged in with a more uncompromising parade of modern sonorities.
Birtwistle, though, is a man of the theatre through and through. In the ritualistic Cortege, ten musicians step up from a 14-strong horseshoe of players to deliver solo "offerings" before overlapping with the next performer. The work reminds you that music and drama have cross-pollinated in London since the first Elizabethan age. Collon stepped aside and percussionist George Barton acted as a kind of MC in charge of the bass drum whose doomy thumps punctuate the piece. The soloists come forward one by one to execute their pungent riffs. All of them shone, with Christian Barraclough's trumpet (pictured above), Timothy Orpen's clarinet and Claire Wickes's pan-pipe-like flute especially memorable. If these solos pull one side of Cortege towards the soundscape of some free-jazz ensemble, another hints at a ceremonial Baroque theatricality that Purcell himself might have recognised – think of his Funeral Music for Queen Mary (which preceded Cortege in a London Philharmonic Orchestra concert at Glyndebourne earlier this year, with Robin Ticciati taking on crucial roles).
Post-interval, three of Tippett's songs for Ariel (from a 1962 production of The Tempest) saw Davies trip airily through Shakespeare's words in fine-spun filigree numbers that nod, again, to previous centuries of words-and-music interplay. The concert's Shakespearean motif continued instrumentally with Knussen's Ophelia Dances suite, which reprises motifs from Schumann and Debussy to illustrate the wayward distraction of Hamlet's rejected maid. With its surgically precise textures and gymnastic shifts of tempo and timbre. Knussen's showpiece for nine instruments fitted this band and this hall like a jewel-encrusted neo-Elizabethan glove. Davies (pictured below) returned to re-occupy his vocal home turf with "Ah! stigie larve" from Handel's Orlando: an extract sung with both warmth and punch, and a piercing radiance across his range as the tortured hero sinks into another kind of personal underworld.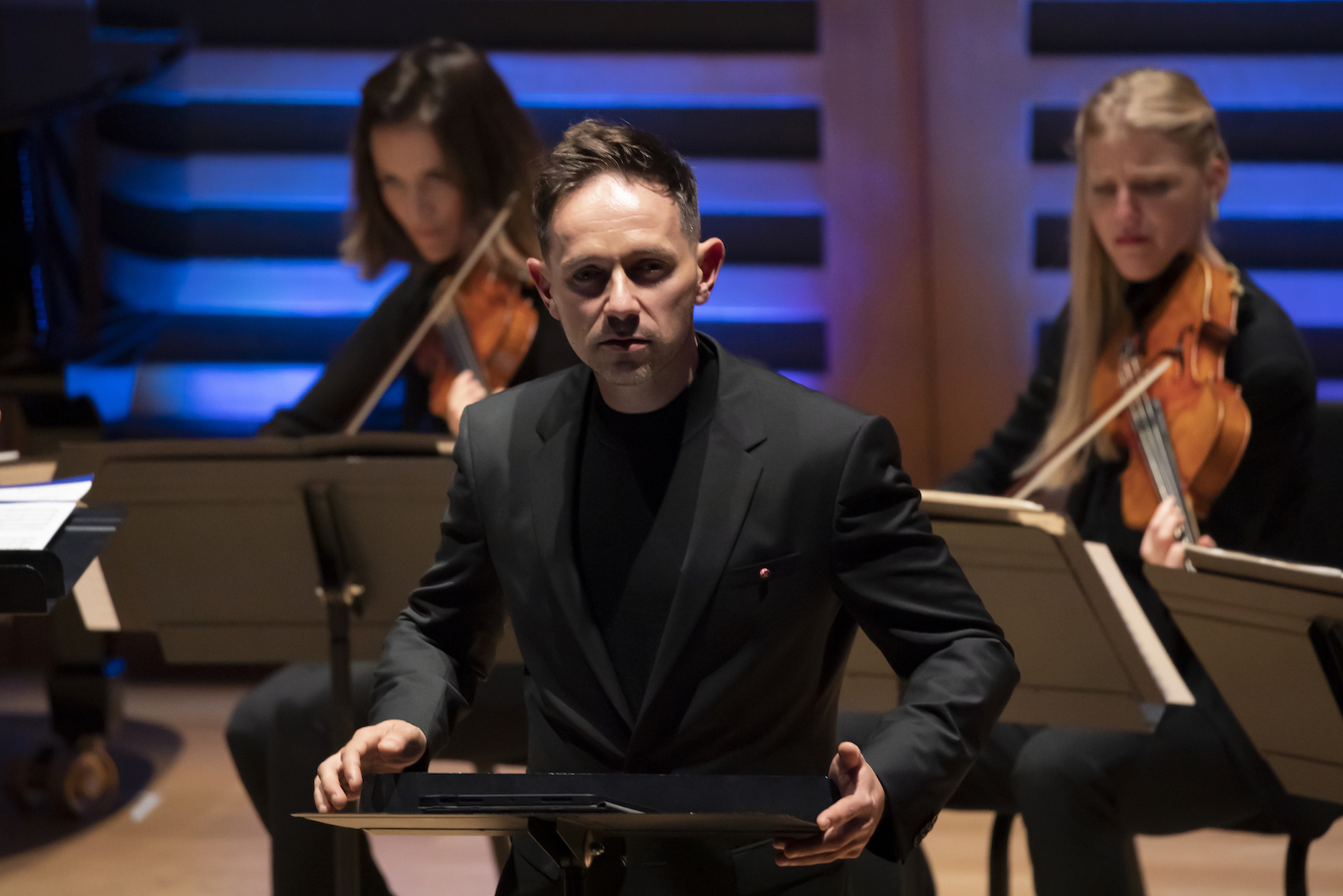 Hamlet's drowned heroine featured again in the final item: Richard Rodney Bennett's 1987 cantata Ophelia, which sets a youthful rhapsody by Rimbaud. Shades of Britten's Les Illuminations hover around the word-setting here, as Bennett weaves counter-tenor voice and instrumental textures into a series of richly ambiguous combinations. During the cantata, Davies had a rare rival show-stopper in the form of the Ondes Martenot played by Cynthia Millar (pictured below). She is one of the only virtuosi of the original electronic instrument: devised by Maurice Martenot in 1928, much loved by Messiaen (it features in the Turangalîla Symphony), and deserving of an open-eared welcome. Bennett's writing ensures that the peculiar, unearthly wobble of the Ondes adds a strange, science-fiction glamour to poor Ophelia's suffering. This alien voice harmonised not only with Davies's finely-phrased counter-tenor lines but with the harp to generate the skin-prickling of mood of an extraterrestrial lament as soul and body part.
There was a subtle loveliness to these eerie conversations between human and non-human voices, not just the oddity of novelty flavouring. The piece's uncanny allure showed that the Auroras' daring choices can yield truly distinctive fruit. Davies, though, reverted to a nugget of core Handel for his ravishing encore: "Gia l'ebro mio ciglio", also from Orlando, in which the maddened hero swoons into a drug-induced sleep. We signed off for the night in a dreamy narcotic trance – a reminder of music's healing power for a city shaken again by the terrors of a plague.
The unearthly wobble of the Ondes Martenot adds its science-fiction glamour to poor Ophelia's suffering
rating
Share this article