Iestyn Davies, Arcangelo, Wigmore Hall review - heavenly Handel as the lights dim again |

reviews, news & interviews
Iestyn Davies, Arcangelo, Wigmore Hall review - heavenly Handel as the lights dim again
Iestyn Davies, Arcangelo, Wigmore Hall review - heavenly Handel as the lights dim again
The star counter-tenor unlocks a box of lesser-known treasures
Wednesday, 16 December 2020
The beauty of holiness: Iestyn Davies with Arcangelo
Just before the doors closed again on live audiences at the Wigmore Hall, Iestyn Davies and members of the Arcangelo ensemble celebrated the private side of a very public composer. The peerless counter-tenor, whose powerfully polished command of phrase and line makes this music feel as natural and necessary as breathing, sang Handel's nine German-language arias to pious texts by Bartold Heinrich Brockes (who also wrote the words to the "Brockes Passion").
In between clusters of songs, the
Arcangelo
players – violinist Matthew Truscott, lutenist Thomas Dunford and cellist Jonathan Manson, with Jonathan Cohen's continuo switching between harpsichord and chamber organ – added star-quality instrumental intermezzi by Handel and his Baroque contemporaries. It made for a gently gorgeous evening, as these enraptured fragments of Handel's more contemplative persona marked one more reluctant farewell to social music-making – for a while.
It still feels strange to hear Handel write, as he seldom did, for his native language. The Brockes arias, though, date from the mid-1720s. Fans of the great operas from that period will not miss passages that strongly recall the melodic and harmonic worlds of Giulio Cesare and Rodelinda. Here, though, the vocal drama and decoration that deepened character and drove plot on Handel's London stage serve to amplify pious reflections on the glory of God and its expression through the beauties of the natural world. We expect boldness, agility and (sometimes) hall-shaking power from world-class counter-tenors now. Davies, of course, has a huge sound in reserve across his considerable range. But these were numbers that allowed him to measure quieter gradations of beauty, in the larghetto loveliness of Süße Stille, sanfte Quelle or the sacred sensuality of Süßer Blumen Ambraflocken.
Davies's high, held notes, his scampering coloratura runs, his lavishly unspooled legato lines, delighted from first to last, whether in exchanges with Truscott's solo violin in the opening Künft'ger Zeiten eitler Kummer or when enriching the pulsing, hymn-like fervour of the final number, Singe, Seele, Gott zum Preise. Perhaps not every one of these Brockes settings counts as top-drawer Handel. And on occasion I felt that Cohen's tempi grew just a shade too relaxed. But Davies [pictured above] made the best of these pieces rank with the meatiest arias of the operas composed during the same span of time. For all its Pietistic holiness, a piece such as the irresistible Flammende Rose, Zierde der Erden – its succulent Handelian melody uncoiling in lush tendrils that Davies spun and twisted with almost casual mastery – has the same punter-pleasing allure as any of his theatrical show-stoppers.
The Arcangelo players did much more that support the headline voice. Many of the Brockes arias become virtual duets with an instrument given its obbligato showcase: Truscott's violin [pictured above] in Künft'ger Zeiten, or Manson's cello in Süßer Blumen. The wholly instrumental interludes gave them a deserved spell in the limelight. In Geminiani's F major cello sonata, Manson married Italianate refinement with a more English dance-floor jollity (the composer lived in London and knew Handel.) Truscott's Handel violin sonata blossomed from its tender adagio entry into a roof-raising, show-off allegro, a sort of West End pastoral that unites the rustic and urbane. Dunford's lute [pictured below], outstanding all the way through, had its chance to shine alone in Marin Marais's tranquil, meditative, almost minimalist Les Voix Humaines – a transcript of a viola da gamba piece that itself mimics the organ's vox humana.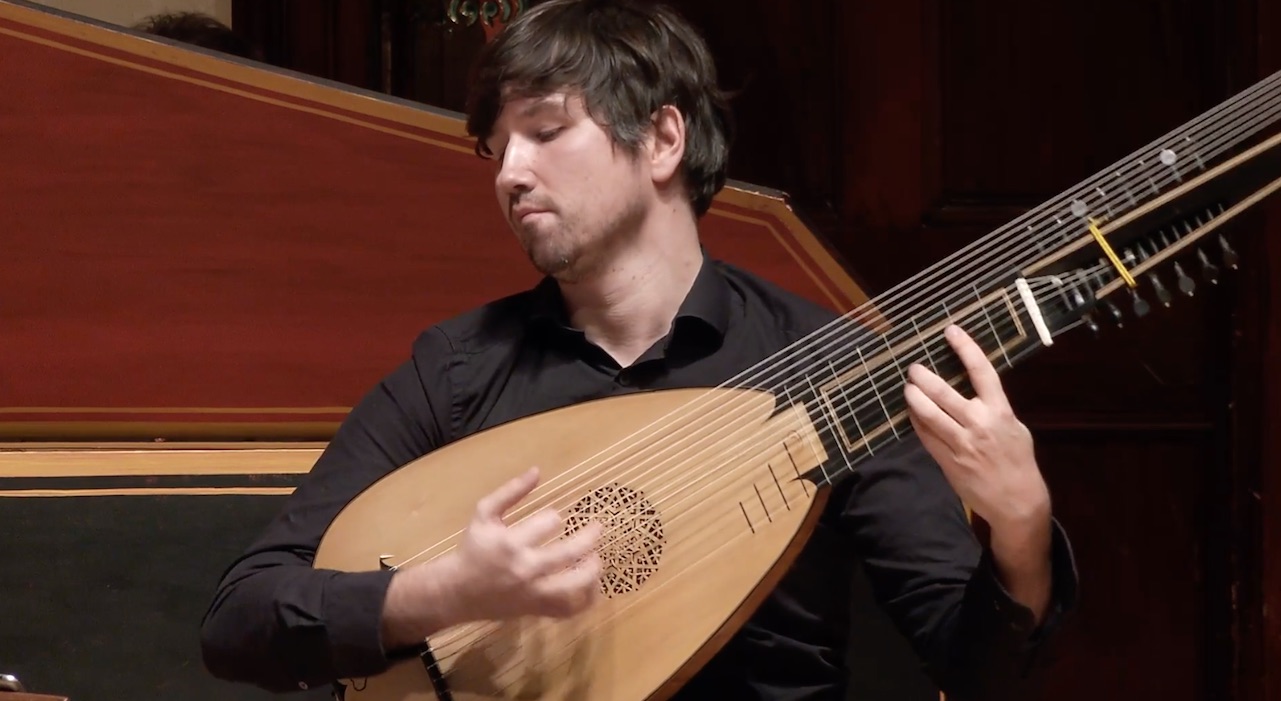 So, once more, the Hall's doors will close – despite meticulous anti-Covid precautions – while many of the shops stay open over on Oxford Street. Handel, a hard-driving entrepreneur who knew his own worth, might have had some choice words for that philistine injustice in German, English and Italian. Still, the audience could leave with a gift-wrapped Christmas treat: Davies's encore of the carol Es ist ein Ros entsprungen by Michael Praetorius. It felt more precious than ever as the lights dim again.
Davies made the best of these pieces rank with the meatiest operatic arias
rating
Explore topics
Share this article