Kožená, LSO, Rattle, Barbican review - Berlin to Broadway, and back |

reviews, news & interviews
Kožená, LSO, Rattle, Barbican review - Berlin to Broadway, and back
Kožená, LSO, Rattle, Barbican review - Berlin to Broadway, and back
A Kurt Weill evening with more polish than grit
Angels and demons: Magdalena Kozena, Simon Rattle and the LSO
As Walter Huston croaked in 1938, it's a long, long while from May to December. And Kurt Weill – who wrote his evergreen "September Song" for Huston in that year – spanned several musical epochs within not so many years as he travelled from the Weimar avant-garde to Hollywood and Broadway.
At the Barbican, Simon Rattle's all-Weill evening with the London Symphony Orchestra followed the composer's obstacle-strewn but often triumphant journey in a programme that culminated in Weill's "ballet chanté" The Seven Deadly Sins, with Magdalena Kožená (Lady Rattle) as the soloist. For Rattle, Weill's nomad idioms lie close to his musical heartland – he recorded the Sins with Elise Ross and the CBSO back in 1983 – but he still manages to find satisfying detail in the scores that banish any sense of routine. The arc of this programme nonetheless felt a little ragged, and I wondered whether one more substantial piece might have offset the Sins to more telling effect.
All the same, we savoured plenty of well-seasoned flavours from both Berlin and New York in the first half. Rattle began with the Little Threepenny Music suite, arranged by Weill from the numbers of The Threepenny Opera, with the LSO woods, brass and percussion repurposed as a jazz-scale combo. With the strings yet to enter, Rattle conducted them at the rear of the stage (pictured below) – a Brechtian alienation effect, perhaps, but not one that added much to the ambience. Despite a few lacklustre moments at the outset, perhaps caused by this banishment, the players deftly mixed the piece's Weimar cocktail of charm, insolence and devilry, with the saxophones (Simon Haram and Shaun Thompson) cheekily to the fore and a corner of reprobate brass nicely lowering the tone. On the whole, Mackie Messer's knife retained its glinting, slicing edge. For sheer subversive chutzpah, though, I've never heard another Threepenny Music to equal the original recording – led by Otto Klemperer, of all unlikely band-leaders. Rattle does grasp that this wicked takedown of the Austro-German canon needs gravity as well as comedy. In the final grand chorale, he emphatically delivered it.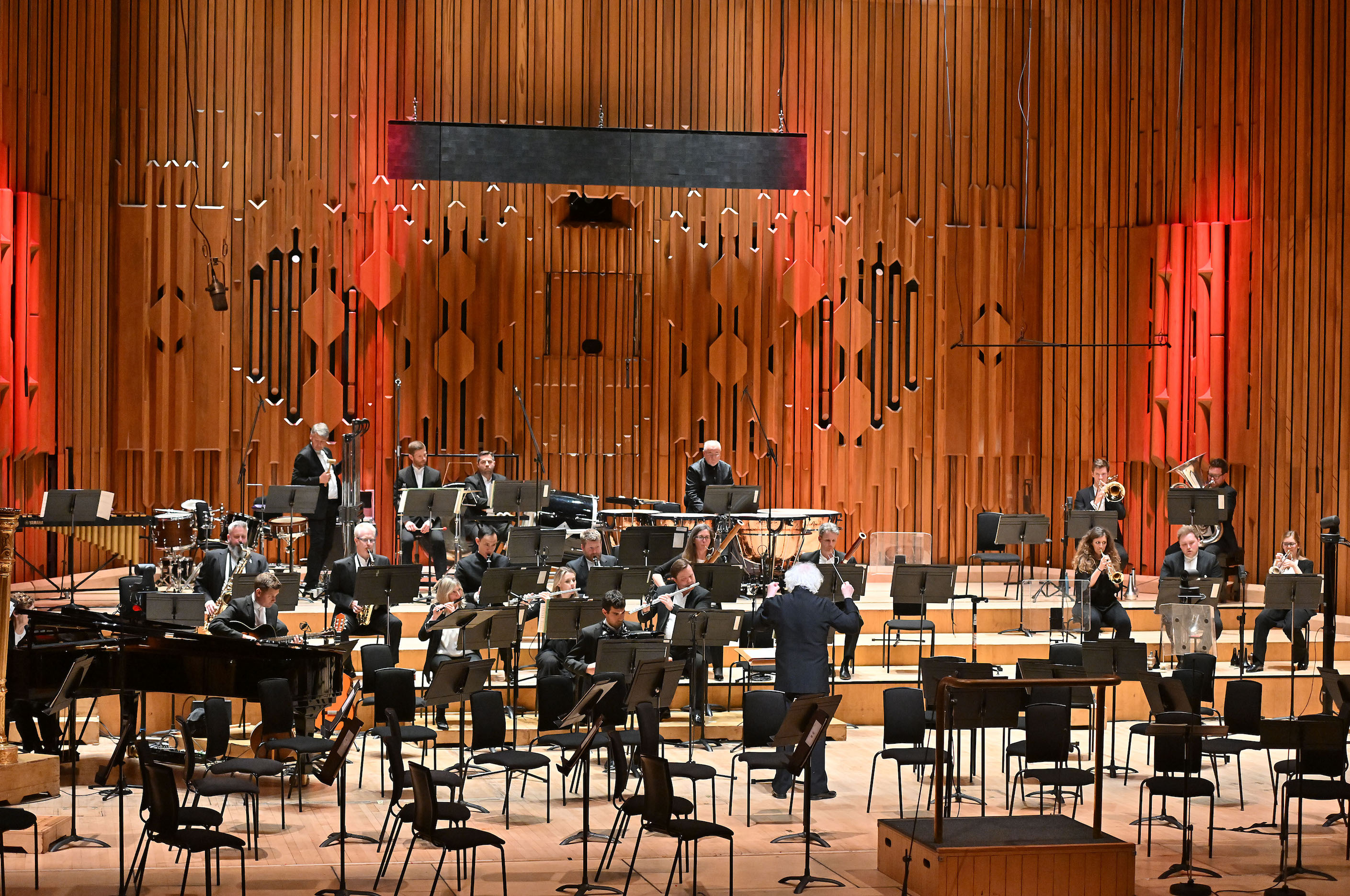 Next came a comparative rarity: Weill's short 1927 cantata Death in the Forest, sung by bass-baritone Florian Boesch. In this mode, Weill sounds much closer to the severe, almost serialist experimentalist he nearly became (and always, at one level, remained). Over strutting and jagged brass, Boesch's narrated Brecht's poem – a backwoods underclass tragedy set in the poet's fantasy America – with assurance and authority, the voice as dark, robust and even sinister as the forest itself. After the massed advent of the strings, we jumped ahead two decades to Weill's great urban opera Street Scene. "Lonely House" – arguably the show's standout number – found a forceful but subtle interpreter in tenor Andrew Staples as the glossy LSO strings swooped and shimmered around him to prove that, by now, Weill could take on Broadway at all its lavish games, and win. Two bittersweet 1940s settings of Walt Whitman – one sung by baritone Ross Ramgobin, the other by Staples – also showed how well Weill had learned to dive into the depths of musical Americana and come up with original statements with an authentic native twang. Though each of these pieces earned its place, as a whole the medley lacked a solid frame, while the full complement of the LSO occasionally put the voices in the shade.
These musical nibbles served as entrées to the main course of The Seven Deadly Sins. Weill's final collaboration with Brecht – they came to detest each other – emerged in the chaos and confusion of their flight from Germany after Hitler came to power in 1933. Premiered in Paris, originally with choreography by Georges Balanchine, the "sung ballet" soon mislaid its dance element and settled into the repertoire as a cantata for mezzo and orchestra. Divided between her innocent and worldly sides, Anna from Louisiana moves from one mythical American city to another in search of the funds to build a house. On her Depression-era odyssey, she learns that virtue has become vice, and vice virtue, in a society that punishes every idealistic infraction of its "laws of wealth and happiness". As in The Threepenny Opera, musical pastiche partners social critique, and the now on-song LSO relished every one of Weill's bitingly idiomatic forays into salon waltz, church chorale or even barbershop close harmony. Joined by Alessandro Fisher, Boesch, Staples and Ramgobin returned to make up the moralistic, hypocritical quartet of Anna's relatives who comment on her road-trip like some hillbilly Greek chorus.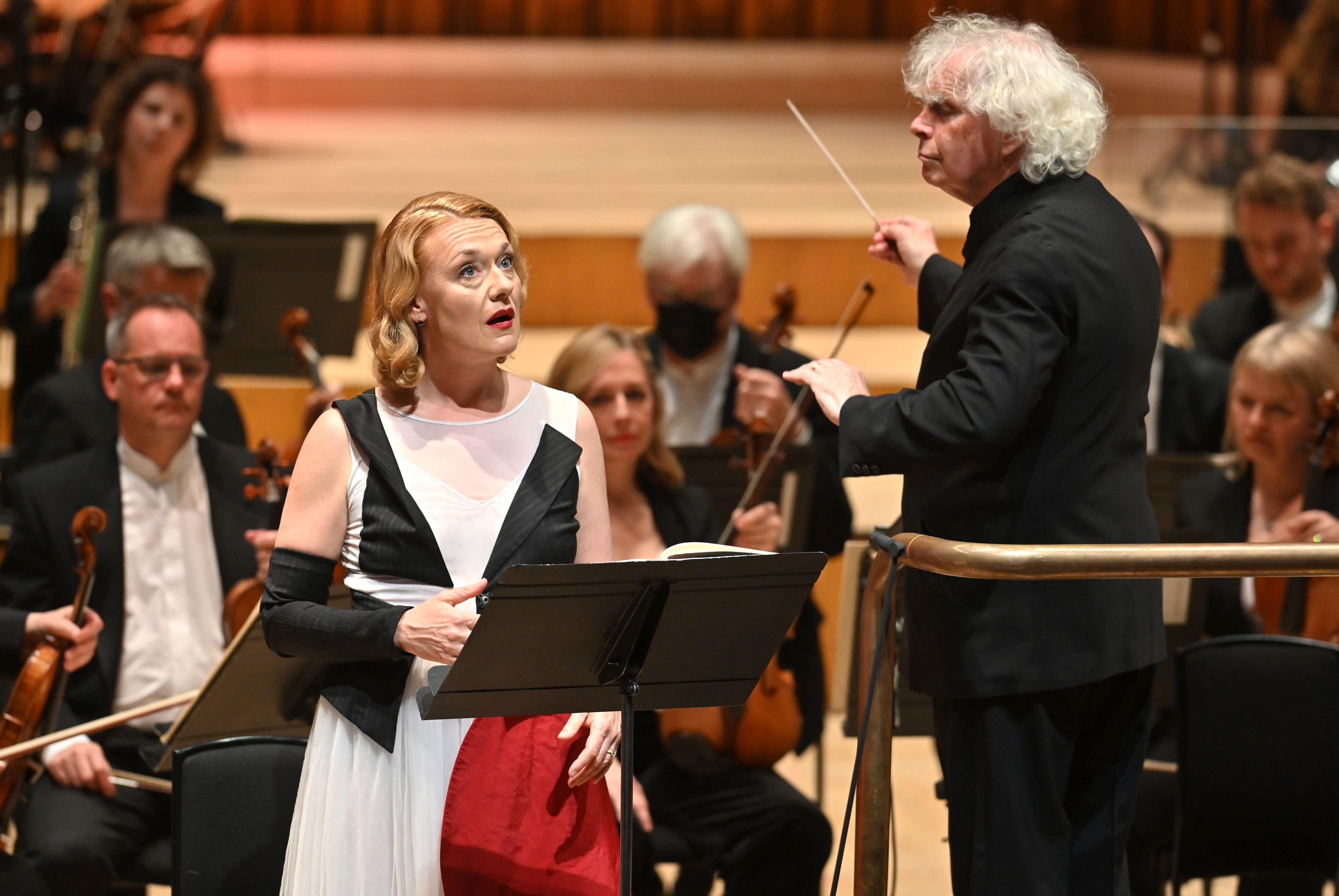 As the questing heroine, Magdalena Kožená (pictured above) sounded slightly frail at first with all that hefty, richly-accented orchestration behind her. But she did in time acquire the rasping edge the part demands. Weill's Annas can be weightily operatic (as Brigitte Fassbaender was) or go for the gritty cabaret style of the original, Lotte Lenya (and, more recently, the unforgettable Ute Lemper). Kožená veered closer to recital hall than smoky dive, and in general the high-minded Anna convinced more than her low-life alter ego.
We heard striking passages of full-toned rapture as Anna soars above the grime of her predicament, in "Lust" and "Envy" especially. Yet it's the sandpapery moments for "bad" Anna that accentuate the human pathos of the piece. At times, Kožená perhaps had too much lyrical polish at her command. Meanwhile, the quartet of male bad seeds (in a Brechtian joke, Weill scored Anna's mother as a bass) excelled in "Gluttony" and "Greed", their pastiche fun sharpened by a real sense of threat. Though the Sins in such a luxury package can keep their edge of bitterness, even fury, it's one of those rare works that can leave you longing for rougher edges and grainier tones. If so, anyone who hankers for the darkest side should seek out Marianne Faithfull's recording.