The Last Night of the Proms, Fleming, Rysanov, BBCSO, Bělohlávek |

reviews, news & interviews
The Last Night of the Proms, Fleming, Rysanov, BBCSO, Bělohlávek
The Last Night of the Proms, Fleming, Rysanov, BBCSO, Bělohlávek
The UK-US special relationship on the 9/11 anniversary
Sunday, 12 September 2010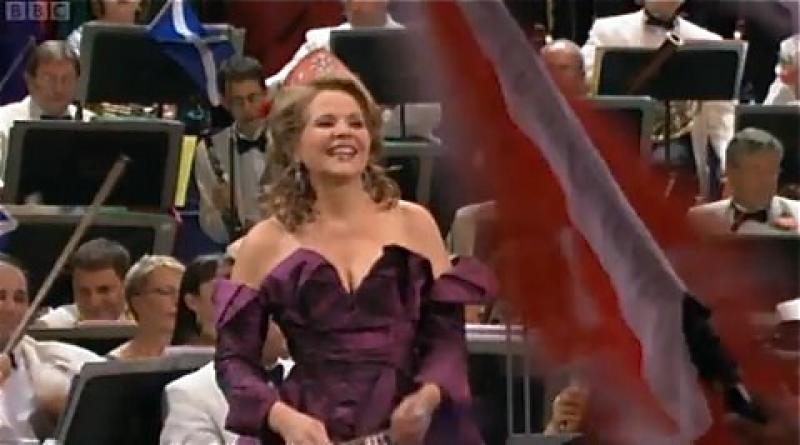 Renee Fleming sings 'Rule Britannia': The UK-US special relationship on the 9/11 anniversary
It must have been with a leaden heart that the BBC Proms planning team realised that 2010's Last Night would fall plumb on 9/11. How to reconcile all the traditional Brit triumphalism and singing of Jerusalem with the rather more contemporary need to reconcile all, whether out of Jerusalem or not?
They did, and full marks for a delicate balancing-act of culture politics and a moving occasion last night (admitted by one who had spent a lifetime avoiding the Last Night of the Proms).
Booking Renée Fleming, for one, was a canny move. She is most people's favourite American soprano, gorgeous to look at, gorgeous to hear, gorgeous to clothe, and last night she wore British best: Vivienne Westwood (who I stood next to in the ladies' loo in surprise).
Someone with an ear for subtlety, the BBCSO's chief conductor Jiří Bělohlávek, complemented the radiant Fleming voice with a viola, that chocolate-dark, mysterious instrument, played by the copiously gifted Maxim Rysanov, 27, leading light of a generation of exceptional young Russian violists spawned by Yuri Bashmet's charismatic influence.
And this combination of star players plus the obligatory presence of the BBC's huge choruses opened up some intriguing but coherent repertoire and pairings, from Bělohlávek's homeland Czechoslovakia as well as old Blighty, deeper emotions and flavoursome orchestral froth.
For the choirs there was a world premiere of a very short but big-scale gala piece by Jonathan Dove, A Song of Joys, five minutes long but packed with instruments and high-minded musings. Sitting alongside Hubert Parry's Blest Pair of Sirens and Jerusalem and Elgar's traditional Land of Hope and Glory, Dove's accessible, picturesque piece made clear the very strong English choral line that still persists today, thanks to much championing of choirs by the BBC. The piece, like the Parry (and the lesser of Elgar's works), cleaves to being skilfully descriptive rather than imaginatively abstract. Where Walt Whitman's words say animals are, Dove has stomping and prowling music; where it says fishes, he has swirling harps; where it's about waves, there are deep, effective swellings-up through the double basses and cellos. It's populist music for the grand occasion - such as this one - rather than for reflecting real spiritual engagement, as for my money James MacMillan or John Tavener can do.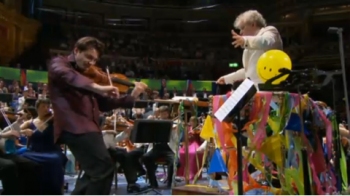 The viola presence, coupled with the English thread, brought a rare hearing for two sections of Vaughan Williams's mixed bag of a 1934 Suite for viola and small orchestra - a meandering walk hand-in-hand with a flute in the Prelude, followed by a Galop that the musicians gave a Slav kick up the backside (pictured above left). Better, and opening a Tchaikovsky theme (continued by Bělohlávek's sun-dappled handling of the Capriccio Italien), was Rysanov's viola transcription of the Rococo Variations, normally for cello, which lightens this jewel-like Tchaikovsky chamber work into something almost Mendelssohnian. The arrangement is a joy, giving the viola a delectable new set of solo legs (though demanding of the conductor to balance the higher register), and it was striking from Rysanov's dazzling facility from the bottom C to the heights usually reserved for violins how far viola-playing has developed since Vaughan Williams composed for Lionel Tertis.
Still, these reflections paled in importance next to the glamour and stage presence of Renée, who is probably all that most people will talk about in this Last Night. She may not be the most deeply touching artist in the soprano kingdom - too placid, too balanced, too untroubled - but surely Richard Strauss had someone like her in mind when he penned his seductive music, music intended by a confident man to unbutton a sumptuous woman with a voice of golden cream. Sheathed in her taffeta, Fleming (pictured above right) sang five of Strauss's orchestral songs with the assured satisfaction of a girl being showered with lilies and perfume, and then moved sweetly on to two Czech operatic heroines, Smetana's cross-dressing Milada in Dalibor and Dvorak's nymph Rusalka. They made ideal partners: a passionate plea for freedom and an untroubled reverie to the moon. The plea for freedom, Fleming told us, she had sung for the anniversary of the Czech Velvet Revolution, and she lightly expressed thanks as an American for being the Last Night guest on this particular day.
Not spelling out the heavy message intensified the unexpected emotional heart of the evening: the mass singing of Rodgers and Hammerstein's You'll Never Walk Alone. Bělohlávek had introduced us (for the benefit of the TV relay) to the five Proms-in-the-Parks in Hillsborough, Dundee, Salford, Swansea and Hyde Park, all now linked up - and suddenly the ancient purpose of TV switched into clarion focus. Realising that six venue-fuls of people were unashamedly all singing that great song waving flags from many countries, bobbing up and down in unison, was a sudden revelation of the poignant power of the simple act of vocal contact. It was teatime in New York; they were coming down after their mournful ceremonies, and here was Renée singing "Rule Britannia", and us singing "You'll Never Walk Alone". The UK-US special relationship was in lusty voice, singing each other's country's songs to unite all sorts of folks with music.
Bělohlávek was a most happy host for such an occasion, not only a subtle and deft conductor, able to command attention in the Albert Hall's vastness with soft and flexible playing, but he hammered nothing in his words either. What could have been over-solemn was instead a feat of heartwarming music-making. The 2011 season, he told us, will open on 15 July, with himself and his very excellent BBC Symphony Orchestra.
Surely Strauss had someone like her in mind when he penned his seductive music, music intended by a confident man to unbutton a sumptuous woman with a voice of golden cream
Share this article