Messiah, Irish Baroque Orchestra, Whelan, Wigmore Hall review - wonderful, easy, light and dark in perfect poise |

reviews, news & interviews
Messiah, Irish Baroque Orchestra, Whelan, Wigmore Hall review - wonderful, easy, light and dark in perfect poise
Messiah, Irish Baroque Orchestra, Whelan, Wigmore Hall review - wonderful, easy, light and dark in perfect poise
The original 1742 Dublin version soars in the hands of a wondrous small ensemble
Peter Whelan congratulating his forces after a stunning 'Messiah'
This Palm Sunday served up an epiphany. Previous encounters with Handel's Messiah, in whatever version, and whether listening or performing, turned out to have been through a glass darkly. And here we were face to face with undiluted genius, served with total consistency by 26 musicians running the gamut from intimacy through fury to great blazes, all guided by the extraordinary spirit of IBO artistic director Peter Whelan.
You'll perhaps have noticed that the choir is without a name. Clearly the Irish Baroque Orchestra needs one of its own, and these 12 would be the dream team – perhaps eight would be more practical, with four more to call on for the soloists, here the best I've ever heard in their roles. Not least because there was utter consistency between the four in some infinitely long lines, made possible by Whelan's often fleet but never rushed tempi, expressive ornamentation in da capo phrases and the same sense of vibrant meaning which informed the performance as a whole, especially in the polarities of light and dark, heaven and earth.
If the infinite depths sounded by Helen Charlston, most distinctive of contraltos, were the most moving thing in an astonishing evening, that's because "He was despised" is also that when performed at the highest level. But there was expressive perfection, too, in the meat of Anthony Gregory's "Ev'ry valley", Hilary Cronin's "Rejoice greatly" (the romping original version) and "I know that my Redeemer liveth" (much needed balm after so many preceding choral thrills), and Edward Grint's "The trumpet shall sound", not only with sterling personality from trumpeter Darren Cornish Moore upping the stakes, but a line on "immortality" that seemed to go on for ever: astounding breath control, like the other three. (In the full line-up pictured below Cronin is on the left, Charlston between two violinists, leader Matthew Truscott in foreground, Whelan with hand on heart and Edward Grint second from the right). Credit is also due to countertenors Mark Chambers and Nathan Mercieca, and bass Frederick Long, for briefer soloistic moments in the sun, but then all the participants in the 12-strong choir deserve an accolade.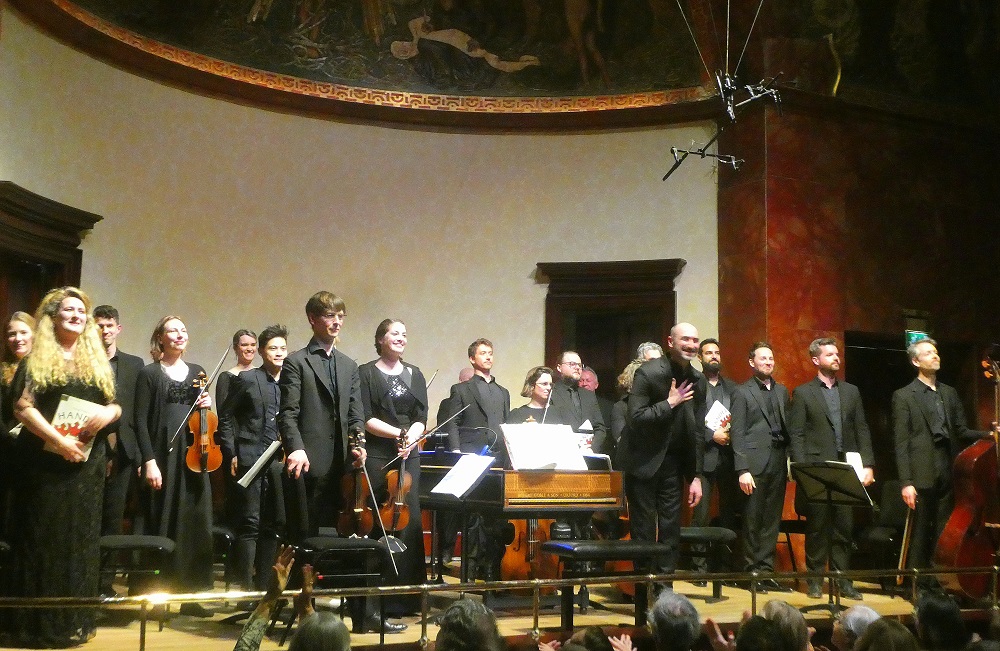 If Handel's original Dublin version of 1742, which enraptured the audience in Fishamble Street's Music Hall, sidesteps a glory or two of later versions (some still to be composed, liked the extended "But who may abide"), its forward movement is irresistible, its sharing of soloistic and choral glories in "How beautiful are the feet", and it seems only fair that the contralto, especially given Charlston's star quality, gets the last number in Part Three ("If God be for us"; after all, the soprano has had her crucial late moment in the sun with "I know…").
None of the great blazes disappointed (starting with "Wonderful, Counsellor" in "For unto us"), but Whelan also made capital of his intimate forces, starting with a Sinfony which was inward, not gut-aggressive, and allowing the chorus, followed by the strings, to launch into the final "Amens" with soulfulness – an unexpected last-minute meditation amidst the clouds of glory. It was good, not so incidentally, to see consummate violinist Matthew Truscott again, after his more dominant role in last Thursday's more introspective, smaller-scale but equally classy, five-star Handel evening. An extra pleasure last night was seeing the delight everyone – singers and players – took in each other's achievements.
"Dublin ovations" are notorious – everyone there stands at the end for just about everything – but the Wigmore Hall audiences are less easy to bring to their feet. That happened last night, for very good reason, and the whole evening effectively meant that I'll not seek out a live Messiah for the next few years. There might be different interpretations, but there can't be a more vivid one.
There was utter consistency from the soloists in some infinitely long lines, and the same sense of vibrant meaning which informed the performance as a whole
rating
Share this article