Bajazet, Irish National Opera, Linbury Theatre review – robust but a bit rough |

reviews, news & interviews
Bajazet, Irish National Opera, Linbury Theatre review – robust but a bit rough
Bajazet, Irish National Opera, Linbury Theatre review – robust but a bit rough
11 instrumentalists make Vivaldi rock, the shenanigans on stage not so much
Saturday, 05 February 2022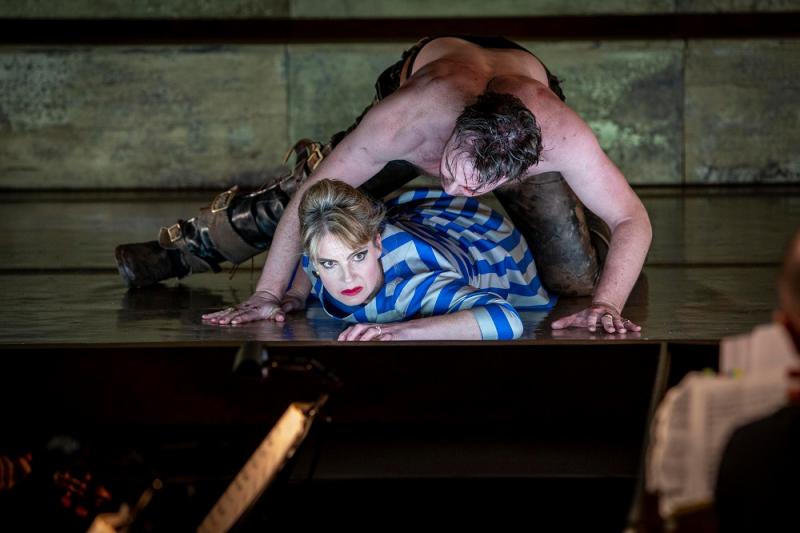 James Laing's psychopathic Tamerlano threatens Claire Booth's Irene
One thing's clear from Irish National Opera's bold championship of Vivaldi: he's his own man when it comes to the stage, not some baroque generic, even if Bajazet is a pasticcio incorporating other composers' music.
He doesn't characterize through arias as keenly as Handel, but his string writing is unique, and what a revelation to have Peter Whelan's inspirational guidance from the harpsichord of 10 other players in the Irish Baroque Orchestra.
Visually, there's much to admire. Molly O'Cathain's tarnished gold-and-wood set helps the singers to project - it's perfect for touring - and works harmoniously with a range of costume blues. The only consistent character in Adele Thomas's production is Tamerlano, aka Timur Leng, the rapacious shepherd-conqueror who as the action starts has Ottoman Emperor Bajazet in thrall. The plot, such as it is, really revolves around which woman he will take as consort – Bajazet's daughter Asteria, in love with Another (Greek prince Andronico) or Irene, Princess of Trebizond. But James Laing's energetic, dangerous portrayal of Tamerlano as a bare-chested, battle-scarred psychopath is compelling throughout. When he opens his mouth you think, look Tarzan, sing Jane, but the countertenor voice is about as powerful as they come, and Laing risks much in rasping it when the drama so demands.
Nobody else quite adds up, apart from baritone Gianluca Margheri's Bajazat, an uninteresting captive invested with rough energy. Claire Booth's Irene is caricatural as cued by her first aria, coloratura pushed to the limit as inevitable yapping, the number saved by her very definitive acting. But she remains so when you think you're meant to sympathise. Eric Jurenas, her suitor, begins lyrically but has an unfathomably staged Act Three number, messing around with curtains to no clear ends, and forcing countertenor tone.
Mezzo Niamh O'Sullivan (pictured above on the left with Margheri and Jurenas) has the most beautiful instrument among the voices, full of promise which needs finishing (like that of Aoife Miskelly, the cipher-helper). Yet despite slapping and beating the walls all the time in her imprisoned anguish, she doesn't often pull focus when the instrumental playing is so wonderful (especially first violinist Julia Kuhn and lutenist – theorbist? – Sergio Bucheli, contributing surprise thunder when not offering limpid beauty).
In Act One, Vivaldi's numbers (or whoever's he happens to be borrowing - the other composers are Giacomelli, Hasse and Broschi) could be applied to any of the participants. Yet there's an impressive turning of the dramatic screw at the core of Act Two, with four big scenes, Tamerlano's especially impressive with severe unison horns. It all goes a bit slack after that, and you're relieved when the denouement arrives. But there's always Whelan's phenomenally energetic direction of his players to watch – they're the real stars of the evening.